Happier Madrid has eyes on titles in 2014
Both Carlo Ancelotti and Cristiano Ronaldo recently said that things can only get better in 2014. The Portuguese forward said 2013 had been good, and on a personal level it certainly has been: 69 goals in competitions, including the ones that secured his nation's passage to the World Cup in Brazil.

For Real, this year has been something of an odyssey. By last January, the league had been lost. Then all Madridistas were gnashing their teeth and shaking fists at the sky as Iker Casillas was dropped for the first time in a decade. It was a largely political move by Jose Mourinho, whose increasingly poisonous leadership undermined Real in every aspect. It was clear that Mourinho and Real would be parting ways in June.

Defeat to Borussia Dortmund in the semifinals of the Champions League was a cruel blow, if not undeserved on the part of the Bundesliga outfit. Defeat to Atletico in the Copa del Rey final was a full effort below the belt; 14 years and all that.

The second half of the year has certainly been kinder. But what of 2014?

La Liga

At this stage last season, Real Madrid was 16 points behind Barcelona and five adrift of Atletico. The city rival would eventually be overhauled, but the eternal one maintained that advantage for the rest of the season.

This Christmas, the distance to both the Liga leaders is five points, and Atletico faces Barcelona at the Calderon on Jan. 11. Ancelotti's side have already played their away Clasico, while Atletico visits Catalonia on the last day of the season.

- Report: Xabi to leave this summer

Real Madrid's squad is arguably the best in the league. Atletico's is very, very strong, but reliant on lung-bursting performances and the goals of Diego Costa. Both can't possibly last the whole season with European action and a domestic cup defence to contend with, as well. Barcelona has proved that Messi-dependency is purely a product of Marca's headline writers and has enough in its attack to cover for its defensive shortcomings in the continued absence of Carles Puyol.

It's going to be close, and there will of course be a few non-top three pitfalls en route.

A lot depends on exactly how eager players are to burn themselves out or pick up an injury in a World Cup year. Lionel Messi is not rushing back from his latest; Brazil is Argentina's best chance in this playing generation's career-span and Javier Mascherano said in an interview recently that the No. 10 is pacing himself.

With so much to play for in 2014, Real's squad depth will be a huge bonus. Ancelotti's bench is not quite as preposterous as it has been previously in Florentino Perez's two tenures, but Casillas, Angel di Maria and Isco have been regular warmers, backed by a raft of youngsters with plenty to prove.

If Ancelotti can finally find a way to end Real's vulnerability to aerial balls -- Osasuna and Valencia scored four between them via this route in the past week, and the rest of the league will have taken note -- Real will be in the running for the title when May comes around.

Getting 6-foot-3 Raphael Varane back on the field will help in that respect.

Champions League

High balls may not be kind to Real, but the ones that fell out of the hat in Nyon earlier this month certainly were. Schalke 04 will be no pushover in the round of 16 on Feb. 26 and March 18, and Madrid's record in Germany is far from intimidating, but it could have been much more uncomfortable.

Three of Arsenal, Bayern Munich, Barcelona, Manchester City, Milan and Atletico will not be in the draw for the quarterfinals; Manchester United and Chelsea are hardly firing on all cylinders, while Dortmund are not hitting the heights of last season.

Ronaldo scored a record nine times in the opening stage as Real cruised to the top spot in a fairly tough group. Ancelotti's team matched the highest goal tally in the group phase in the competition's history and practically all the first team have been involved in the previous three seasons' semifinal runs.

Gareth Bale is one exception. The Welsh forward was signed with an attempt at The Decima -- the obsession of pretty much everyone at the club -- in mind. He is certainly the kind of player who can influence European ties, as Inter would attest after watching him score a hat trick from left-back, even if it was too late to salvage the result. He was also unable to do anything when a vastly more experienced Real blew Tottenham out of the water 4-0 at the Bernabeu in the quarterfinals. Now part of the Real team, he can rely on significant support across the field.

Said Bale: "At Tottenham I was always trying to get onto the ball and make everything tick, whereas here everybody's doing that, there are world-class players all around the pitch and you're able to concentrate just on your game rather than bringing the whole team forward."

He has proven himself in the league, but has yet to really fire in Europe, where Di Maria has three goals and five assists but will remain second choice when Bale is fit. Real really is blessed on the right side.

No Champions League title is won easily, and if Real reaches the last eight, a sterner test will likely await. But this is as good a season as any to bring The Decima back to Madrid and the final is at Lisbon's Estadio da Luz, which won't do any harm.

Copa del Rey

It will be a nice little consolation if all else fails to win the King's Cup, but little more than that -- even if it is at the expense of Barcelona again.

Personnel

There is unlikely to be much in the way of transfer business in January. Despite his relegation since Bale's arrival, Di Maria has pledged to stay until the end of the season. Casillas has said he wants to win The Decima with Real and he is under no significant pressure for his place in the Spain squad for Brazil; Vicente del Bosque is an avid fan, and Casillas will be on the plane even under the current club status quo.

It is also difficult to pinpoint an area where Real could be considerably strengthened. Raphael Varane's return to fitness will be a major advantage while Fabio Coentrao's injury struggles -- he has made just four appearances this season -- will have put off any potential suitors for now. Marcelo's injury record makes hanging on to the Portuguese a priority until the summer, at least.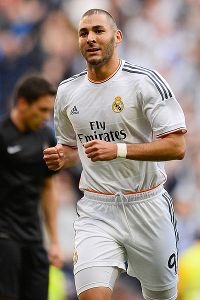 Pierre-Philippe Marcou/AFP/Getty ImagesKarim Benzema has eight goals this season, but some Real supporters are looking for him to be more productive.
A world-class striker is often mentioned, but in my opinion Real already has one in Karim Benzema. He might not be scoring many, but his link-up play benefits teammates and his movement pulls defences apart for others to exploit the gaps. As long as Real are scoring, the French international is doing his job. Luis Suarez would be nice, of course, but the Uruguay striker has just signed a new contract worth a cool 200,000 pounds a week at Liverpool -- with a clause inserted that he can leave if Real or Barcelona come calling, apparently. But with Liverpool top of the Premier League at Christmas, there will be no January sale.

But what of the summer? There could be a changing of the guard. Sergio Ramos, when he manages to remain on the field, is not as commanding as he can be and was at fault for both of Valencia's goals at the weekend. "Criticism doesn't bother me," he said after the match. "It's in one ear and out of the other. What I can tell you is that Sergio Ramos will be here for many years." You have to worry when a footballer starts referring to himself in the third person and the vice-captain's relationship with Perez is not that warm by all accounts. It would take a filthy great pile of cash to land Ramos but Manchester City will be monitoring the situation closely.

Casillas might also decide to try new pastures, even more so if he wins The Decima and there is no tangible promise of his No. 1 status next season. There are a host of Premier League clubs that will be climbing over each other to secure that signature, and a fair whack in Italy, Germany, the U.S., Qatar and just about anywhere else you care to mention.

Another old head, Xabi Alonso, will be free to speak to overseas clubs in January with his contract due to expire in the summer. It seems curious that a player who has been the fulcrum of the side since he joined in 2009, and who Ancelotti publicly anointed as the man to get the side's season kick-started after his return from injury, has not been offered a new deal. Ancelotti said he wanted Alonso's extension for Christmas, but Perez has yet to oblige him.

All in all, 2014 could well be a year of two halves -- the current side reaching its full potential before June, and a very different one lining up for 2014-15.