Average Real do enough to advance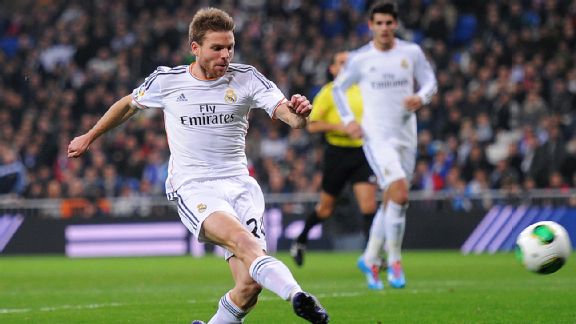 Denis Doyle/Getty ImagesAsier Illarramendi scored his first ever professional goal in Real Madrid's 2-0 Copa del Rey win over Olimpic de Xativa.
"I know perfectly well what the Alcorconazo is," said Real Madrid boss Carlo Ancelotti ahead of his side's second-leg Copa del Rey match against third-tier Olimpic de Xativa. The Italian was of course referring to Real's first-leg 4-0 drubbing at the hands of then-Segunda B club Alcorcon in the 2009-10 competition, which was enough to see Manuel Pellegrini's side dumped out at the first hurdle. In the return leg at the Bernabeu, Real managed a paltry single strike, and that only came at the tail end of the game as a watching Florentino Perez shifted uncomfortably in his VIP seat.

- Match stats: Real Madrid 2-0 Olimpic

Ancelotti made no such mistake on Wednesday as he oversaw a comfortable, if not particularly inspiring 2-0 win over the Segunda B outfit. The thing about the cup is that if you want to beat Primera Division sides, you really need to do it at home. Ancelotti's team selection reflected the competition -- which few in Spain are really bothered about until the quarter-finals -- but also his determination to avoid an inconvenient result. The canteranos were deployed, with Pepe, Alvaro Arbeloa, Isco and Angel di Maria in support and a strong bench in case the unexpected unfolded. Olimpic's aspirations were summed up by a placard displayed by the away support: "Jordi Marenya, Ballon d'Or."

The unlikely source of Asier Illarramendi opened the scoring with his first-ever professional goal, and Di Maria made it two from the spot, but if this was a dress rehearsal for any of Real's youngsters hoping to make Ancelotti's team sheet for the Liga trip to Valencia at the weekend, "must try harder" will have featured on the majority of report cards. Alvaro Morata in particular did little to concern Karim Benzema. Jese showed flashes of brilliance -- a delicious backheel to put Arbeloa through was worthy of the suspended Cristiano Ronaldo -- and Casemiro was solid enough in tandem with Illarramendi but restrained by the young Basque's orders to fill the Luka Modric role and get forward. Only when Xabi Alonso was introduced did the Brazilian get into the opposition half, a neat nutmeg of a Xativa defender followed by the ball ricocheting off the 21-year-old for a goal kick serving as a timely reminder that the former Sao Paulo midfielder is far from the finished article yet.

Isco was Real's stand-out performer, showing guile and vision in his touches and distribution. Again, comparison to Real assistant coach Zinedine Zidane is a little premature, but the signing from Malaga is an exceptional player nonetheless. How Valencia, once again faced with a staggering debt and with little left in the playing staff to offset it, must regret letting the youngster move for a pittance.

But despite the result, Ancelotti won't have been entirely happy with the side's performance. One goal from open play in 180 minutes against a side of Xativa's status is hardly cause for breaking out the good brandy. The modest side from Valencia holds one of the finest defensive records of any team in Spain -- nine games without conceding before Wednesday. They also house a Zamora trophy for goalkeeper Francis, who leaked only 15 last season, making all of Xativa proud. But in those nine games, Toni Aparicio's side have only managed five at the other end, which goes some way to explaining the score line in the Bernabeu. Had Xativa made more use of the raft of free kicks it was afforded, who knows? Real's Achilles' heel last season was defending dead ball situations, but the visitor rarely cleared the first man and often made bizarre choices, such as playing the ball backward from a promising position with 10 minutes left on the clock.

Probably, had Ronaldo been available, the contest would not have been remotely close. Gareth Bale picked up a knock in training and was also unable to play. With Benzema on the bench, there was never going to be an avalanche of goals. Still, the regular sight of Real players haranguing for penalties against a third-division side was slightly unedifying, although it can be attributed to a simple case of reaction embedded into the psyche of modern footballers.

Olimpic has played Real Madrid before at the Bernabeu: a friendly match in 1959 that ended 2-2. That result would have done the visitor very nicely on Wednesday, but Olimpic, a short-back and sides outfit, really didn't threaten at all in the return leg. Real will need to up its game a bit in the next round though, when they will play Osasuna. The Pamplona club is a bit of a bogey team in the league, having scored yet another valuable point last weekend in a 2-2 draw at the Reyno de Navarra stadium. Real has won only once there in six league attempts, and will be up against it in the cup as well.

However, the two-legged system employed by the RFEF heavily favours the larger clubs, and as Olimpic discovered in the Bernabeu, 90 minutes of heroics isn't nearly enough in this competition.