Decisions to make on Madrid's young guns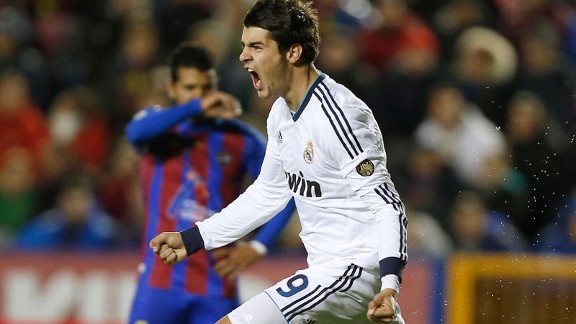 GettyImagesAlvaro Morata's performances have stagnated of late.
"Generally speaking, the young ones need time and work. Playing for Real Madrid isn't easy," was Carlo Ancelotti's rather conservative view on the progress of Madrid's 'stars of the future' following the 2-0 Copa del Rey victory over Xativa on Wednesday night.

Hardly inspiring stuff.

Madrid has focused on youth this season. The crux of their pre-season signings were brought in primarily to build for the future. Isco, Dani Carvajal, Asier Illarramendi and Gareth Bale, while Casemiro was promoted from Real Madrid Castilla. Although Bale was brought in for a world record fee and is the exception, these players were the Galacticos of the future, not necessarily the Galacticos of today.

• Copa del Rey: Madrid stroll into last 16

It all started well this season. Isco set the Bernabeu alight, and indeed was the star as Madrid trudged through the cup against Segunda Division B opponents, while Carvajal offered an attacking alternative to the defensively dependable Alvaro Arbeloa at right-back. Bale has lived up to his reputation for the most part while Illarramendi and Casemiro have shown signs of quality in bursts. On the whole, the latter two have been playing back-up to Xabi Alonso, Luka Modric and Sami Khedira for the most part of the season so far.

Madrid has promising youth promoted from within too, players staunch Madridistas are extra keen to see succeed. Jese Rodriguez and Alvaro Morata have impressed for Madrid's youth teams and Spain U21s and extra emphasis has been placed on the attacking duo this season. Defender Nacho, too, has got valuable first-team experience and hasn't let anyone down when he's been called upon.

But in recent weeks these players, on the whole, have failed to make the most of the chances they've been given in the limelight. The latest examples may only have come in the cup, the lowest priority of all the competitions Madrid will be involved in this season, and may have been against lower division opponents, but that only emphasises the underwhelming performances some of them have provided.

Morata, so loved in the stands at the Bernabeu, is a case in point. The young Spaniard has progressed at an encouraging rate in the all-white, and for Spain U21s, in recent seasons and has been charged this season, alongside Jese, to provide the striking back-up to Karim Benzema given a failure to replace Gonzalo Higuain, who departed to Napoli in the summer.

The youngster shone at the start of the season, getting plenty of minutes on the pitch and often being called by the fans, and the press, to replace a Benzema who was misfiring at an alarming rate in the opening weeks of the campaign. Morata plugged the gap when needed and looked to be doing a fine job of it, too.

Now, with Benzema finding form, Morata has struggled to stake a claim for a regular first-team role with his recent performances. Reports have linked him with a loan move away from the Bernabeu and now, more than ever, it looks like it could well be the right move for a player who seems destined to be a key part of the furniture at the Bernabeu in the coming years.

All of Madrid's young first-team players have plenty of quality, no doubt, and the powers that be at the club seem to trust them as a core part of Real Madrid's future. They've shown some exceptional signs already this season and that should only improve with games and time together as a first-team squad.

But at the moment, you can't help but think that a rumoured loan move to Arsenal or Tottenham Hotspur can only be beneficial to Morata at this stage of his career. Benzema is the number one marksman for Madrid and Jese, although struggling alongside Morata in recent matches, looked to have moved ahead of his Spanish U21 team mate in the pecking order -- a starting role, albeit brief, in the Champions League match against Galatasaray last month goes some way to proving that.

Ancelotti says Madrid "need everyone" this season if they are to battle for trophies on all fronts, and that's especially true in the No.9 role where Los Blancos, relatively to the rest of its squad, is light. Morata has had opportunities at first-team level, plenty of them, and although he's looked great in a lot of them, he seems to have stagnated somewhat in recent matches for whatever reason. A loan move, if it comes about, could be beneficial for all parties.

The Italian said the Copa del Rey is "a competition that we're really up for, and we'll be putting out our best line-up for it. Against Osasuna we´ll be playing with a different team." Benzema it is in attack from now on then, if fit and available, meaning chances will be fewer and further between for Madrid's young guns.

The rumour mill will be in full swing as January approaches and letting Morata continue his progress elsewhere in the short term may not be the worst decision Madrid make this season, however unpopular it may be with Madridistas.