Lacklustre Madrid fail to fire in Copa del Rey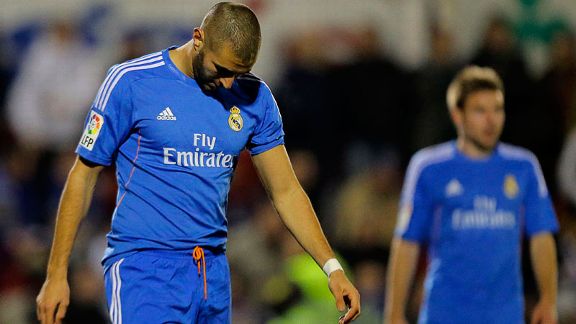 GettyImagesReal Madrid failed to impress against third-division side Olimpic de Xativa.
All eyes were on Real Madrid for a cup upset after La Liga rivals Atletico and Barcelona came through their Copa del Rey first-leg tests with ease, eventually, and they did not disappoint, with a lacklustre performance allowing Segunda Division B minnows Olimpic de Xativa an historic 0-0 draw against the Spanish giants on Saturday night.

• Copa del Rey wrap

While some gasps were heard at FC Cartagena as the third-tier side, the same level as Xativa, went ahead against Barcelona on Friday night before falling to a 4-1 defeat, the Catalan outfit and Atletico, who beat Sant Andreu 4-0, both succeeded where Los Blancos failed.

Madrid may have rested big names for the tie, including Cristiano Ronaldo (who is still recovering from an injury), Gareth Bale and Karim Benzema, but their strength in depth this season should have ensured a comfortable victory, on paper at least, against a side who play at the same level as Real Madrid C.

Iker Casillas got his regular cup run-out, while senior stars such as Sergio Ramos, Alvaro Arbeloa, Isco and Angel Di Maria joined youngsters gagging for game time in Alvaro Morata, Casemiro and Jese. This was a strong Madrid lineup, one that could, and should, have got the job done before the return to the Bernabeu.

As it turned out, Madrid were lacklustre and failed to adapt against a side who were playing in their cup final. The artificial pitch could have been used as an excuse, but city rivals Atletico had the same problem and adjusted just fine. While Madrid has been smashing their opponents recently, this was a result they will quickly want to forget. Luckily for Carlo Ancelotti's men, and unluckily for Xativa (pay day aside), there is a second leg. The magic of the cup.

Madrid players made mention post-match of the fact that the third-tier side had plenty of time to prepare for the match, what will be their game of the season, and that it showed. The hosts may not have threatened Casillas's goal and had been happy to sit back (of course they were), but they indeed packed a punch in the tackle and took no prisoners. They were out to do a job on the big boys and they did just that.

It may not have been a huge night for Madrid, but it was another chance for Morata and Jese to shine, and they didn't take it. Di Maria, playing understudy to Bale, got another start but, as with the young Madrid forward duo, didn't take it, either. Madrid were off-target all night and that, coupled with some stubborn home defending, saw them fail to hit the back of the net -- a rarity of late with goals coming left, right and centre.

Casillas didn't have much to do in goal and Fernandez Nacho didn't have the toughest of nights at the back, either, but Madrid managed to keep a consecutive clean sheet for the first time in 50 matches. Clutching at straws, for sure, but the night could, I suppose, have been worse for Madrid.

Let's stick to the plus points, shall we? Ancelotti went with a starting lineup that included nine Spanish players, the first time this has happened since a Copa match in 2004: Casillas, Daniel Carvajal, Nacho, Ramos, Arbeloa, Asier Illarramendi, Isco, Jese and Morata. Most of those have their best years ahead of them, and although the scoreline won't raise a smile, the Spanish influence will, with Los Blancos showing over the summer that they're keen to build a Spanish-led side for future years.

There were also seven former Castilla players starting. While La Masia gets a bucketload of praise and Madrid's youth setup is often wrongly overlooked, this was another positive for those at Valdebebas beyond the first team, Castilla's current Segunda struggles aside. Casillas, Carvajal, Nacho, Arbeloa, Casemiro, Jese and Morata have all featured for Castilla and pulled on the first-team strip together.

It may seem like desperate measures to perhaps paper over any cracks from a sub-standard performance with some positive thoughts, but La Liga's big boys have been here before -- there's no need for panic. It's good for the competition that these results come along, and it adds interest, a bit at least, for the second leg, but it is a match Madrid should have few problems with on home soil, and Ancelotti can call on his biggest hitters if he so wishes.

What is a possible concern is the failure of those fringe players, like Jese, Morata and Di Maria, so promising in other matches this season, to struggle when they should be rising to the occasion. Their performances didn't exactly whet the appetite or give Ancelotti reasons to be cheerful. Maybe they will be given a second chance when Madrid faces Copenhagen in their final Champions League group game or when Xativa makes the return trip to the Spanish capital.

David equalled Goliath at Estadio La Murta, but Goliath should have fewer problems in his own backyard.