Ancelotti's Real to tread carefully against Olimpic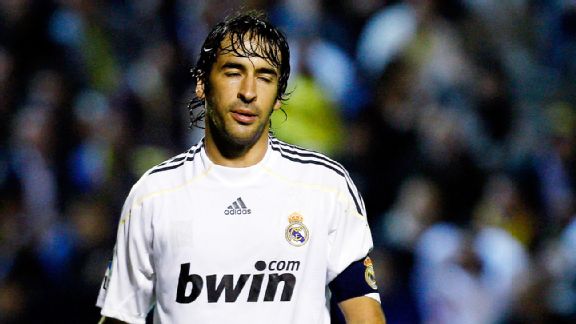 Victor Carretero/Real Madrid/Getty ImagesReal Madrid's 2009 4-0 loss to Alcorcon serves as a reminder to not take third division opponents lightly in the Copa del Rey.
It's that time of year again. The romance of the cup. A couple of days in the limelight for teams more accustomed to wading through a gruelling season in the hinterlands of Spain's lower leagues, where the game is gritty, not very pretty, and angels fear to tread.

This year's draw has thrown up an early Christmas present for Olimpic de Xativa, a Valencia-based side that battled through the last two rounds and reached the draw proper, as it were, with an 8-7 penalty shoot-out success away at CD Laudio. Out of the hat was plucked Real Madrid CF, a big pay day for a semi-professional team slugging it out in Segunda B, Group III. It's the stuff of dreams for the players and the town, and of nightmares for Real's star players, who are mostly quite unfamiliar with muddying their boots in stadiums like the 9,000-seater La Murta.

- Rigg: Arsenal stint would benefit Morata

Not that there will be any real mud. The pitch at Olimpic's ground is artificial turf, the abhorred surface of professional footballers because of the increased risk of injury it poses. This, of course, will play some part in Carlo Ancelotti's team selection. Xabi Alonso will certainly not be risked after recently returning from injury and Cristiano Ronaldo will be watching the match on television anyway after being sent off in last season's final against Atletico. "Xabi is a very important player in this team," said Ancelotti on Thursday. "He has great ability and a lot of experience. He's slow, like I was, but has a much better technique and quality of passing than me. What I'd like for Christmas is for him to sign a new contract."

Ancelotti noted that smaller teams can "throw up a surprise," and the competition certainly has some recent previous in that respect. Few outside Alcorcon, or anywhere in Spain, have forgotten the Alcorconazo of the 2009-10 competition, which didn't do Manuel Pellegrini's reputation in Madrid any good at all and prompted a public apology to Madridistas from the club. The then-Segunda B side from the southern Madrid suburb -- and this is no exaggeration -- thrashed Real Madrid 4-0 in the Estadio de Santo Domingo. The team for the first leg included Guti, Raul, Karim Benzema and Raphael van der Vaart, with Ruud van Nistelrooy coming off the bench in an attempt to salvage something. Van der Vaart prevented a complete debacle by netting in the 81st minute in the return leg in the Bernabeu, where Kaka was also drafted in to fashion a comeback. It was the only goal of the game. Ronaldo was absent with an ankle injury. Ah, go on then, it's always worth a link.

Alcorcon was then a team on the up, much like Olimpic, which has gone seven games without conceding and is pushing for the promotion places in Segunda B, where it has been for only a few seasons after climbing out of the basement Tercera Regional division in 2010-11. The similarities are there, but in all likelihood Real will have too much firepower over two legs for the part-timers. But Mirandes, which buckled its swash and reached the semifinals in the 2011-12 competition, beating three Primera sides en route, shows that the cup still has the ability to make a team like Olimpic kings for a day.

And Olimpic coach Toni Aparicio was pretty blunt about his team's ambitions after it defeated Prat 2-0 at the weekend. "We'll beat Real Madrid."

Left back Jose Peris was interviewed in the run-up to the game and admitted he was having sleepless nights. "I woke up at 3am and my girlfriend asked me 'Jose, what's up?' I replied: I can't decide whose shirt to ask for."

Peris, a former Levante youth teamer, will probably have to settle for Alvaro Morata, Jese, Casemiro, Nacho or Jose Rodriguez as Ancelotti gives the canteranos 90 minutes, but the likes of Angel di Maria, Isco, Asier Illaramendi or Luka Modric could start, with an old head such as Sergio Ramos likely to corral the youthful line-up. Usually the back-up keeper gets a game in the cup in the cup, but Jesus Fernandez may be given the gloves for the first leg to spare Iker Casillas' self-esteem. Bale, considering the injuries that hampered the start of his Real career, will probably be on the bench -- just in case.

In any case, it's a big day for Peris, Olimpic, Xativa and football. In the cup, you just never know. Jose Mourinho, whatever else he did when he was in Madrid, instilled in the club the notion that the cup is a trophy to be taken seriously; Real had not won since 1993 before the Portuguese arrived. Ancelotti is certainly not going to approach the tie any differently. And rightly so. Not all footballers can play for Real Madrid. But, maybe just once in a lifetime, they can play against Real Madrid, so why not give it a go?