Short-term Arsenal stint would benefit Morata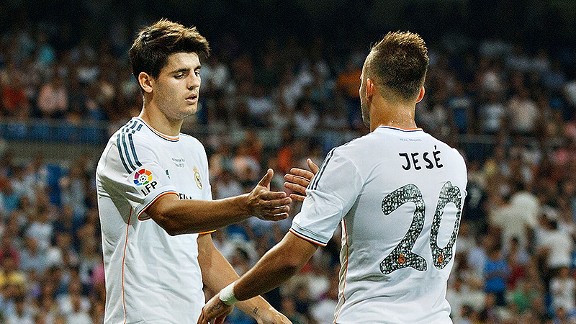 Gonzalo Arroyo Moreno/Getty ImagesReal Madrid youngsters Alvaro Morata, left, and Jese Rodriguez have been the focus of loan rumours.
As we step into December, we also step closer to the January transfer window and the rumour, speculation and pure madness that comes with it. The first name has already been pulled out of the hat with Real Madrid youngster Alvaro Morata linked with a loan move to Premier League leader Arsenal.

Cue rejection and denial from all parties -- but that's not to say the move won't happen. There's no smoke without fire and all that.

"I'm only thinking about winning with Real Madrid," said the talented youngster when asked about the move. "I'm happy in this team. I'll gradually cement my place in the starting XI. I'm sure of that. My time hasn't yet come."

- Wenger rejects Pato, Morata rumours
- Jese tipped for the top

Morata's time hasn't yet come, for sure. The Blancos youth product is already a darling of the Bernabeu with expectations extremely high. A week-in, week-out starting role has yet to materialise, however, with Karim Benzema still leading from the front.

Arsene Wenger has also distanced himself from the story. "There is no truth in that," he said. "That is all I can say. I have not been in touch with them [Madrid]."

So a no-go in January, then. I wouldn't be so naive. With bitter rival Tottenham Hotspur also reported to be chasing Morata, the transfer game is in full flow.

Madridistas will be desperate to see the Spain Under-21 international remain in Madrid and get his chance on a more regular basis, even if the move to the Emirates Stadium is only on a temporary six-month deal.

At the start of the season, the one area Los Blancos looked short on was an out-and-out striker, with Gonzalo Higuain, now firing them in at Napoli, not being replaced like-for-like and Benzema left to go it alone in the No. 9 stakes. Youngsters Morata and Jese Rodriguez acted as backup with the hope that the Frenchman would flourish without the knowledge he would be rotated on a weekly basis, as had been the case alongside Higuain.

That didn't happen, with Benzema the subject of early-season frustration from the Bernabeu. His form wasn't great, granted, but the pressure of being the sole experienced front man seemed to be getting to the former Lyon man. Luis Suarez, Falcao and Sergio Aguero had all been linked over the summer, but Gareth Bale was the only real goal scorer added to the squad. It was one area in which Madrid, for all the splashing of cash over the close season, looked relatively weak.

It would have been somewhat unthinkable for Madrid to let Morata move elsewhere with so few striking options (goal-happy Cristiano Ronaldo aside) on the books, but now the idea may not seem so mad.

In Bale, Los Blancos have a player who is nearing 100 percent fitness and firing goals in at a ratio only Ronaldo seemed able. The Welshman, alongside the Portuguese, seems capable of scoring at any moment, and with "Los Dos Torpedos" firing, Madrid do not need to worry about goals. Benzema has also shaken off his worrying form in front of goal and bagged goals in his last five La Liga matches, taking his tally to 12 for the season. Confidence seems no longer an issue.

If Benzema gets injured, Rodriguez has his chance. Bale has proved he can play in attack too, and Ronaldo has also been used there with some success, even though he prefers a wider role. If either move into a more central role, Madrid have the not-too-shabby Angel di Maria to plug the gap. Not a bad backup.

That's why, for my money, a move for Morata to London at this stage of his career would not be a bad move at all -- for all parties.

The young Spaniard has made 12 appearances for Madrid this season, but only one has been a starting role. When many thought he would get the chance to shine in the Champions League against Galatasaray last time out, with Benzema rested, that honour instead went to Rodriguez. Carlo Ancelotti cited tactical reasons for his pick, but Rodriguez, and not Morata, was trusted on the big stage. That is not to say Ancelotti rates Rodriguez above his Spain Under-21 counterpart, but he is now a viable alternative.

Morata is also at the stage where he needs to be playing games regularly at a high level. He will get more of those chances at the Emirates. For that, Madrid would make sure to get the most of the deal. Olivier Giroud has hit good form with the Gunners this season, but Wenger is looking for someone who can play in all positions in Arsenal's attack. Morata fits the bill.

The physicality of the Premier League will also help add something to his game -- a different way of playing, a new string to a talented bow. Arsenal's success this season can be nothing but a good thing, riding high at the top of the table and 90 minutes away from qualification in the Champions League. The presence of former Madrid teammate Mesut Ozil isn't bad either.

Minds may be cast forward to what could be an action-packed few months for Ancelotti and his men as the season reaches its business end. Madrid will be hoping to be involved on all fronts as La Liga, the Copa del Rey and the Champions League edge closer to their respective conclusions and a large squad will be required to deal with the three-pronged attack. Morata could then get more game time, especially in the cup.

But if Morata spends a successful six-month loan stint at Arsenal, he should return to the Bernabeu a much-improved player, which will improve Madrid next season too.

Make no mistake, the youngster is central to the future of Los Blancos, but a short-term move away from the limelight in the Spanish capital will do him no harm at all.