Ramos' red mist a Real concern
The red card received by Sergio Ramos in Real Madrid's comfortable 4-1 win over Galatasaray on Wednesday night was a little harsh, but by the letter of the laws of the game the defender's tussle with Umut Bulut left match referee William Collum with less wriggle room than the defender himself. Ramos was the last man, contact was made, and although the Turkey forward certainly milked it for all it was worth, a straight red card was issued. In Ramos' defence, it appeared to be more of a clumsy challenge than a malicious one, but replays tend to mitigate the defender in such instances. In the split second it took Bulut to crumple to the floor, Ramos' hands were on his shirt, a little pressure perhaps applied to the back of the Galatasaray player, and his forward momentum hindered by an awkwardly placed boot.

• Report: Real 4-1 Galatasaray
• Rigg: Arbeloa -- The surprise hero

Was it a sending off? Officially, yes. Could Collum have perhaps given Ramos the benefit of the doubt and reached for a yellow instead, considering half an hour of the encounter had yet to elapse? That is one for the video replay debate and Uefa's disciplinary committee, which will no doubt have a sizable file drafted by Real landing on its desk with more violence than Bulut hit the Bernabeu turf in due course.

Ramos, of course, has a bit of history in the early bath stakes -- Ronaldo's shampoo has probably been as much a victim of the red-card magnet's quite remarkable 17 dismissals in his Real Madrid career. It really is a staggering haul to have chalked up in eight and a half seasons, and even more so in light of why he was signed by Real in the first place.

Spotting the young Sevilla defender nice and early in 2005, the Bernabeu hierarchy identified Ramos as the natural successor to Fernando Hierro, the winner of three Champions League titles and a prolific scorer from a position in central defence or the base of midfield. Ramos may be some way short of Hierro's 126 goals for the club, but he wasted no time in surpassing "The Marshall" in terms of being given his marching orders: by 2010, Ramos bettered, if that's the word, Hierro's mark having played 264 fewer games.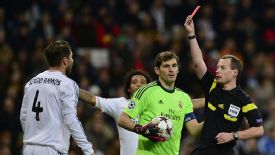 GettyImagesSergio Ramos is shown a red card during Real Madrid's Champions League game against Galatasaray.
What makes Ramos' red-rag-bull routine in the white shirt is even more incredible in that he has 115 caps for the national side and not one red card. Neither have the vast majority of his club dismissals come in games of any significance, or against opposition of any significance. The suspicion that Ramos takes a mental vacation when there isn't much resting on the outcome of a match cannot be ignored. Until now, this has been largely tolerated by avowed admirer Florentino Perez, but the look on Carlo Ancelotti's face -- and his refreshing outburst without the hand-over-mouth pretentiousness of Jose Mourinho and his staff -- suggests the Sevillan hothead has finally met his managerial match.
Ramos took to Twitter after the Galatasaray game to complain that the red was harsh, but he is running out of excuses for leaving his team light. The possibility that when a referee's eyes alights on the back of his shirt -- if such a romantic snapshot still exists -- the colour of a card instantly changes is a compelling one. But of his dismissals, only five have been straight reds: Hierro straddled the "old school" and the more gentrified versions of the game and, if anything, had to work a little harder to incur a top-pocket foray by the match official.

"I told Ramos he didn't need to risk playing offside," said the not-at-all-happy Ancelotti post-match, after aiming a few choice words at the tunnel-bound player. "He only needed to stay goal-side. The danger is always at the defender's back, not in front of him."

"We played better with 10 men," the Italian added, eulogizing the effort of his depleted team in Ramos' absence. A rebuke towards a charge whose jibe that Mourinho didn't understand a mid-game tactical shuffle, apparently orchestrated by Ramos, because the Portuguese "was never a player". Teams often play better with their backs to the wall, but Real will certainly struggle against decent opposition in the Champions League round of 16 if Ramos cops a three-match ban. Whatever his flaws, Real is more assured at the back with their vice-captain on the pitch -- if he lasts the 90 minutes.

Record red cards

Ramos' haul of red cards is nothing compared to Gerardo Bedoya. The "robust" defender has amassed an eye-watering 43 red cards during his career in the Colombian, Argentinian and Mexican leagues. A product of the hard-hitting 1950s and 1960s perhaps? Not quite. Bedoya played in Independiente Santa Fe's 2-0 defeat at the hands of Atletico Nacional in Colombia's Primera A on Thursday, picking up just the one yellow. Ramos will have to pull out all the stops to top that.