Will Real thrust Casemiro back on center stage?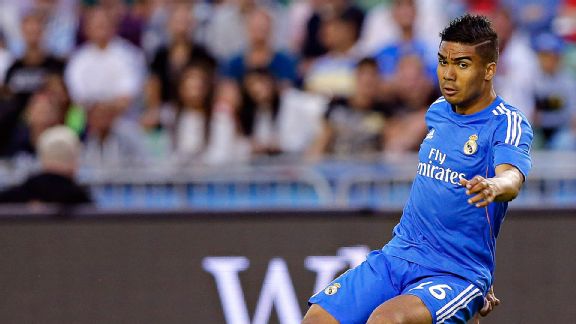 Helios de la Rubia/Getty ImagesThe injury to Sami Khedira could open up playing opportunities for Casemiro at Real Madrid.
No club manager enjoys an international fixture break, but Carlo Ancelotti has been dealt a particularly cruel blow in this latest round of FIFA knockabouts. While Cristiano Ronaldo, Fabio Coentrao, Pepe, Karim Benzema and Luka Modric were desperately battling to help their countries reach next year's World Cup, Sami Khedira was called up by Germany for a fairly innocuous friendly against Italy. Two heavyweights -- and potential challengers for the title in Brazil -- engaged in a sparring contest rather than an attempt to land any serious punches.

Sixty-five minutes of the game had elapsed in Milan when Khedira went into a routine tackle with Andrea Pirlo and fell to the turf in agony. Not a player to unnecessarily overstate the impact of a challenge, it was immediately obvious that the Real Madrid midfielder was in considerable pain. Germany team doctor Hans-Wilhelm Muller-Wohlfahrt later confirmed the worst: Khedira had suffered a tear in the anterior cruciate ligament of his knee.

- Report: DFB confirm Khedira blow
- Report: Casemiro calm despite lack of chances

That might not sound so bad in the purely medical lexicon, but this is an injury that used to be a career-ending one. Medical advances have ensured that this is no longer the case: a Washington University study conducted in 2012 on 100 male and female footballers showed that 70 percent returned to action with the same performance level, or better, than before the injury. But nothing in science is exact, and for every Ruud van Nistelrooy, there is a Michael Owen.

Both former Real Madrid strikers, Van Nistelrooy's move from PSV Eindhoven to Manchester United was put on ice after the Dutchman popped his cruciate in training for the Eredivisie club. This, though, did not prevent him from forging a stellar career at the highest level. In Owen's case, the awful sight of the England forward rolling off the pitch in agony in the first minute of a 2006 World Cup match against Sweden was the harbinger of the end of his top-level playing days, and also ignited a vicious duel between Newcastle United, FIFA and England's FA over the nature of the country-versus-club status quo.

The German Football Association has said that, hopefully, Khedira will be back in action in time for the World Cup, and let us hope that he is. But in the meantime, the so-called FIFA curse has very much landed at the door of Real coach Ancelotti. Khedira had, by his own standards, not been in great form so far this season for his club. The eagerly anticipated return of Xabi Alonso to the side however had given the Germany international a new lease of life. Freed from the shackles of the holding role with the Basque back in action, Khedira's performance in last week's 5-1 win over Real Sociedad was his best of the campaign: the number 6 was able to maraud as he did under Jose Mourinho, safe in the knowledge that someone else would be on hand to pick up the pieces at the back, and chipped in with a goal. On several occasions this season in Alonso's absence, Khedira has been out of position, out of form and out of ideas.

Now, he and Real are basically out of luck.

Khedira is not a holding midfielder per se, but he has been obliged to fill the role. Asier Illarramendi clearly doesn't yet have the full trust of the club's coaching staff and was signed as an understudy to Alonso in the first place, a sage move all things considered: the ongoing contract impasse between the Spain international and the Bernabeu board is being closely monitored across Europe. But in Alonso's absence, Khedira, a box-to-box midfielder with a decent tackle and aerial presence, seemed a more natural fit than any other player on Real's books. Now that he will be sidelined for a considerable length of time -- possibly the entire season -- Ancelotti has to decide whether to use what he's got, or dip into the January transfer market; on the evidence of his selection policy so far, the latter looks more likely.

Unless, of course, Real's forgotten man can stake a claim to the berth alongside Alonso that the Italian seems so keen to fill.

Step forward Casemiro. The Brazilian youngster -- who slipped in under the radar from Sao Paulo at Mourinho's behest and shone in pre-season this summer -- has not featured much since. A couple of substitute appearances in the opening league games against Betis and Granada suggested he was in Ancelotti's plans. Real's labored 1-0 victory against the latter, with the Brazilian and Modric paired in the engine room for the last half hour, was the end of that experiment. In the last two months, Casemiro hasn't played a single minute.

"We haven't spoken about it," said Ancelotti last week when quizzed about the possibility of Casemiro going out on loan in January. "The player understands the situation as it stands. We have lot of players, there are no injury problems in midfield at the moment and so it is difficult to find a space for him. He has confidence in himself, he works hard and he's waiting for his chance."

That chance has come. Ancelotti has unexpectedly been denied his ideal midfield formation of Khedira-Alonso-Modric, and needs to seek an alternative. At least during the international lull, with most of the squad absent, he has the youngster under his wing.

"I'm calm," Casemiro told the club website. "I turn up to training every day full of hope and feeling happy. I'm part of the Real Madrid squad and many people out there would love to be in my place. I'm working hard to make the most of my opportunities and be ready."

Neither player nor coach would have expected Khedira's injury to bring the situation to a head, but that's the nature of the game. Casemiro might be asked to step up to the plate, or yet another stop-gap solution will be sought. Ancelotti has made a point of trying just about every formation imaginable since his arrival at the Bernabeu, and the Brazilian Castilla recruit has shown early promise. But with January looming, Casemiro doesn't have long to stake a claim to the newly vacant berth.