International bumps and bruises for Blancos
A potential season-ending injury, a not-so-serious ankle knock, a 1-up in the superstar-going-to-Brazil stakes, a wacky transfer story and a Finnish beating. Oh for a return to the bread and butter of La Liga, and the international football´s not even over yet.

The first round of international matches was enough to make Real Madrid boss Carlo Ancelotti go even grayer, if that´s possible, and there´s still more action to come before Los Blancos return to domestic action with a trip south to Almeria at the weekend.

Here are the five things that matter to Madridistas from the last week -- the good, the bad and the ugly.

Khedira´s injury blow

Every manager´s worst nightmare. Fingers are crossed over the fitness of players while on international duty, but the luck has not been with Madrid in this break. Sami Khedira looks set to spend the rest of the season on the sidelines after sustaining a knee injury during Germany´s friendly in Italy on Friday night.

-FIFA to compensate Madrid for injury

It´s a blow to Madrid, no doubt, but it could have been worse. Madrid´s key men are thus far unscathed and, unlike previous seasons, Khedira has not been a week-in, week-out player for Los Blancos under Ancelotti. A realiable, deep-lying midfielder he may be, but a first name on the teamsheet he is not.

If Ancelotti could afford to a lose a player from one area of the pitch, it would be the midfield following the bolstering done over the summer. Xabi Alonso is back playing after missing the start of the campaign while Casemiro and Asier Illarramendi are chomping at the bit for a full break into first-team football. Casemiro is the apparent like-for-like with Khedira and he´s shown enough quality, albeit in short blasts, to show he can plug the gap.

When one door shuts, however unfortunate, another one opens and this is the Brazilian´s chance to shine. Ancelotti has hinted he will not bring in new blood during the January transfer window to replace the German and it´s the right decision, especially given the cash Madrid has splashed already this season. A change in tactics, perhaps, with Isco, Luka Modric and Angel di Maria also thrown into the midfield mix to add a host of options. Madrid can cope.

A let-off to Alonso

While Khedira got all the bad luck in Italy, Alonso survived an injury scare playing for Spain against a, shall we say, physical Equatorial Guinea side. To see both men return from representing their countries in a bad way would have been a huge blow for Madrid, but Lady Luck shone on Alonso.

-Del Bosque: Alonso injury 'nothing serious'

The former Liverpool man has only just returned to a long layoff and another setback would have held big concerns for his future, especially with his contract at the Bernabeu coming to an end in the summer. As it is, Alonso suffered only a knock and could feature for Spain on their return to South Africa. Ancelotti will be hoping not. Wrap him up in cotton wool, at least.

It´s been no surprise to see Madrid improve since Alonso´s return and Madrid seem keen on rewarding him with a new deal, despite reported interest from former boss Jose Mourinho at Chelsea and Juventus. To retain Alonso´s services would be a very wise move for Madrid indeed.
He´s a player who relies little on pace and more on awareness, a football brain and a cross-field pass better than any in the game.

Ronaldo 1-0 Zlatan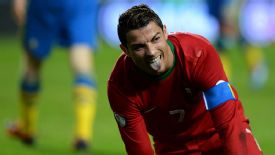 GettyImagesCristiano Ronaldo's goal has given Portugal the edge over Sweden.
The match that was billed Ronaldo against Ibrahimovic yet drew criticism from players and coaches was actually decided by ... Ronaldo. Eight minutes from time, to give Portugal a slender advantage ahead of the second leg back in Sweden on Tuesday night. Nicely poised.

Madrid´s talisman is in arguably the form of his life at the moment and his match-winner came on the same day that votes closed for the Ballon d'Or -- Ronaldo will surely be hoping that´s a lucky omen for ending Lionel Messi´s dominance of the accolade.

His club manager will probably be watching Tuesday´s return leg in Stockholm from behind the sofa, again, after Sweden midfielder Seb Larsson claimed he and his teammates could go in harder on Portugal´s No. 7 in the second leg thanks to an English referee, Howard Webb, taking control of the match.

"We have an English referee now so we can probably go in a bit harder," Larsson said. "I do not think he is going to fall for the same tricks so easily. Howard Webb is used to refereeing where the game is a little more physical. He's a great referee, too, which is important for such a big game." Webb probably isn´t going to fall for the same flattering tricks from Larsson, either.

Bale´s Finnish beating

Another player on the end of some rough treatment over the international break was Gareth Bale. Pulling on the Wales shirt for the full 90 minutes for the first time since his move to Madrid, the jet-heeled wing wizard was kicked from pillar to post in the ´friendly´ match in Cardiff.

"He is going to get kicked, pushed and bullied but ... he has the character to deal with it," said Wales manager Chris Coleman. Maybe so, but that rough treatment is something Ancelotti, and of course Bale, could do without. The old saying is that it´s a compliment, and his switch to the Spanish capital will only heighten strength of those kicks and pushes.

What is good news for Madrid, however, is an acknowledgment from the Wales boss that he may rest Bale in future friendly matches unless he´s 100 percent fit. Coleman wants his best players available but will not risk the world´s most expensive footballer if he´s in need of a rest.

With Madrid expected to challenge for trophies on all fronts this season, and for the foreseeable future, expect Bale to be in need of that rest. Whether Coleman sticks to his word with the services of Madrid´s newest recruit available is another matter.

Bendtner is Bernabeu-bound

To finish off, a joke -- or so it seems. A bit of light-hearted entertainment to finish this latest piece. Nicklas Bendtner, bench-warmer at Premier League Arsenal, says his next destination will be either Barcelona or Real Madrid in the January transfer window. Tongue-in-cheek, or a bet with friends?

Asked by Danish publication Politiken where he sees himself playing in the future, the Dane replied "Real Madrid or Barcelona." A place working in the Bernabeu bars, maybe, but this is one transfer rumour Madridistas should not worry too much about.