Ronaldo worthy of world's best tag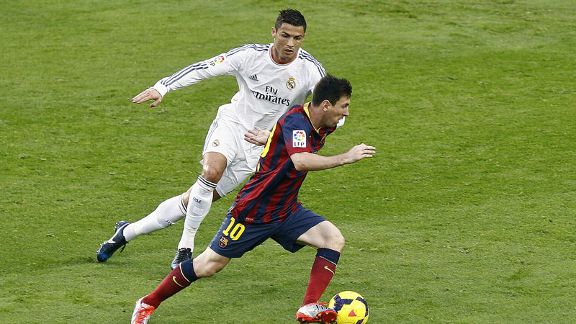 GettyImagesCristiano Ronaldo is undoubtedly a worthy counterpart to Lionel Messi in the world's best player debate.
Who is the best player in the world? It is arguably the favourite topic of the football fan, but it is also the most difficult to resolve due to the inexorable passage of time. Pele is always cited, of course, and rightly so, but he banged in almost half of his career goal tally in friendlies. Diego Maradona won the World Cup pretty much single-handedly in 1986 and had a dominion of the ball that no other player in history has been able to match, with the exception of George Best. The Northern Irishman never graced a World Cup, but tormented defenders at the highest level for Manchester United with exceptional skill and poise, verging on downright cheek.

- Rigg: Ronaldo stars, Benzema ovation
- Ribery on Madrid interest

Johan Cruyff never won the sport's most sought-after trophy but is credited with revolutionising the way the game is played. The list of candidates goes on and on, but these are perhaps the four most cited "best" players of all time.

But how can such a debate be measured? Certainly not by the FIFA Ballon d'Or, which Maradona never won and Pele was never eligible for. By the number of World Cups amassed? Even Pele's unique claim on that front has been embellished a tad, FIFA awarding a retrospective winner's medal for the 1962 tournament in 2007 despite the Brazil legend barely kicking a ball after being injured in the group stage. And then there's Best ... a winner of the Ballon d'Or who never even featured in a European Championship.

It was precisely the FIFA Ballon d'Or that the crowd at the Bernabeu were clamouring for on Saturday as Cristiano Ronaldo hit yet another hat trick in the white shirt of Real Madrid. And herein lies the great conundrum of this generation: Where does Ronaldo lie in the reckoning for the world's best player? There are several lines of debate in that question, not least should he even be considered the equal of Leo Messi? In short, he really should, and then some.

Ronaldo's treble at the weekend was the 19th of his Real Madrid career solely in the league; only Alfredo di Stefano and Telmo Zarra, the Athletic Bilbao great, have more in La Liga with 22 each. That seems a record that will be overhauled soon enough.

The Portuguese forward is already the fifth-highest scorer in Real Madrid's history, overtaking Hugo Sanchez a few weeks ago and currently bearing down on Ferenc Puskas. Only three active Liga players are in the top 20 all-time scorers domestically in Spain: Messi (223), David Villa (178) and Ronaldo (162). But what stands out about Ronaldo's achievements in the league are his goals-per-game ratio (1.09) and the time he has taken to hammer them in. Villa has been playing in La Liga since 2003 and has a strike ratio of 0.54. Messi made his debut a year later and is worth 0.87 goals per game.

Furthermore, Ronaldo has scored 60 or more goals in the past three seasons for Real. It is a little churlish, sure, but Messi managed "only" 53 in 2010-11, when Ronaldo bagged 60 despite a fairly lengthy injury layoff.

And then there is the Barcelona philosophy. As Zlatan Ibrahimovic would tell you, and Villa to a lesser extent, there is one top dog at the Catalan club and the team's style of play in the past has been entirely tailored to the Argentinean. Ronaldo hardly has the same setup at Real Madrid, where the goal-scoring onus has been shared with Raul, Gonzalo Higuain and Karim Benzema.

The Portugal captain is now only 98 goals shy of the club legend's tally of 323. At his current rate of scoring he will reach that target sometime in 2015. Raul required 741 games over 16 seasons to reach that total. Ronaldo has played 216 in four and a quarter.

With a contract due to expire in 2018, if he remains injury free, it is inevitable that Ronaldo will smash every club record going, and alongside Messi will also break every Liga and European goal-scoring mark that exists, including Zarra's staggering haul of 251 in 278 games, the closest comparison to Ronaldo in goals-per-game ratio at 0.91. Messi is six shy of Raul's tally in the Champions League, and Ronaldo 12.

It is perfectly conceivable that neither will win the World Cup, although Argentina's best chance is next year on almost home soil. Javier Mascherano said in a recent interview that Messi is attempting to condition himself to be in perfect shape for the tournament in Brazil, a target that the hamstring injury he suffered against Betis on Sunday perversely will help him to achieve. Ronaldo, meanwhile, has to lead Portugal to playoff triumph against Sweden in the next couple of weeks to ensure Paulo Bento's side qualify. Not the easiest of draws in the European lottery, by any means.

Whether or not Ronaldo will finally win a second Ballon d'Or in Switzerland next January, ending a run of four straight awards to Messi, there is little doubt that both players have earned the right to be uttered in the same breath as Pele, Maradona, Best and Cruyff. Will one of them ever be considered the best player of all time, to be evoked by misty-eyed followers of today's Liga? Maybe, with all the variables that entails.

In the meantime, does Ronaldo have a pretty good claim to a personal, undisputed heavyweight title of his own: the greatest scorer of goals the game has ever witnessed? At his current phenomenal rate, it seems very likely. And even Sepp Blatter will be forced to salute that.