Ancelotti faces style council for visit of La Real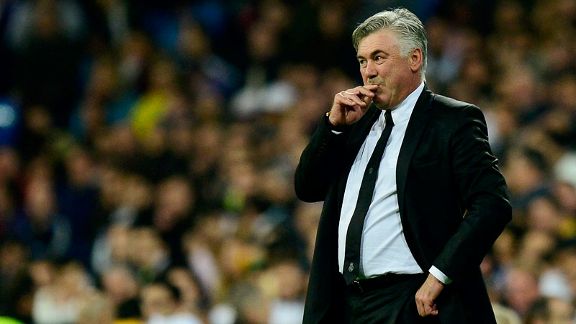 JAVIER SORIANO/AFP/Getty ImagesCarlo Ancelotti's Real Madrid have been shaky in defence of late.
Carlo Ancelotti has a tough job. Not as tough maybe as whoever takes on the poisoned chalice that is Valencia CF when Miroslav Djukic, as seems inevitable, is jettisoned, or Paco Jemez at cash-strapped Rayo. Ancelotti's mandate at Real Madrid brings with it problems of a completely different bearing than at any other Liga club; finding the right balance in his squad, and keeping a vast collection of players who would walk into any side in Spain, and in the majority of cases Europe, content with their lot.

- Report: Ronaldo fit to face La Real

"It may be that I've decided on my first 11," said the Italian ahead of Saturday's visit of Real Sociedad. But he added that he will continue to rotate so that he doesn't find himself in charge of "11 tired players and 11 unmotivated ones."

There are a handfuls of "fijos" in Ancelotti's squad -- players that if fit, will play every game. Sergio Ramos, who is suspended for this match; Cristiano Ronaldo; Marcelo, who is a doubt for the La Real clash, and Xabi Alonso, whose return to full fitness gives the coach a separate piece of pressure. Ancelotti has placed a lot of emphasis on the importance of the Basque ball-sprayer to his plans -- "with Xabi Alonso, the team's performances will improve," he said in the pregame news conference. But if it doesn't, and fairly rapidly, dissenting voices will grow louder. "It's simple. The public are whistling me because they don't like the way the team is playing."

Defence is Real's major weakness this season, not just in the backline but in terms of ball retention, recovery and positioning. It's hardly unforgivable as Ancelotti has yet to field the same line-up twice. In midfield the problem is numbers, and additional pressure from the VIP box of the Bernabeu in that area should not be underestimated. Gareth Bale is clearly a pretty tasty footballer, but benching him for say, Angel di Maria, for an extended period would not go down terribly well with one Senor Florentino Perez.

The front three are playing some scintillating stuff, Ronaldo, Bale and Karim Benzema combining beautifully of late, but finding Di Maria -- arguably Real's player of the season so far behind Ronaldo -- space in the team is proving difficult. Playing the Argentinean on the left of the first bank of midfield in a 4-3-3 against Juventus was an experiment that probably won't be repeated against opposition of that caliber. Flavour of the month during pre-season, Casemiro, will be eyeing the King's Cup draw, which oh-so-unexpectedly kept Real and Barca apart until a potential final, while Isco seems have to fallen down the pecking order after a blistering start to his Real career.

It's the sort of conundrum that most managers would happily take on, but considering Ancelotti's remit at the Bernabeu -- win the league, or the Champions League, or both, while keeping the fans and the board happy with attractive attacking football, but while not conceding too many, if you wouldn't mind -- the Italian needs to settle on a first choice line-up soon, and complement that with the embarrassment of resources at his disposal. (Purely for opinion's sake, mine would look something like this, injuries and suspensions notwithstanding, in a 4-2-3-1. Casillas; Carvajal, Ramos, Pepe, Marcelo; Alonso, Modric; Di Maria, Bale, Ronaldo; Benzema.)

Anyway, what of Saturday's opposition? La Real gave Madrid a torrid time last season, the sides sharing out 13 goals over two league games. The penultimate match of 2012-13, when La Real was chasing Champions League football and Real had long run out of anything to run about for at all, ended up 3-3 in the Basque Country. The return match in the capital Real won 4-3, a thriller that signaled the beginning of the end for Mourinho and the destruction of whatever confidence Antonio Adan ever had in himself. After being thrown into the previous weekend's Malaga loss as a political pawn, he was sent off after five minutes against La Real, Casillas replacing him.

Xabi Prieto scored a hat trick in the Bernabeu, and fans of gambling might want to back him to do so again; the La Real captain has scored 11 in total against Real Madrid, six of them at the Bernabeu. Only Leo Messi has more among current Liga players.

La Real is a Champions League side, lest we forget, at least for a couple more weeks. In Antoine Griezmann it has an early runner for young player of the year who has scored six in Sociedad's last four league games, which have reaped 10 out of 12 possible points. La Real's solid defence, marshaled by Spain international Inigo Martinez, has conceded just 12 goals in the league, four fewer than Real Madrid.

Coach Jagoba Arrasate, who was in charge of the youth side for two years and assistant to Philippe Montanier for one, had only coached amateur teams in the dark recesses of Spain's football pyramid before occupying the big chair but has risen to the challenge, domestically at least. "I may have come from the regional divisions, but it's all football," he said last week. La Real certainly acquitted itself well against Manchester United over two legs, even if it came too late to realistically revive its European aspirations.

Arrasate is certainly savvy enough to be aware that his side will have to retain its shape and not leave any gaps at the back to prevent Real's attacking armory from getting into full flow. While stating he won't set up his side overdefensively, he noted "we have to try not to lose the ball in the opening stages of the game and be very attentive of their counterattacks."

Easier said than done, of course, with Real's front line. There won't be much other than 1s for a home win on this weekend's Quiniela, but La Real isn't going to make life easy.

The question is, even if the three points remain in Madrid, will the performance be pretty enough to appease the Bernabeu?