Real's forward thinking covers defensive cracks in Vallecas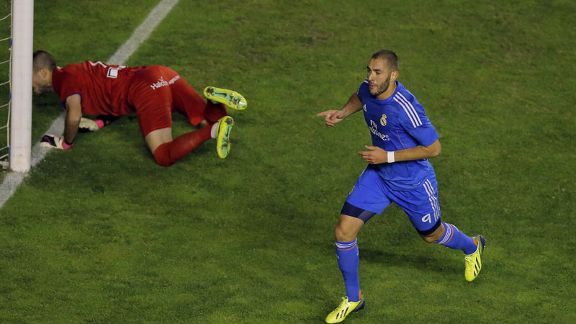 AssociatedKarim Benzema wheels away after netting for Real Madrid against Rayo Vallecano.
Carlo Ancelotti was not a very happy man after watching his Real Madrid side beat an ambitious Rayo Vallecano 3-2 in the southern capital suburb on Saturday evening. Once again, Real had the game by the scruff of the neck, as it had against Sevilla during the midweek round of fixtures, and once again from a commanding position of three-nil up the opposition almost wriggled free of a stranglehold earned from goals by Cristiano Ronaldo and Karim Benzema.

- La Liga review: Real hang on

"That this has happened in two consecutive games is not a coincidence," the Italian said after a match in which his multi-multi-million collection of world superstars almost had its pants pulled down by a club so devoid of liquidity that it only recently emerged from bankruptcy. However, Rayo played the more flowing football for large periods of the match, winning the battle for possession of the ball as it had against Barcelona earlier in the season. But possession is one of those statistics that generally fail to reflect the bigger picture: the impression that Real left in the working-class Vallecas neighbourhood is that it actually operates better without the white sphere under its control for too long. Given time to think, Ancelotti's players over-elaborate. Hitting forward with instinctive movement, there is little any side can do against his brutally efficient front line.

Ronaldo opened the scoring on a break, neatly nutmegging a Rayo defender and slotting home past Rubén on three minutes and Real ploughed a similar furrow during the first 45 minutes, surging forward whenever the chance arose. Gareth Bale again excelled in his right wing role, providing two assists, although Ancelotti's attempt to crowbar both the Welshman and Angel di Maria into the side did not come off. The Argentinean, playing in an unfamiliar role on the left in the first bank of midfield, was muted and offered little going forward or defensively. If Bale is to continue in the starting 11, Ancelotti will have to get his salt and pepper shakers out again to work out a way to accommodate the in-form Di Maria as well.

It is little coincidence either that Real went to pieces when Asier Illarramendi replaced Xabi Alonso at half time. The young Basque holding midfielder is doubtless a fine player but, much like Sergio Canales before him, perhaps snapped up from a lesser Liga light a little before his time. Real went into the break 2-0 up and added a third after the restart, but a few minutes later was only a goal to the good, Pepe and then Marcelo incurring penalties in quick succession that Valencia loanee Jonathan Viera coolly slotted past Diego Lopez.

Credit for Rayo's imposing second half performance is entirely reserved for its charismatic coach, Paco Jemez. This is a man who described his side as "the shit of La Liga" after a loss early this season, but boldly proclaimed he had had a dream going into this game in which his team had given Real a "good going over." Dreams in Vallecas, it seems, do come true. Jemez reacted to Alonso's substitution early by moving to three at the back and throwing on striker Joaquin Lavirrey, and his team had the better of the second half by a fair margin, only the elastic reactions of Lopez preventing Alberto Bueno from levelling matters on 65 minutes.

Ancelotti has proven himself reluctant to similarly chance his arm so far in his Real Madrid tenure, but on Saturday he had little choice in his own changes. Fabio Coentrao landed awkwardly in the first half and although he came back on was unable to continue, Marcelo coming off the bench. Alvaro Arbeloa was introduced before Dani Carvajal got himself sent off -- which he should have been for challenge on Iago Falque that was worthy of a second caution -- and Illarramendi for Alonso was a natural switch made in light of the number 14's lack of game time this season.

Still, Ancelotti's mantra for his side is to control the rhythm of games, keep the ball and remain composed at the back; Real failed to do any of these things as Rayo pressed for an equalizer. Youngster Adrian Embarba almost scored a minute after coming on and went close again shortly afterwards as Rayo camped out in Real's half. A couple of trademark breaks tested the home side's resolve, Ronaldo drawing a fine save from Ruben after Saul has almost capitalized on a defensive communication break down at the other end. Tito might have earned Rayo a well-deserved point with a glancing header as Real's defense again went to sleep in stoppage time, and there is little doubt that a draw would have been a fair result considering Rayo's refusal to be cowed by its illustrious opposition.

For Ancelotti, the story of Real's season -- one that should be keeping him awake at night -- was replayed again on the turf of the Vallecas Stadium: his forwards can only keep the side's defensive frailty from being fatally exposed for so long.

"Thinking that when you're winning 3-0 the game is over is a serious mistake. It's happened twice now, but I'm sure it won't happen a third time. The problems we had were because of their good pressure upfield. Defensively, the second half was a disaster," the Real coach noted.