Madrid's attacking benchmark set high ahead of Rayo clash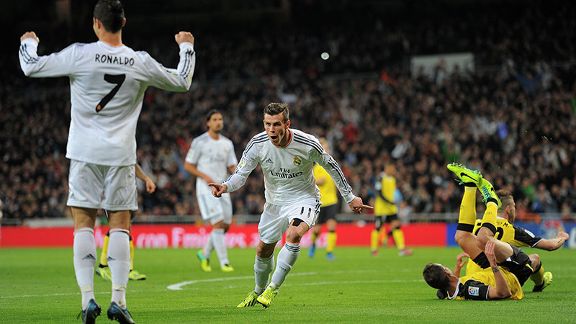 GettyImagesGareth Bale tears away after scoring the opening goal for Real Madrid.
Poor old Rayo. If facing Real Madrid on any ordinary day was bad enough, spare a thought for the Vallecas club this weekend as they go up against a Blancos side fresh off the back of a free-scoring display against Sevilla in midweek.

Seven goals, a hat-trick for Cristiano Ronaldo, two for Gareth Bale on his full home debut, and another brace for a Karim Benzema who's been struggling to buy a goal and please the Bernabeu in recent weeks. There could, and probably should, have been more.

That was against a Sevilla side who simply don't win away from home. Not currently. They asked to wear their lucky yellow kit but that, clearly, was a mistake. Ronaldo had a point to prove after the comments directed at him by FIFA president Sepp Blatter; so did Bale after a frustrating, injury-hit start to life in the Spanish capital. Ditto Benzema. On top of the individual aims, Madrid wanted to bounce back from their defeat at the Camp Nou just days earlier.

It was a crazy game and some, perhaps rightly, also point to Madrid's brittle defence as one aspect of the performance. Crazy in itself, perhaps, given Madrid had just chalked up an emphatic 7-3 win -- the most goals seen at the Bernabeu since the 1967-68 season. But attacking-wise, this was the Madrid everyone had hoped for following the big-money arrival of Bale.

"Los Dos Torpedos," as the Spanish press had christened Ronaldo and Bale, firing to devastating effect. The Portuguese on the left and the Welshman on the right, often inter-changing. The bonus was the Frenchman, Benzema, getting in on the act and showing just how dangerous Madrid's first-choice three-pronged attack can be. Watch out La Liga, watch out Europe, watch out Rayo.

The team from Vallecas had been punching above their weight in recent seasons but so far this year has seen things catch up with them. Rayo sit second from bottom 11 games in with eight defeats. They've conceded 27 goals in the process, too -- a worrying stat given Madrid's attacking form of Wednesday night. A worrying stat for the season.

It will only be music to the ears of Madrid's attacking "Trinity," however. If Madrid needed a game to really kick-on from their mauling of Sevilla, this is probably it. Ronaldo and Bale showcased just how lethal they can be in midweek, along with Benzema, and now it's time to cement that threat and strike fear into the rest of Spain. This isn't a Madrid that's wasted a world-record fee, this is a Madrid that really means business.

It was always a case of "when" and not "if" with the former Tottenham Hotspur man. Sevilla, a side with a horrendous record on their travels over the last year, may have been opponents well-suited for Bale's first Bernabeu start, but things couldn't have got much better for the wing wizard. An apparent dive to win a penalty aside, Bale struck two goals early on and set two up. He finished the full 90 minutes, too.

He should have probably had a hat-trick, and possibly more, but there was no taking the ball from Ronaldo when Carlo Ancelotti's men won their first spot-kick of the night. Bale had already bagged a brace and a hat-trick would have provided some talking point, but there was no way the Portuguese was going to give it up. Not normally, and especially not on the back of Blatter's comments. His hair did look in condition when he struck home Madrid's third goal, though.

The suggestions on Bale's arrival were that Madrid's attack could out-shine Barcelona's in time -- that was the goal from the off for Madrid president Florentino Perez. Neymar took to the Camp Nou almost like a duck to water but Bale's injury and lack of preseason put him behind schedule. Now, after the jubilation of Wednesday night, a benchmark has been set and Madridistas will demand more of the same from now on.

If there's one man you have to feel sorry for it's Angel Di Maria, who has been arguably Madrid's best player of the season so far. While Mesut Ozil left for Arsenal under the fresh new competition for starting places, the Argentine remained and he excelled. Now he's battling for a starting role with the world's most expensive player, a guy who hasn't been bought to warm the bench.

If anything, though, it should work in Bale's favour. It'll push him that bit extra knowing a player of the qualities of Di Maria is ready to step in if he's not performing. Likewise, the Argentine has already shown he's up for the battle and Madrid will benefit when he gets his chance. Rotation is key in modern-day football and although Perez is sure to want to see Bale performing most weeks, he'll realise the importance of Di Maria, too.

Fans will not want to see that rotation in action this weekend, however. The display against Sevilla has left fans licking their lips for more. The Ronaldo-Benzema-Bale attack has showcased its frightening qualities and Madridistas will be hoping that wasn't a one-off. Rayo, on the other hand, will.