Sir Alex Ferguson has been in the headlines a good deal recently with sound bites from his book, so forgive me for stealing one of his most famous phrases to sum up Real Madrid's 7-3 victory over Sevilla in the Bernabeu on Wednesday night: "Football, bloody hell."

An early contender for the Liga match of the season, there are positives aplenty to draw from Real's attacking masterclass, although it will serve to only paper over the cracks in Real's defence for now. Carlo Ancelotti probably envisaged a fairly straightforward home victory against a side that had not won on the road in 21 attempts, but what he laid out on his whiteboard will have had little bearing on the frantic encounter that unfolded on the field.

- Real Madrid 7-3 Sevilla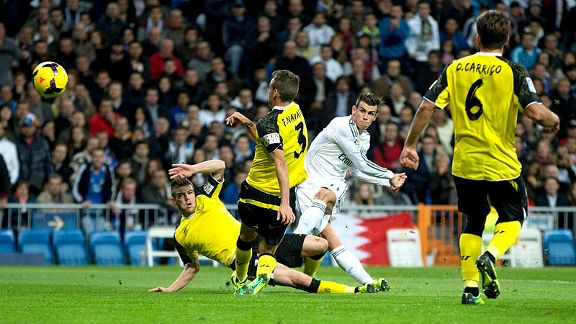 GettyImagesGareth Bale fires Real Madrid into an early lead against Sevilla.
Ten goals, three non-existent penalties, a red card, and both sides pushing for even more until the final kick of the game -- a Sergio Ramos piledriver that drew a Hollywood save from Sevilla keeper Beto -- the neutral could not have asked for more from a routine midweek fixture that descended into a frenzy of free-flowing, attacking football.

Ancelotti might have expected a little more discipline in his side, but perhaps stung over Spanish press jibes about the "Italianization" of Madrid after fielding a defensive lineup at Camp Nou on Saturday, the Real coach certainly pulled no punches in his selection to face Unai Emery's rapidly improving side.

Sami Khedira was either told to roam the pitch or he left his positional sense in the locker room, and Isco returned to the starting 11, playing behind a forward line of Cristiano Ronaldo, Karim Benzema and Gareth Bale. Khedira's role left Asier Illarramendi a little exposed, but Ancelotti said last week his mandate is simple: to win while playing beautiful football. Real definitely did that. With a spying scandal engulfing Spain, it was a case of Tinker, Failure, Holder, Why?

It can only be speculated what might have transpired in Camp Nou had Real fielded this lineup from the outset.

All three forwards provided the goals. Bale opened Real's account with a trademark left-footed drive from the right channel and added the second when Ronaldo uncharacteristically stood aside for a free kick from promising range, which took a wicked deflection on its way in.

The Portuguese scored a hat trick, his third against Sevilla, to edge past Ferenc Puskas in the all-time scoring chart for the club, and Benzema helped himself to a composed brace as the three combined to shred the visitors with consummate ease.

It was just as well that Real's attack was in such voracious boding: a collective switch-off toward the end of the first half allowed Sevilla back into the game, the wings providing the creative outlet for Emery's side, even if the referee lent them a hand in awarding a penalty against Ramos when minimal contact was made and Figueiras appeared to help the ball along with a hand of his own. In fairness, with Real three up and having awarded a phantom spot kick at the other end, Jose Antonio Teixeira might have felt he could let Sevilla have that one as recompense.

What few could have anticipated was the touchpaper that would light under the visitor, who equalized a minute later when Alvaro Arbeloa was left in the wake of Jairo Sampeiro, who squared for the electric Carlos Bacca to power home from close range. If Emery's 5-4-1 was designed to lull Real into a false sense of security, it certainly worked. Sevilla have more than a little sting in their tail, especially in Ivan Rakitic, who may have a had a hat trick himself had he not blasted over Diego Lopez's bar when Ronaldo, of all people, was wrongly adjudged to have brought Figueiras down when Sevilla broke.

Little matter to the Portuguese, in his element and with enough self-effacement in the tank to have a bit of fun at the expense of FIFA president Sepp Blatter, saluting after he slotted home his own spot kick. The Bernabeu reserved a special ovation for the Portuguese on seven minutes, a nod of its own to the nature of the game's personal awards processes. In the Bernabeu, Ronaldo is worth a thousand Ballon d'Ors.

Lopez didn't even make a save until the beginning of the second half, intervening to prevent Bacca from bringing the score level. Real immediately broke from there, Benzema finishing off a move involving Ronaldo and Bale, who added a couple of assists to not a bad night's work in his first Bernabeu start. The Frenchman added another later on with his head, a tool that he uses to great effect in link-up play with his colleagues, something not always appreciated in the goal-obsessed environs in which he plies his trade.

In another departure from his recent tactical switches, Ancelotti threw on some attacking changes, Xabi Alonso receiving a warm ovation on his return from a three-month injury layoff, even if he could do little to impose some control on so open a contest. Angel di Maria and Luka Modric were also introduced. But it was the performance of Lopez between the sticks that made the difference in the second half. The former Sevilla man pulled off some wonderful saves, notably a low stop from Kevin Gameiro with 20 minutes to play, to hold Sevilla at bay when the defence in front of him had pretty much given up on holding any kind of line at all.

Was it a pretty performance? Absolutely. Bale, Ronaldo and Benzema clicked and Sevilla had no answer whatsoever, especially to the Welshman's marauding runs. One suspects few teams in Europe will either, and the Decima is what it's all about this season. That's why Bale was bought after all. Is Real's defence a bit of a shambles? Yes, but Ramos and Varane have barely played together and Sevilla's new look attack has been doing similar things to plenty of back fours this season.

Although there is work still to do for Ancelotti and Real, this was a symphony of football that, finally, seems to justify the outlay on Bale, who is fit, back in goal scoring form and providing from the wing. To borrow from Ferguson again: "I've never played for a draw in my life." It doesn't appear that there'll be too many more in Real matches this season, if Wednesday was anything to go by.