Madrid need to cement improved formula vs. Old Lady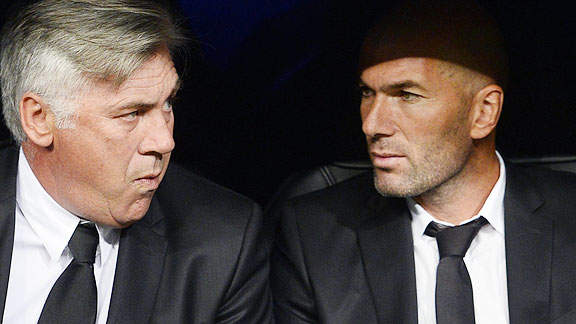 Pierre-Philippe Marcou/AFP/Getty ImagesCarlo Ancelotti and Zinedine Zidane will face their former club Juventus in Real Madrid's Champions League clash versus the reigning Italian champions.
Football romance will be in the air when two of European football's giants meet at the Santiago Bernabeu on Wednesday night, but Carlo Ancelotti will look to sweep that to one side with the aim of showing that his Real Madrid side is finally clicking into gear.

Nine-times European Cup winners Madrid host Juventus, the Old Lady, who've enjoyed lifting European football's most coveted trophy on two occasions of their own. Tradition dictates these two are big hitters, not just in their own countries and in Europe, but around the world. On paper, it's a match fitting for a final, but the group stages of the Champions League often bring up these kind of fixtures in the modern game.

- Cox: Juventus meeting a reminder for Real
- Rzouki: It's time for Real Madrid

Ancelotti and Zinedine Zidane will go up against their former clubs. Fernando Llorente, fresh off the back of revealing Madrid had twice been keen on signing him from Athletic Bilbao, could feature from the start for the Italians. The ingredients are there for a thriller on a round of matches that has also taken Barcelona to AC Milan and Borussia Dortmund to Arsenal. This is why it's the Champions League.

But for all the prestige that surrounds the contest, Ancelotti will just be hoping his side can cement the work they achieved in their weekend victory over Malaga. A performance that was arguably Madrid's best under the Italian so far. No inconsistencies, just more of the same, please. More of the same that could all-but secure Madrid's qualification to the knock-out stages, probably in top spot, and more of the same that would carry a nice momentum into Saturday's first Clasico of the season at the Camp Nou.

Los Blancos pressed high up against the Andalusians, and they kept the pressure on for most of the match -- a performance more like a unit rather than a string of individuals, as per previous outings. Juve will present a different, tougher challenge, but it's a challenge Ancelotti will be keen for his men to pass and prove they're the real deal (pun intended) this season.

Both sides of the coin can be considered when a team goes into a match somewhat out-of-sorts. Antonio Conte's men surrendered a 2-0 lead against Fiorentina in the league over the weekend to lose 4-2, a result that was very un-Juve like. They've also picked up just two points from their opening two group matches against FC Copenhagen and Galatasaray when they, along with Madrid, were expected to progress through with ease. The Bernabeu could be the perfect stage for a response, and that's what Conte will tell his men, but Juve will arrive in the Spanish capital at a good time for Los Blancos.

The Italians have concerns over the pace within their squad, especially at the back, and with the performance of their wing-backs, especially in their weekend defeat. That should be music to the ears of Ancelotti and his players, with pace in abundance. Angel di Maria is expected to start with Gareth Bale still getting back to full fitness, while Isco and Ronaldo will add to the concerns of the Juve coach. Full-backs Marcelo and Dani Carvajal excelled against Malaga, especially in supporting the attack, although Ancelotti could opt for the more defensive-minded Alvaro Arbeloa in place of Carvajal.

But while there may be a contrast of styles in Madrid operating their flexible formation -- switching through 4-3-3, 4-2-3-1 and 4-4-2 -- and Juventus using their typically, or stereotypically, stonewall Italian tactics and formation, Juve's hand could be forced with Madrid very much in the driving seat in the group and the Italians looking for their first win and wanting to avoid any kind of shock exit. It should work in favour of Los Merengues.

While a draw may not be the end of the world for Conte's men -- indeed, it'd be seen as a positive result on its own -- Juve will be well aware they could find themselves out of the top two come the end of the night, and still with Madrid to come in their next match. It could be a tense final couple of matches for the Italians if they fail to leave the Bernabeu with anything to show for their efforts, so a more attacking stance could be expected -- and that could well suit the hosts.

Madrid has dominated the group so far with two comfortable wins, but there are still some questions for Ancelotti to address. Alvaro Morata started against Malaga owing to an injury to Karim Benzema but the Madrid boss made sure to point out that the Frenchman was still his number one choice in attack. Expect the former Lyon man to return to action, therefore, and that should not be seen as such a bad thing, despite his indifferent start to the season. Benzema's record in Europe alone is superb and he's shown a different, more confident side to his game in the Champions League.

Then there's Iker Casillas's probable starting role, with Ancelotti preferring the Spaniard to Lopez for European matches. The 32-year-old went off with an injury 15 minutes into Madrid's 6-1 victory over Galatasaray but went the distance, and kept a clean sheet, in the 4-0 win over Copenhagen last time out. With the World Cup in Brazil creeping closer, these matches are crucial for Casillas in not only convincing Vicente del Bosque he's still Spain's number one, but convincing Ancelotti that he has a big future at the Bernabeu.

Saint Iker's situation caught the attention of Juve goalkeeper Gianluigi Buffon, a stopper held in a similar high esteem to that of Casillas in the modern game who said Casillas deserves praise for the way he's handled the situation.

"I admire Iker a lot," he told AS. "But due to the type of player I am, and as I still feel a very strong goalkeeper, it would take a lot out of me to accept certain situations. However, he deserves a lot of praise, and I respect him much more as a man because of this. For me it is very strange to see a keeper like Casillas on the bench." The pair were at opposite ends in Juventus' famous semi-final victory over Madrid in 2003. Los Blancos led 2-1 from the first leg but The Old Lady progressed to the final thanks to a 3-1 win back in Turin. Ten years on and the experienced goalkeepers are set to go head-to-head again.