Time for Casillas to consider a move?
2013 is turning into a year to forget for Iker Casillas. Having been relegated to the bench during a festive fit of Jose Mourinho's ever-twitching pique on Dec. 22 last year in La Rosaleda -- a decision which ended fairly disastrously for his replacement Antonio Adan, as well -- the Real Madrid and Spain captain was then sidelined for several weeks after Alvaro Arbeloa delivered a crunching kick to the keeper's hand during a King's Cup quarterfinal match at Mestalla in January.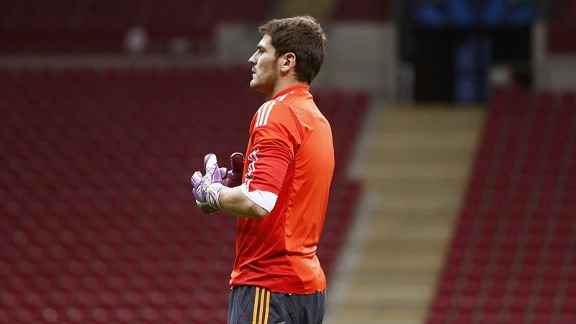 GettyImagesIker Casillas remains second-choice goalkeeper at Real Madrid.
"Adan is in better form," said the Portuguese ahead of the match at Malaga. He then defended his decision to hand Diego Lopez the No. 1 shirt (metaphorically at least), arguing that the former Sevilla and Villarreal keeper was simply better than Casillas after the club captain had been restored to full fitness.

A lot of that can of course be put down to the political power games engulfing the Bernabeu at the tail end of the Portuguese provocateur's fractious final season. But Lopez, signed initially as cover for the record-breaking idol of the Bernabeu, has since made the starting spot his own under Carlo Ancelotti, as well. Casillas, meanwhile, has been reduced to a second-string stopper, to be fielded in the Champions League and the domestic cup until such time as Ancelotti sees something in him -- or indeed in Lopez's performances -- to persuade him otherwise.

Before this year, Casillas had been absent from between the Real posts in the league on just nine occasions since 2002: two for suspension, one through injury and six when the outcome of the game just didn't matter. The last time he was dropped for technical reasons before December was May 10, 2002, at Deportivo's Riazor.

After Jan. 23 in Mestalla, Casillas played a total of 264 minutes in the league and a further 196 in the King's Cup in what remained of 2012-13. This season, he has played 105 minutes in the Champions League -- again leaving the field early against Galatasaray after being injured by another teammate, on this occasion Sergio Ramos.

But during his dark club days -- when supporters daubed supportive graffiti on the Avenida de Iker Casillas, the street in his native Mostoles named in honor of Spain's favorite son -- the goalkeeper has always had the national team as a personal fiefdom. Vicente del Bosque is a staunch admirer of the World Cup-winning keeper, who earned his 150th cap in the qualifying match against Finland in September.

"I would never say he has to play at Madrid. I am in favor of Casillas, in favor of his history and his trajectory," Del Bosque said at the time. "He is going through a rough patch and needs the support of those who have his respect and admiration. It's not a comfortable situation for anyone, but mostly it is uncomfortable for him. But having said that, I am not going against anyone, only going in favour of Casillas."

At the Confederations Cup -- "All the goalkeepers are terrific, but Casillas is the one who is the No. 1. You want to know who's more likely to play: it's Casillas," said Del Bosque in Brazil -- and during the interim, it seemed the Madrid keeper was Spain's one true intocable.

Casillas, though, is on the verge of losing his place in the Spain team, something he needs to consider if 2014 is not to prove an extension of this annus horribilis. Victor Valdes, the Barcelona No. 1 who has started his final season at Camp Nou in such sparkling form, was given the nod in Friday's 2-1 win against Belarus. Valdes, along with Pepe Reina, has suffered from being Spanish in the era of San Iker. Finally making his debut in a preparation match for the 2010 World Cup, Valdes has 18 caps. Reina, ostensibly the No. 3, has 29. But if a dynamic that has seen Casillas' hold on La Roja's goal extending from the 2002 World Cup until now is to continue to Brazil, he needs to play. And if Diego Lopez continues to bail Real out, Casillas might need to look elsewhere for game time.

Del Bosque is nothing if not a diplomat and he backed his captain to the hilt when it was required. But he is also employed to win matches, and favoritism goes only so far. If Casillas remains inactive, and Valdes so effective, it will be difficult to justify starting the former in Brazil next summer. Spain need a point against Georgia -- a well-organised side that France was guilty of underestimating in Tbilisi -- on Tuesday to ensure automatic qualification and the chance to defend their title next summer.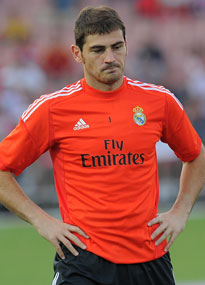 GettyImagesIker Casillas is enduring a tough time at Real Madrid.
"The best players will play," said Del Bosque ahead of Friday's vital victory. And he defended his decision to play the Barça man in the face of inevitable grilling over Casillas: "These are two different situations. Against Finland [Casillas] had the same intensity of training and matches. In the last five weeks he has only played one game. We'll see if we change the goalkeeper on Tuesday or not."

On Friday, Spanish television station Cuatro wheeled out its lip-readers to decipher a chat between Reina and Casillas on the Roja bench: "Me leave Real Madrid? I can't see it at the moment. I'll play in the [King's] cup at least," said the Spain captain.

"How many [games] is that? Ten? Twelve? In the end it'll still be a crappy season. You're going to play 10 or 12 cup matches. The cup's a disgrace," replied the Napoli man.

Valdes' form and availability will bring no end of suitors next summer, with Monaco the latest club to be linked with a move. Casillas might be obliged to follow suit as early as January if one of the most illustrious careers in Spanish history is not to have a distinctly unhappy ending. The line of suitors for the Real captain will be even longer than for the pretender to his national team throne, if he decides to bid the Bernabeu farewell.