Defense as a form of attack needed at Real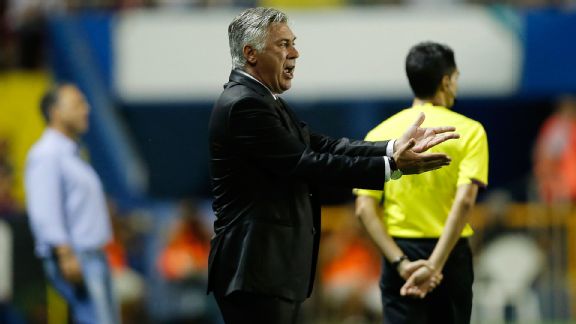 Jose Jordan/Getty ImagesCarlo Ancelotti has admitted that his Real Madrid side are not playing well at the moment.
While the newspapers on Sunday paid homage to Real Madrid's fighting spirit in a hotly contested 3-2 win over Levante the previous evening, the visiting side's last-gasp win via the ever-reliable boot of Cristiano Ronaldo -- albeit helped by a wicked deflection and an upright -- posed a few questions for the coaching staff that need to be addressed. The international break comes at a convenient moment for Carlo Ancelotti and his assistants; Malaga, Barcelona and Sevilla are not likely to be as accommodating as Joaquin Caparros' side eventually proved in the Ciutat de Valencia.

- Rigg: Madrid show character at Levante

The Levante coach noted after observing his team's agonizing loss that it would have been better to simply "stop playing" after Nabil El Zhar jived his way to a spectacular goal in the 86th minute. And the home crowd would have "Oled" every single sideways pass and backward hoof in the direction of Keylor Navas under the circumstances. Had the result gone the other way, pens would have been drawn to write the obituary for Real's title challenge.

Real's major problem so far this season, despite Ancelotti continuously placing his finger on it, remains: it's all very shirt-ripping to salvage points at the end of a game, but if collective failures at the back are not rectified it won't be long until three points become one, or zero, regularly. Defense, at the moment, is Real's best form of attack.

In eight league games this term, Real has conceded first in five. In three of those encounters the game has been rescued: Isco in the 86th minute against Betis; Ronaldo in the 96th in a highly fortunate finale at Elche; and Alvaro Morata and the Portuguese record-breaker on Saturday in a thrilling finish that was an advert for La Liga, rather than an outright travesty.

Still, Celine Dion is warming up in the Real locker room and the interminable strains of a record that truly needs to be smashed are threatening to become the soundtrack to Ancelotti's maiden voyage with Real. If the Villarreal game is taken into account, Madrid has been thrown considerably more life vests than Leo DiCaprio and Kate Winslet had to hand in the 1997 coma-inducer.

In the early exchanges of this campaign, Karim Benzema was Real's savior, a fact all-too-swiftly forgotten by some sections of the Bernabeu, who would rather see Morata leading the line. That will hardly work against Barcelona in three weeks' time, and despite the game-turning introduction of the canterano -- with the oddly-benched Marcelo and Jese in backing roles -- Ancelotti sent out a timely message: "Morata played well and is enthusiastic, but Benzema is more experienced." And the Frenchman has a more than decent record against the Catalan foe. Anybody betting on Morata facing the eternal rival should invest in Spanish banking stock instead.

Ancelotti's team has goals in it, even if they aren't currently coming off the boot of the Frenchman. But it is conceding far too many and the Italian is well aware that upcoming matches will require a little more alertness at the back. Iker Casillas may be the sainted one in Madrid mythology, but if the Almighty himself was available between the sticks, he could hardly have kept Real in the running any better than Diego Lopez. The lack of midfield cover for an exposed defense is Real's burning issue, not the number on its keeper's shirt.

That Asier Illarramendi was again omitted against a side that had beaten Real in two of their past three matches in the Ciutat de Valencia is a concern. Sami Khedira is desperately out of sorts, and for all his application and inventiveness, Luka Modric is not the screen Real's back four needs at the moment. Xabi Alonso's recovery continues apace and it can't come quickly enough, especially as the younger Basque does not seem to enjoy the full trust of the Italian.

Madridistas clamoring for the inclusion of Jese and Morata should be equally calling for Raphael Varane to be given a concrete role. Despite the Levante close shave, Ancelotti should persist with the Frenchman and Ramos; Casillas has been busier knocking out Gillette gear than goal-bound shots of late and the former Sevilla man is the clear leader on the field at the moment. The defense should be built around Ramos, with Marcelo given priority at left-back and Dani Carvajal on the right. Nacho has a lot to learn and Pepe has a lot to unlearn: but for now at least, the Portuguese is the natural choice as backup.

If Real intends to play keep-ball and counter-attack side-by-side, it cannot afford to rely too heavily on Alvaro Arbeloa or Fabio Coentrao. Neither offers anything more going forward and less still in their primary defensive responsibilities. Rotation is Ancelotti's fetish, but a settled back line, injury permitting, is Real's priority.

"We didn't play fantastic football," said the Real coach after the latest great escape. "From a tactical and technical point of view it wasn't good. We didn't give up, but we gifted two goals to Levante because we didn't concentrate and the defensive help wasn't there. We were committed to fighting to the end, but the truth is we need to improve."

This has become something of a mantra for the Italian; with an international shutdown in place there is precious little time for Ancelotti to find a solution ahead of a trio of games that really might determine how this league season is going to be remembered at Real Madrid.