Madrid's missing link Alonso goes under the radar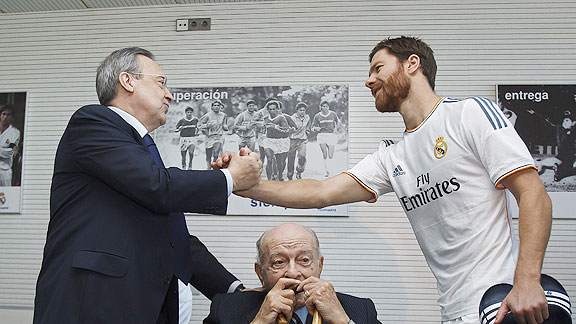 Antonio Villalba/Real Madrid/Getty ImagesReal Madrid president Florentino Perez, left, is surely eager to see Xabi Alonso trade the sandals he's holding for football boots.
We're eight games in and already much has been said about Real Madrid's start to the season.

Six wins, one draw and one defeat in La Liga. Two emphatic wins in the Champions League. Five points adrift of not just Barcelona but Atletico Madrid, too. Both teams have perfect records.

But it's not particularly the fact Los Blancos have dropped four points from a possible 24 -- question marks have come with their somewhat sluggish performances, at least domestically, so far.

-Perez's financial stance questioned
-Martino: La Liga a three-horse race

Fingers have been pointed at a leaking defence, a poor Karim Benzema, an unfit Gareth Bale and the sale of Mesut Ozil. All are acceptable reasons to a point. It will also take time for Carlo Ancelotti to really see his new formations and systems fully drilled into the players.

But not all bases have been covered.

Madrid may seem vulnerable at the back and lackadaisical in attack, but those two problems can be tied in the middle. An embarrassment of riches have been poured into Madrid's midfield. Ozil may be with Arsenal but Bale and Asier Illarramendi have come in. Luka Modric has been one of Madrid's best players so far and Sami Khedira offers a solid cushion in the middle of the park.

Isco has been, for the most part, a sensation while Angel di Maria has risen to the task of competing for a starting spot with the Welsh newcomer.

So what's missing? Xabi Alonso is missing.

Everyone knew losing Alonso to a groin injury over the summer was going to be a blow. But the arrival of Illarramendi from Real Sociedad softened it. The Spanish under-21 international was billed as Alonso's eventual successor. From his style of play to his passing and even to his Basque roots, they were like-for-like in all but age. Alonso is out of contract next summer. A year to bed Illarramendi into the Bernabeu would be ideal with Alonso at his side. Or so it seemed.

But Madrid is missing their midfield maestro more than they could have imagined. Under Jose Mourinho, the former Liverpool man pulled the strings. He orchestrated the attacks and he acted to protect the defence. He was on the end of defensive clearances and he started the moves forward. He made Madrid tick, and although the clock has not stopped, it needs tinkering.

For the past few seasons, Xabi was one of the first names down on the team sheet and it was easy to see why. With him in the team, Madrid looked more solid at the back and more penetrative up front. Although Ancelotti has tried a more-passing approach, Alonso's ability to get Madrid on their counter-attacking style was lethal. He was made for the long ball. We all know about his short passing abilities, too.

He also offered consistency in the middle of the park. Mourinho may have opted to rest him in the lesser games, but that was only because he knew how crucial he was for the bigger ones. With Alonso consistently playing and performing, the defence could relax knowing they had a dependable middle man helping them out. The attack knew they could rely on his sharp eye and pinpoint passing. Madrid were a team, not a set of individuals and Alonso was the glue that bound them together.

All this isn't to diminish Illarramendi, who is expected to be a key cog in Madrid's midfield for years to come, much beyond Alonso's stay. But it was always going to take time for him to gel with his new team-mates, get used to Ancelotti's tactics and generally keep growing as a player -- much more is still to come from him. Nor is it to have a go at Modric, who is among the top three performers for Los Blancos this season.

It's not to say all would be rosy with Alonso in the team, either, or if Ancelotti would look at the player in the same crucial light Mourinho did. But he would offer the experience and tactical know-how to get this Madrid side moving more fluently than they are.

It comes as bad news, therefore, that news in the Spanish press Tuesday has pointed to Alonso's recovery from his groin injury being longer than expected. The Spanish international went under the knife early in the summer months, but his recovery is moving along in sluggish fashion. At 31, he does not want to rush a return to action and risk more time out, but at the same time he will surely be desperate to show Ancelotti what he can do with his contract up at the end of the season.

Even with a return to full action come the troubles of not having any kind of preseason behind him, as with Gareth Bale, and taking much longer to get back up and running with a full steam ahead. On the other side of the coin, a longer layoff may mean Madrid gets a fully fit Alonso just when it needs him most towards the latter stages of the season -- the business end.

But Madrid, and Ancelotti, will be hoping the midfielder is ready for a return much before that. Illarramendi and company should have (hopefully for Madridistas) formed a better understanding of the way their manager wants them to play, and a better understanding of their team-mates, but the return of a fully fit Alonso will be priceless for Madrid this season. Illarramendi should be able to learn a thing or two, as well.