Mourinho searches for his own secret footballer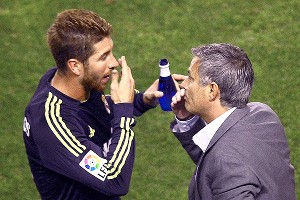 GettyImages / Pierre-Philippe/AFP/GettyImagesJose Mourinho has gone to war with the press over their allegations that, among other things, the Special One has had a falling out with Sergio Ramos.
"Family matters get resolved behind closed doors," said Sergio Ramos after he had returned to the starting 11 for Real Madrid's postponed 2-0 win over Rayo Vallecano on Monday night. The former Sevilla defender, who added that Real "runs through my veins" was responding to a question about his omission from the team for the Champions League match against Manchester City last week, an omission that Jose Mourinho told reporters was entirely a tactical decision. If it was, it was a curious one given that Mourinho has spent plenty of time telling the world that Ramos is a better center half than right back, and Raphael Varane, while clearly an exciting prospect, does not yet have the composure to be thrown into games of such magnitude.

Rumors of a spectacular bust-up between Ramos and Mourinho on the training ground before the match were rife, with some reports stating that the defender was irritated by his coach's constant criticism. Apparently Ramos exploded: "It seems you have to have a Portuguese passport to be good at something around here!" Ramos' barb comes after several reports in Spanish media that two factions exists at Real: the Portuguese (and Portuguese-speaking) players and those for who Spanish is the primary tongue.

This week, Spanish publication El Confidencial Digital ran a story claiming that Mourinho has "declared war" on the media, and El País in particular, because of the constant flow of ostensibly secret information and behind-closed-doors incidents flowing from a leaky Bernebeu locker room. Mourinho pointed the finger at the daily after a series of fly-on-the-wall reports from journalist Diego Torres, who has for years been reporting on Real Madrid and once spent a season shadowing the first team around the globe. Unsurprisingly, according to Confidencial, Mourinho has a concocted a conspiracy theory: the Portuguese sees the sinister figure of Jorge Valdano, with whom he vied for control of the club and won, wreaking his revenge. And he believes that some players still loyal to Valdano are taking family matters very much further than the bolted doors of the Bernabeu.

It caps a tumultuous week for Mourinho's relations with the fourth estate: acerbic comments -- and probably libelous ones -- in both a Marca editorial and from the poison pen of former Barcelona bigwig Alfons Godall, concerning the Real coach's theatrics during the Champions League tie have excited the interest of the Bernabeu's legal department and given the two clubs a new bone of contention in the absence of any other antagonism since the season begun. If Mourinho is Scrappy-Do, Tito Vilanova is Scrappy-Don't. But player dissent being freely aired on the Bernabeu's washing line is a different matter entirely.

Player power undermining a coach at Real is nothing new: Jose Antonio Camacho, no shrinking violet himself, stalked from the Bernabeu after three games during his last tenure at the club under the premise that team matters, and team itself, were far from within his control. Still, Camacho did well to last that long, having been in charge for a whopping 23 days the last time he took the reins, without overseeing a single match.

After a woeful start, Camacho responded by dropping David Beckham and Raul for an eventual loss to Espanyol after a Champions League debacle against Bayer Leverkusen. That was his last act as manager of Real. Mourinho is in the debt of his stellar forward line for not suffering the same fate against City after dropping Ramos last week.

Mourinho does not have to deal with colossal egos of the stature Camacho took on in the galacticos, one sulky compatriot aside, but he does have to keep his players on side, whatever their nationality and standing within the club. And heavy-handed retribution over training ground spats has proved fatal before. As Roberto Carlos observed of Camacho: "When you bang your fist on the table, you either break the table or you break your fist."

Camacho was a bruiser obsessed with balls -- and not the type around which his profession necessarily revolves. It would take some balls indeed to tackle Mourinho at Real Madrid at the moment, balls one Sergio Ramos García clearly possesses, especially if a disgruntled Valdano is machinating behind the scenes. Mourinho's task now is to avert a winter of discontent at Real and his war on the media is another unwelcome distraction from his side's stuttering start to the season. The clasico in two weeks' time is a perfect stage to return the spotlight to on-field affairs.