Derby loss painful, but Madrid crisis talk premature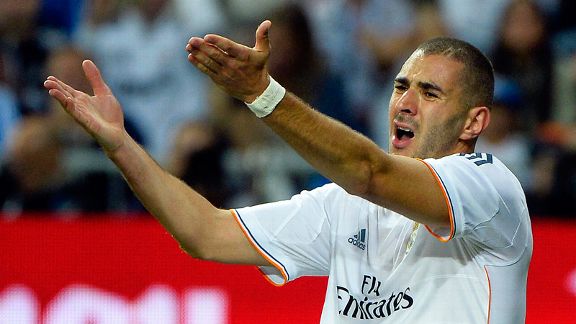 GERARD JULIEN/AFP/Getty ImagesAtletico Madrid's stifling defense completely frustrated Real Madrid striker Karim Benzema.
Crisis? What crisis?

Crisis is a word that is bandied about regularly in Spain these days and it will be on the back pages as well as the business ones on Sunday morning after Atletico Madrid finally defeated Real in the league. That it was a thoroughly deserved victory will make the hangover even more acute, and the home side's performance suggests it will take more than a couple of aspirin to shift. Throughout all the crises that have engulfed Madrid in the last decade and a half, there has always been one palliative: a few points a season courtesy of its city rival.

- Report: Real Madrid 0-1 Atletico Madrid

Even during the darkest days of Carlos Queiroz, Vanderlei Luxembourgo, et al, Atletico has been viewed as a mere annoyance, occasionally nicking a tie here and there but never seriously threatening the status quo. Carlo Ancelotti, Gareth Bale, Isco and Asier Illarramendi were not signed through pure avarice; the club expects this season to be a turning point not just in terms of silverware, but also in the very fabric of its identity and playing style. But Atletico's victory showed the edges of the Galactico project 3.0 are already somewhat frayed. Last season's King's Cup final was, fairly enough, dismissed as both the nadir of Jose Mourinho's fractious tenure and an extraordinarily fortunate evening for Atletico. Excuses will be harder to find after a second defeat.

Diego Costa provided the winning goal in the 11th minute after a neat interchange stemming from a wayward Angel di Maria pass. The Argentinean got the nod ahead of the recuperated Gareth Bale and Ancelotti opted to start Illarramendi in view of the opposition's physical style and tireless running off the ball; neither reappeared after the break as it became painfully clear that stopping Atletico was only half the battle.

Real barely mustered a chance in the first half. Cristiano Ronaldo faced two or three defenders every time he got the ball and was swiftly reduced to hopeful punts from 30 yards. The visiting side was first to every ball, harder into every tackle and covering in numbers every time Real pushed forward. The home side was permitted no pause when in possession and was uncharacteristically wasteful on the rare occasion a player could look up to find a teammate. Di Maria almost put Atletico through again with a cross-field pass in his own half and was lucky play was recalled for an earlier foul.

But there was little cohesion at the back either. The Real defense inexplicably failed to pick up Tiago's run from a corner that allowed the Portuguese schemer a completely free header that he failed to prosecute. Ancelotti has identified defensive frailty as a key issue and it is a poisoned inheritance; Real was plagued by an inability to defend set pieces last season and every time Koke stood over the ball, the Bernabeu looked to its fingernails. Tiago's later effort was indicative of the task facing Ancelotti. As when conceding to Elche, the back four switched off, allowing the Portuguese acres of space and two touches before taking aim and shaving the post.

Once again, Real had Diego Lopez to thank for still being in the contest at halftime and he prevented 2-0 when Costa raced through in the second. The jeers and calls for Iker Casillas to be reinstated have been conspicuous by their absence of late.

A feisty contest surprisingly drew refreshingly little in the way of controversy from the officials, Antonio Miguel Mateu Lahoz only reaching for his top pocket to caution Arda Turan on 39 minutes. But they came thick and fast after that, not least from the source of Costa, who can be considered from Atletico's viewpoint to have had a particularly good night: the entire Real back four ended up on a yellow, for which the Brazilian was almost single-handedly responsible.

Of course, Costa's game plan did not please the Bernabeu, but Diego Simeone's should give the Real faithful something to get seriously concerned about. By doubling up his wide midfielders and full-backs when not in possession, the Atletico coach essentially narrowed the Bernabeu by 10 feet. Ronaldo was running into brick walls and Karim Benzema barely saw the ball all evening as the visitor squeezed the life out of the host's creative players.

Realizing this, Ancelotti tore up Plan A and threw Bale and Luka Modric into the fray as defensive considerations gave way to the need for more attacking impetus. The Croatian was caught up in the traffic jam in the middle and despite a couple of trademark gallops down the right flank, the Welshman was contained as well. It wasn't until the last 15 minutes that Real began to make some headway in the shape of Alvaro Morata.

Ronaldo had forced Thibaut Courtois into an awkward save with a dipping shot shortly before the canterano's introduction, but Morata immediately put Atletico on the back foot. At 6'3" and with lightning acceleration, the 20-year-old fired in an acrobatic effort that was Real's best chance of the night -- drawing an equally camera-friendly save from the Belgian -- and he also went close in stoppage time.

Could it be termed desire? The Bernabeu certainly thought so. When Isco left the field to make way it was to a seething reaction, but one aimed at Ancelotti. Benzema has come in for some harsh criticism from the stands but the decision to leave him on the field for the duration is one the Italian will have to justify. The Frenchman was starved of service and up against one of La Liga's longest center-back partnerships, but he hardly went looking for the ball either. It will be no surprise to see Morata start next weekend.

Is it time to speak of a crisis? Of course it isn't, as much as one will be conjured by the Spanish media. The season is only seven games old and Real is five points off the pace; Atletico and Barcelona, despite a record start to a Liga season by both, will drop points; Leo Messi limped off injured again at Almeria and with the way he throws himself about Costa is hardly a candidate to complete all 38 games; Bale, Illarramendi and the canteranos will find their feet in the side... It's a long road to May and Real's squad is the best-stocked in the division. It's not yet time for Florentino Perez to hit the panic button.

That being said nobody at the club will be at all pleased to have surrendered an unbeaten home record stretching back to December 2011 -- and that was a Clasico loss -- while Ancelotti will not enjoy the minor blot on his curriculum. Is it the case that Atletico has under Simeone become a genuine contender in La Liga, or is Real simply feeling its way round a new playing style? The truth is probably a bit of both.

However, reports that Xabi Alonso will be back in football boots next week are timely. Ancelotti identified the Spain international as key to his plans and the Basque's worth to the side has been heightened considerably by his absence.