Madrid muscle needed against Atletico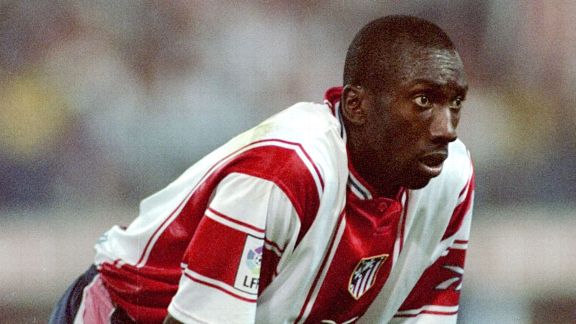 Getty ImagesNot since Jimmy Floyd Hasselbaink's stunning brace at the Bernabeu in 1999 have Atletico Madrid beaten city rivals Real Madrid in league play.
1999. The eve of the millennium. The euro became an official currency while George W. Bush announced his decision to stand as Republican candidate; the Kosovo war came to an end, and Boris Yeltsin nursed his final vodka in the presidential seat of the Russian Federation ... it all seems such a long time ago.

As every Atletico fan remembers only too well, 1999 was also the last time that the red-and-white half of Madrid claimed bragging rights in the Madrid derby -- at least in league action. For 14 years, Atletico had failed to beat its city rival, and "sufrimiento" became a byword for pinning one's colors to the mast of the Calderon outfit. Until last May, when an unlikely victory in the King's Cup final, on Real's turf no less, brought to an end one of the most inglorious sequences the Spanish league has ever witnessed; even Espanyol managed to beat Barcelona under Mauricio Pochettino when tiki-taka was still a force that could not be countered.

- Lowe: Madrid rivalry no longer one-sided
- Hunter: Analyzing Madrid's Dark Knights

Atletico, it seemed, had plumbed the depths of despair when Real Madrid appeared on the horizon. Like Bill Murray in "Groundhog Day,"the rojiblancos thought up new and inventive ways to end it all before waking up to Sonny and Cher yet again. And who can blame them? The inferiority complex by the banks of the Manzanares ran deeper than in the Baldwin family.

But this Saturday's clash -- regardless of the location -- is the most evenly matched in recent history and the main cause of dental damage from the end of a biro among players of the weekly Quiniela; nobody can call this one, even if the weight of history augurs a home victory.

Carlo Ancelotti -- with refreshing candidness after the hysteria of the Mourinho era -- went so far as to say that if Real plays against Atletico as it did against Elche on Wednesday, the three points will go across town. The visitor has equaled its best historical start to a season and the Bernabeu no longer holds the sway of an impenetrable fortress. That being said, it is worth noting that the cup final ran to extra time and Atletico enjoyed more than a fair slice of luck over 120 minutes.

The main concern for Real this Saturday is, primarily, its inability to break down well-drilled defenses so far this season. Elche, Villarreal and Betis have all proven that if you can stay tight and keep the offside trap intact, Real will struggle to create chances. Atletico's midfield muscle will seek to exploit Real's lightweight anchor department, which should prompt Ancelotti to swap Luka Modric's creativity with Asier Illarramendi's pragmatism. Koke and Mario Suarez have not earned phone calls from Vicente del Bosque under Diego Simeone for nothing.

The Argentinean last season honed his side into a footballing battering ram, with Diego Costa providing the blunt edge for Radamel Falcao. Now, David Villa provides a velvet tip. The former Barcelona striker may not be lighting up the scoring charts, but his movement pulls defenders out of position for Costa to barge through on goal. It is little wonder that on the back of his performances this season the Spanish Football Federation is eyeing the Hispano-Brazilian's passport with keen interest.

"It would be difficult to say that Atletico is a better team," Ancelotti noted. "They are very compact and they play very well. Of course they are more aggressive than us and have more of a physical presence, but we have more quality. We are two different teams."

However, Atletico's continuity is no small factor in this weekend's match: Thibaut Courtois has said that he now can read Cristiano Ronaldo's free-kicks and Suarez admitted the fear factor of traveling to the Bernabeu had been erased by the cup triumph. Ancelotti's Real is still far from a finished product, but it is one that cannot afford to drop points on Saturday.

Which brings us to Real's other great incognito; the large, Welsh elephant that is pushing for room on the teamsheet. Gareth Bale was denied his home debut last week after tweaking a muscle during the warm-up but will be available for his first Madrid derby. But where does he fit in? Ancelotti has a difficult balancing act to handle: either remove Isco, Real's most in-form player who has already built up an understanding with Ronaldo, or sacrifice Angel di Maria, whose total football approach essentially gives Real an extra man in defense. Ancelotti has rightly been singing the praises of both recently, so Bale may well have to make do with a substitute's role when Atletico's high-tempo tactics begin to hit the rafters around the hour mark. As impact benchwarmers go, it could be worse.

Atletico's Filipe Luis was eloquent and forthright in an interview with news wire Efe leading up to the match. "We're realistic. It's absolutely impossible to compete with them with the budget they have. Winning the league is impossible, but on our day we can beat anything that's put in front of us. In the league there are historic clubs that are going under, on the verge of bankruptcy, and others that are all-powerful and that only care about themselves and the Champions League. They don't really care about the league. The imbalance is huge and for that reason it's not our fight. We know that we can win and we know how to beat them; we've achieved it already. But it's another thing when Real Madrid has one of its off-days, as in the cup final, when they had six or seven clear chances and hit the post a few times; we know it is very difficult to beat them but it's about more than just three points."