Kaka treble won't force Mourinho rethink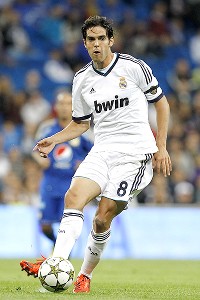 GettyImages / Angel Martinez/Getty Images)So far this season, Kaka has been somewhat of a forgotten man as far as Jose Mourinho is concerned.
Played: 1. Scored: 3. Three goals per game. Not a bad ratio. Also a bit tongue in cheek, too. Those stats are, of course, Kaka's following his hat-trick for Real Madrid in their 8-0 Trofeo Santiago Bernabeu thumping of Millonarios Bogota at the home of the Spanish champions on Wednesday night.

The Brazilian has been somewhat of a forgotten man as far as Jose Mourinho has managed his squad this season so far. He's yet to play a competitive match for Los Blancos this season. He's not been a forgotten man among fans and the media, however. How can he be? A former World Player of the Year. A player who cost Madrid 65 million euros. A player of Kaka's stature shouldn't simply be left out in the cold, not at just 30 years of age. Many expected him to leave over the summer yet he remained in the Spanish capital, despite reported interest from former club AC Milan, big-spending Paris St Germain and Turkish club Galatasaray.

So could Wednesday night's performance, with the Brazilian wearing the captain's armband for the match, possibly throw him back into Mourinho's plans this season? Many have taken the manager's post-match comments as a reason to believe he could yet have one last lifeline.

"Kaka played well, as did the whole team as we maintained a solid structure," said Mourinho. "We worked well. When players show motivation and ambition the coach has more confidence and can play them in official games. Kaka, and the others, did enough to put their names in my head."

As much as some fans would like to believe that gives Kaka some light at the end of the tunnel, I'd take those comments with a pinch of salt. Marca's headline pretty much said all that needed to be said when they put Kaka as scoring three against "invisible opponents". The Columbian team, for whom Alfredo Di Stefano played, were woeful, if the scoreline didn't go some way to showing that already. Madrid didn't field their strongest team and it was the perfect chance to give Kaka a run out, but don't expect to see him starting a Liga game anytime soon.

Gone are the days when Florentino Perez used to have a little word in his coach's ear to play his Galacticos, such as Zinedine Zidane, Figo, Ronaldo and David Beckham, whether they were in good form or not. With Mourinho comes new powers for the manager and the Portuguese doesn't have Kaka in his plans.

Credit where credit's due though. It must be tough for a player of Kaka's ability to be stuck not playing matches and watching from the stands (although the nice wage must numb the pain somewhat), only to come back and perform as he did. You know what they say - you can only beat what's in front of you. Madrid did, and Kaka did, with some style.

It's likely that he put his name in Mourinho's head, but just how far down the pecking order is he? With Luka Modric coming in, quite far. The Brazilian has found it tough to find form and to leap above Mesut Ozil in the pecking order, so now to have another player of Modric's quality in a similar position will only make things twice as difficult for him.

January can't come round soon enough, then, for Kaka and many of his fans. Nuri Sahin, who's on-loan at Liverpool, has come out and said he knows where Kaka is going in the January transfer window, so a departure seems likely. It may have already been pre-arranged and the timing perhaps was just not right before the close of the summer window. He needs regular games, and the supporters need to see him playing at a top standard while he's at what many consider to be the peak age of a professional footballer.

He might get a few more minutes at Madrid yet, but I wouldn't hang on Mourinho's words too strongly for an integral role.