Time for Morata to help take pressure off Benzema's shoulders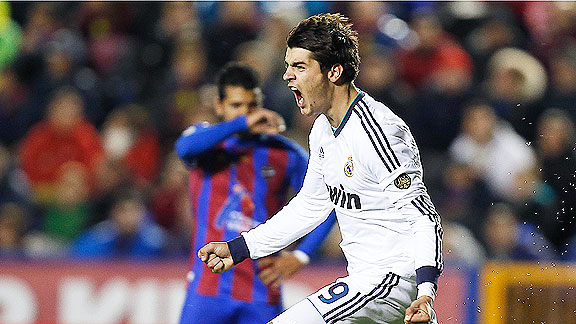 Jose Jordan/AFP/Getty ImagesAlvaro Morata may be called upon to provide an offensive spark for Real Madrid.
Carlo Ancelotti has one of his first tough decisions to make as Real Madrid manager for Wednesday night's Champions League encounter with FC Copenhagen at the Santiago Bernabeu. Karim Benzema -- stick or twist?

The Frenchman has been playing the role of villain for a majority of Madridistas during the opening weeks of the campaign with only sparse gaps of praise coming between. Whistles from the traditionally tough Bernabeu crowd have been heard since the opening match of the season, ironically in which he scored in a 2-1 victory over Betis. They haven't really stopped.

- Report: Bale out of Copenhagen clash
- Report: Ancelotti out to get Real on track
- Marcotti: Ancelotti prepared for Madrid hot seat

On Saturday, the former Lyon man played the full 90 minutes in Madrid's 1-0 home derby defeat to Atletico and it was far from a popular decision among the home support. In chasing a game, especially on home soil, it makes sense to bolster the attacking options rather than go like-for-like. Alvaro Morata came on to help Benzema out in place of Isco. Cue more whistles, the loudest of the season so far -- not for the introduction of Morata, but for the decision to withdraw Isco rather than a morale-sapped Benzema.

Much has been said of Madrid's decision to sell Gonzalo Higuain to Napoli and not replace him. Plenty thought the idea was to give Benzema the responsibility of being Madrid's main striker week-in and week-out. Something he'd thrive on, yet so far, he hasn't.

Others thought he would go the other way and produce sluggish and sometimes seemingly carefree performances without the stiff competition Higuain gave him for a starting spot. Those people, so far, have been proved to be right.

Morata is Benzema's only real competition for the No.9 role, and Jese Rodriguez can give it a go up there, too. Maybe Madrid's first Champions League match of the season at the Bernabeu, against opposition they are expected to beat, would be the ideal time to give that competition a go and give out-of-form Benzema a rest, physically but more importantly, mentally.

Some will see the visit of the Danish club, who currently occupy one of the relegation places in their domestic league ten games in, as the chance for the Frenchman to grab some goals and rebuild confidence in front of his own supporters. Maybe so, but he scored twice and put on an assist when Madrid thrashed Galatasaray 6-1 in their European opener, only to see his form dip on a return to La Liga.

Benzema also traditionally does well in European competition. He prefers it, statistically, to La Liga -- and it's in La Liga where he really needs to up his game. A goal or two against Copenhagen may do his confidence some good, but that will mean little if his form dips in Madrid's next domestic match. The boo-boys will be quick to get on his back.

The tougher call, at least from the manager's point of view, could also be the better option in the long run. Leave Benzema out, for the first time this season, and let him see that he has competition. Competition, in Morata, that is hungry to start and is hungry to impress, not just to be a decent back-up but to finally lead the line.

A viewpoint on the Bernabeu bench may be unwanted, but it would take the pressure off the Frenchman's shoulders, for some time at least, while also showing him that he really needs to be at the top of his game if he's to keep Morata, one of the fan favourites, out of the side.

Copenhagen may have taken a point from their opening group match against Juventus, but they are a side Madrid should be taking maximum points from, especially on home soil. Just two wins from their opening ten domestic league fixtures should tell the tale, although Los Blancos know they will have to be on their guard.

Leading striker aside, Madrid could be boosted elsewhere with Raphael Varane and Marcelo in with a chance of returning from injury. Fabio Coentrao wanted out before the start of the season and although he has seemingly changed his mind, it didn't look that way against Atleti at the weekend. Marcelo's return will be timely, as will Varane's, who formed an exciting partnership with Sergio Ramos last season.

Copenhagen couldn't really be playing Madrid at a worse time given the crisis talk in the press after the derby defeat -- Ancelotti and his men know they need to make a statement, Galatasaray-style.