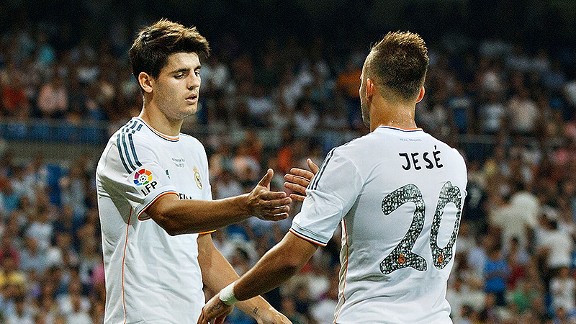 Gonzalo Arroyo Moreno/Getty ImagesReal Madrid youngsters Alvaro Morata, left, and Jese Rodriguez have been the focus of loan rumours.
The city of Madrid has had an obsession for more than the past 10 years, and it fell flat on its well-presented face Saturday in Buenos Aires. It's not often you'll find Leo Messi backing something to do with the capital, but sure enough the Barcelona talisman was there, flag in hand, with the president of the Spanish Olympic Commitee after a training session with Argentina ahead of a World Cup qualifier against Paraguay: "I'm with Madrid 2020," said the ice cream-hawking maestro, quite possibly costing himself and Kobe Bryant another gig with Turkish Airlines.

Little matter: Madrid didn't even make the second round of voting for the 2020 Games this time, having lost to Rio for the 2016 Greatest Show on Earth. Madrid has been after the Olympics since 1997 to secure its place on the world stage as a genuine city of culture, stature and allure.

Of course, for fans of football, it is already that. The most successful team in the history of European competition resides firmly in the capital, and as of now there is no other team in the world that can match Real Madrid for pure box office.

-Ronaldo a doubt for Villarreal
-Bale set for first Madrid training session

Unfortunately for ticket holders Saturday's match at Villarreal, the show may be more "Honey, I Shrunk the Kids" than an "X-Men" extravaganza. Take a bow, FIFA, and its much maligned "virus."

For a country only slightly more obsessed with the crumbling economy, rampant unemployment and little indication that there's anything else on the menu for the next four years at least, football is ever more the opiate of the masses. Villarreal is back from a blessedly -- from the Submarine's point of view -- brief submergence in Segunda and riding high in the Primera after a few rounds of proper football, with little in the way of distraction. During the international break, Real has once again sent practically its entire first-team squad out, and not much good has come of it.

While the international calendar remains as rooted as it does in the interests of a governing body that has all but admitted it dropped the ball (to put in nicely) in giving the 2022 World Cup to a country where the mercury might hit 50 degrees Celsius during matches, club managers have to count the cost of the FIFA virus. For Carlo Ancelotti, ahead of a tough test in Villarreal, the count is higher than he would wish.

Marcelo and Fabio Coentrao are definitely out for the fixture; Isco may well be out for the league encounter and the Champions League match against Galatasaray; Cristiano Ronaldo scored a hat trick Tuesday against Northern Ireland apparently carrying an injury, and may not be on hand Saturday to carry Real Madrid, as he generally does. Mesut Ozil and Kaka have been jettisoned (the former, in the humble opinion of this observer, an act of pure book-balancing insanity).

All of which leaves Ancelotti with a lot of talent, but no team in a league clash that should not be underestimated: Villarreal is 3-for-3, ahead of Madrid on goal difference and loving every minute of it. If the match was in the Bernabeu, it would be vale (free ticket) for Madrid.

But Gareth Bale, the man they call "OK" in Spain, might not be the key here. Barely match fit, the Welshman has played just half an hour for his country since his last competitive match, and although he looked like the player the Bernabeu expects to see tearing Liga defenses to shreds, he still needs time. Bale may well get his debut on the East coast, but it will probably come from the bench.

Which brings us to Jese and Alvaro Morata. As Nick Rigg noted the other day, the boys are not so much back in town as painting it red: they may not be able to get a game for Real, but for Spain's Under-21 team, the pair are positively on fire. Morata has scored five in two for coach Julen Lopetegui while debutant Jese also added two against against Austria and Albania.

The Under-21s is one thing, and full senior sides quite another; the step up from Castilla to Real Madrid is also undoubtedly one few players bridge successfully. But surely Karim Benzema, despite two goals and two assists in the league thus far for Real, is looking over his shoulder at the young pretenders to his No. 9 role.

Morata has certainly announced himself with his country as a real alternative in the absence of a Galactico signing in January, while Jese's versatility offers Ancelotti an option in both the 10 role currently vacant, but equally as a striker or a threat from either wing.

The FIFA "virus" may be the curse of many a coach at clubs of Madrid's stature, but it may equally have provided Ancelotti with a immediate cure to prevailing ills. Nobody would be surprised if Morata and Jese started this weekend -- Benzema was muted in France's 0-0 stalemate in Georgia and didn't even get off the bench in the 4-2 victory against Belarus. Bale can be given a few minutes if deemed fit enough and Ronaldo should be in place on the left. Luka Modric may or not be accompanied by Asier Illarramendi, but the Croatian is rapidly becoming one of the first names on the team sheet anyway, further balm to Ancelotti's plans.

It might take Bale a while to get to that point - assistant coach Paul Clement recently warned that nobody is guaranteed a start at the Bernabeu, whatever the pricetag - but the watching world should get a star trailer this weekend. However, the main attraction might already be on hand. Never mind 2020, the time has come for Madrid to get excited about its homegrown 20 and 21.