Lots more to come but a good night's work for debut boy Gareth Bale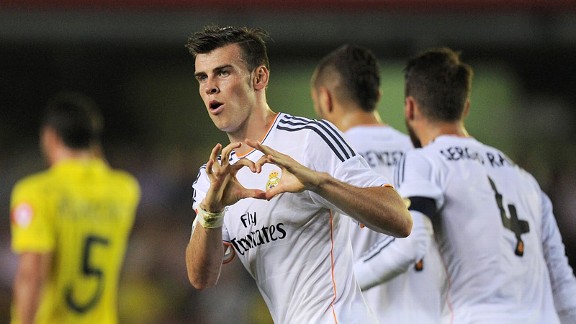 Denis Doyle/Getty ImagesGareth Bale scored in his Real Madrid debut versus Villarreal.
The anticipation, the awareness of what was going on around him and a surge forward from the back post to tap in from close range. Gareth Bale had opened his Real Madrid account on his first-ever appearance for the club. No matter what had gone before or after, it was a headline-grabber.

The Welshman was always going to be the focus of attention, and probably the focus on the front pages in the Spanish sports newspapers on Sunday regardless of how he performed in Madrid's battling 2-2 draw against Villarreal, another unbeaten side at the right end of La Liga after making a perfect start following their promotion back to the top flight. A goal on his debut cemented that belief.

- Report: Villarreal 2-2 Real Madrid

The world's most expensive footballer didn't give a performance to merit his price tag, nor did he give a performance that would usually merit even a starting role in Madrid's strongest eleven, but nobody should have expected the world from the former Tottenham Hotspur man given his preseason, or lack of one.

It was a surprise to see Carlo Ancelotti hand his newest recruit a starting berth for the trip to Castellon. Bale had featured for half an hour for his country against Serbia, but that was his first competitive action in months thanks to a preseason thwarted by injury. Indeed, Wales boss Chris Coleman warned that a first start for his star man at El Madrigal could be "a big risk."

Carletto knew not to expect Bale at his best, but the masses were desperate to see the new man in action, and they got what they wanted. Spend all that money on a player and chuck him on the bench? This is Real Madrid we're talking about here. Perhaps Ancelotti was convinced by an obvious eagerness from Bale to make his debut. Perhaps it was a good chance to blood the Welshman away from the heavy demands of the Bernabeu, a first outing with his new teammates in less demanding surroundings.

Regardless, Bale did not just get valuable time on the pitch but he played from the off. Madrid reverted to more of a 4-2-3-1 formation, with a three of Cristiano Ronaldo on the left, Isco through the middle and Bale on the right supporting Karim Benzema. Rumours flew around the stadium in the hours before kickoff saying Bale could be used at left-back, a role in which he started his professional career, given the absence of Marcelo but, thankfully, that rumour proved unfounded.

Angel di Maria was the man to miss out, as expected, and, as expected, that attacking three were pretty fluent in how they rotated, with Bale starting on the right but also swapping with Ronaldo throughout the hour he got on the pitch. A few forays in the middle were included, too. Madrid's flexibility in attack, especially when up to full speed, is going to be massive this season and will be extremely exciting to watch.

As it was, Bale is nowhere near top gear. Not yet. He looked eager early on, running into space and tracking back to help out, but his early crosses were too hard and too high and when the set-pieces, a big strength of his game, came around, Ronaldo took monopoly of the free kicks and Isco did the same with the corner kicks. For the time being, Bale knew his place.

For much of the first half it looked as though Bale was going to have a pretty damp squib of a debut, especially with Villarreal playing well and looking good to end Madrid's 100 percent winning start to their season. That all changed just before halftime when he nipped in front of Mario at the far post and drilled home a Dani Carvajal cross from point-blank range. A first goal, a first show of his now-famous '11 of Hearts' logo, and some nerves settled for the new kid on the block.

The Welshman had a shot blocked early in the second half and also showed signs of his trademark powerful runs forward just before the hour mark when he surged past two men on the right before cutting his cross back -- but nobody was there to convert. When he held his knee after that move it was time for Carletto to bring him off. A good night's work for Bale and some much-needed time on the pitch to help get back to 100 percent fitness and become accustomed to his new teammates and his new league.

All in all, he provided 14 successful passes from 22 attempts, all shirt passes and none providing assists -- a completion ratio of 64 percent. Not to his usual standards, but something to build on. Bale is used to the high pace of the Premier League and the slower Spanish game will take some time for him to adjust to. He tried three crosses but all were poor and completed three from four attempts at taking his opponents on. Bale didn't win the stats game on his debut, but that won't worry him.

It could have been much worse. There are not too many players who switch from the English Premier League to Madrid, and we all should remember Jonathan Woodgate's first appearance for the club: a disastrous own goal before being sent off against Athletic Bilbao. It doesn't get much worse. As it was, Bale followed in the footsteps of David Beckham, who scored a tap-in of his own when he made his Madrid bow.

Whether a fully fit Bale would have helped Madrid maintain their perfect winning start to the season at an in-form Villarreal is unknown, but it would have helped. The Yellow Submarines played superbly and were not going to be sunk by the big guns of Los Blancos. If anything, the result flattered the capital club with Madrid having to thank Diego Lopez for another man-of-the-match performance in goal. Save after save hushed those cries for Iker Casillas and justified his continued selection as Ancelotti's preferred number one.

Madrid's back four certainly helped Lopez stake his claim for the man-of-the-match accolade. They came unstuck far too many times, especially in the first half, although only Sergio Ramos will be a definite starter in that four once Carletto has his full squad at his disposal. Expect Raphael Varane to come back in for Pepe, Marcelo to come in for Nacho and Alvaro Arbeloa to probably come back in for Carvajal.

Not to be outdone by Madrid's new golden boy, Ronaldo also made sure he got on the scoresheet by firing Madrid ahead before a high-in-confidence Villarreal side hit back to grab a deserved share of the points. It might not have been vintage stuff from Madrid, at the back or in attack, but at least Ancelotti showed his intentions of playing both Bale and Cristiano in the same time, on either flank. A frightening concept for the rest of La Liga.

Asier Illarramendi also made his Madrid debut, and you'd be forgiven for forgetting given the hype surrounding his slightly more expensive new teammate. The young Spaniard showed touches of quality but, as with Bale, it will take him time to get fully fit given his lack of a preseason through injury.

Madrid might have dropped points for the first time this season at El Madrigal, but given the performance of Marcelino's men and given there were debuts finally handed out to Bale and Illarramendi, Ancelotti will be able to take positives forward into the rest of the season. And we've finally found out just how the new-look and fully-complete Madrid are going to look.