Youthful exuberance trusted to push Benzema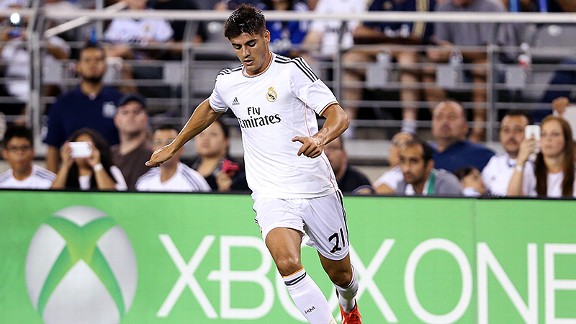 Christian Petersen/Getty ImagesWith no new strikers arriving at the Bernabeu this summer, Madrid youngster Alvaro Morata is likely to see more playing time.
Monday's long-awaited unveiling of Gareth Bale at the Bernabeu and the shock departure of Mesut Ozil to Arsenal left little time to discuss Real Madrid's failure to add some experienced competition for Karim Benzema in leading Los Blancos' line this season.

Good old Gareth left few column inches to talk about any other ins and outs at the club over the summer and, despite flirting with the idea of trying to grab an unhappy Luis Suarez from Liverpool and being linked with PSG-bound Edinson Cavani, Madrid did not seem overly desperate to replace Napoli-bound Gonzalo Higuain.

Mario Gomez this week confirmed to German sports daily Kicker that Carlo Ancelotti had shown an interest in taking him to the Spanish capital, but the former Bayern Munich man turned down the chance with a fear that he'd be warming the bench behind Benzema. Instead, he opted for a move to Fiorentina with a guarantee of more regular action ahead of the World Cup in Brazil next summer.

- Report: Gomez turned down Madrid offer
- Report: VDB: 'Casillas axed for being peacemaker'

Ancelotti, clearly, has been keen to add more options to his attack, but the coming and going of the summer transfer window without a new man in place suggests his keenness has not reached alarming heights just yet. That, or Madrid's deal brokers were too busy dealing with Daniel Levy and Tottenham Hotspur.

Perhaps Los Blancos want to see just how Benzema performs as the club's out-and-out lead man. Some believe the Frenchman, rather than be spurred on by the competition of another top-class striker, prefers to be the unquestionable main man in the attack. A name down on the teamsheet every week, rather than every other week as he had been under the rotation policy Jose Mourinho implemented with Higuain.

He's been just that so far this season but his comfort in that role, and thus signs of hitting top form, have yet to appear. The 25-year-old may have scored twice in Madrid's opening three La Liga matches, one of them being the winner at Granada, but the former Lyon man has frustrated Madridistas so much that whistles have greeted his departure already this season. That's not exactly uncommon in such a demanding arena as the Bernabeu, but it highlights his all-round performances so far and that can be seen as a minor worry for Madrid fans -- especially when the usually trigger-happy Cristiano Ronaldo only has one goal to his name so far.

Of course, if Benzema continues his current goals-to-games ratio then few will have room to complain come the end of the season, regardless of his all-round performances for the team, and yes, we're still only three games in. Madrid as a team are adjusting to a new way of playing under Ancelotti and Benzema is part of that. He, and the team, should get better as the campaign progresses.

But there is no senior head to fall back on if Benzema's goals dry up. There is no Higuain to turn to and Ronaldo, although putting a brave face on it so far, much prefers playing further out wide rather than right down the middle.

Ancelotti will have been delighted, therefore, to see Alvaro Morata smash in four goals for Spain's under-21s as they dismantled their Austrian counterparts 6-2 on Thursday night. Morata, who was the top-scorer at the European U21 Championships in Israel, will provide the back-up for Benzema alongside Jese Rodgriguez and this season may just be the season he makes a big statement.

It was a top night all-round for Madrid in Graz with all six goalscorers coming from the Bernabeu. Morata's quartet was complemented by further strikes from Dani Carvajal, who opened the scoring, and Rodriguez, who wrapped it up. Just for good measure Carvajal also scored an own goal, too, to double to his tally for the evening.

Bale aside, Madrid has made a point of signing the top young Spanish talent to build a team not just for now, but for the future. Isco, who has already greatly impressed, Asier Illarramendi and Carvajal cost big bucks but are set for big futures and they join an already-promising array of young Spanish talent at the Bernabeu such as Jese and Morata. Thursday night's Madrid-led Spanish victory will have brought large grins to the faces of Ancelotti and Florentino Perez. The future's bright, the future's white.

Whether Morata, and indeed Jese, can put pressure on Benzema for the starting role is yet to be seen, but given the transfer activity of the last few months, Ancelotti seems to have some faith that the pair can make a positive impact in the first team this season and more than just make token appearances when matches have already been won.

The pair have made one appearance from the bench apiece in Madrid's opening three matches but the lack of a big-name striker coming into the club before Monday's transfer deadline suggests they are going to get plenty more minutes, especially with the Champions League ready to get underway.

Morata has flirted with the first team before, even grabbing a late winner for Madrid at Levante last season, but you sense this year could be the year he makes his proper breakthrough. A year older, a year wiser and a manager, and club, who are seemingly putting their faith more in youth this year than in recent seasons. The acquisition of Isco, who Morata knows plenty about thanks to playing with him in the under-21s, and likewise Illarramendi, should only add extra incentive to give some chances to Madrid's talented young attackers this term.

Madrid may already be looking for a household name of a striker to come in and help Benzema in the winter transfer window (and maybe they're not), but you can rest assured Morata and Jese will be doing everything they can to become a regular feature this season.