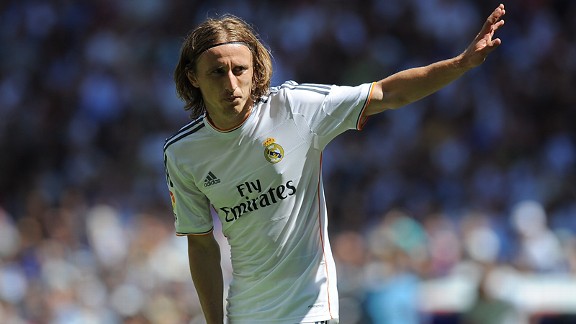 GettyImagesLuka Modric acknowledges the applause of the Real Madrid fans during the La Liga match against Athletic Bilbao.
Many hoped Madrid's midday meeting with Athletic Bilbao on Sunday would provide a first glimpse of Gareth Bale in the famous all-white strip. A first chance to chant the Welshman's name in his new home. Instead, it was another former Tottenham Hotspur man who drew the plaudits in Luka Modric. Not bad for a player voted as the worst signing in La Liga last season.

The Croatian's name was chanted by the 70,000-plus inside the Bernabeu during Madrid' 3-1 win over the Basques that kept their 100 percent winning start to La Liga intact. Golden boy Isco continued his dream start with a brace of goals and talisman Cristiano Ronaldo scored his first of the season, his 202nd Madrid goal in as many matches. But it was Modric, pulling the strings in the middle of the park, who really shone.

With a steely determination to win the ball back usually reserved for Sergio Ramos and an eye for a pass that Xabi Alonso, sidelined through injury, is usually accustomed to, Modric has gone from being a backup-squad player to one Carlo Ancelotti is putting plenty of trust in at a time many thought his stay in the Spanish capital might even come to an end.

Last season, with barely any time to adjust to a new team and a new league, Modric was voted as the worst signing in La Liga last term by Marca readers, just pipping Alex Song. A lack of consistency, largely thanks to a lack of a string of games to find his feet, was to blame. As the season progressed, so did the Croatian international but the question remained if it would be enough to remain a key part of this season's squad.

"This is Real Madrid. I understand there is great pressure for new signings to succeed here," Modric told Croatian newspaper Sportske in response to the damaging poll. "I'm not making excuses, I am not that kind of person, but it is very challenging to adapt to life at a big club like Madrid. I have had a few good performances, if not in every game, but I believe that I can prove I have something to offer."

With players such as Isco, Asier Illarramendi and Casemiro signing for the club over the summer it seemed as if Modric would not get that opportunity to show he has something to offer. The imminent announcement of the signing of former teammate Bale acted only to increase speculation that the Croatian would be on his way out just a year after arriving. Manchester United have been linked with his services.

But now, albeit only three games into the new season, Modric has staked a claim to be one of the first names on the team sheet thanks to his performances, the best of which came in helping Madrid to a comfortable victory over Los Leones.

Xabi Alonso is yet to return from injury and Illarramendi is back on the training pitch after suffering an injury setback of his own. Mesut Ozil was left out of the starting lineup and Bale, seemingly, is all but in the Spanish capital. Yet Ancelotti now has a welcome selection headache. Drop Modric to accommodate the aforementioned names or stick with a player who is fast becoming a Bernabeu fan favourite.

The former Spurs man played in the 'Xabi' role, picking up the ball from the defence and spraying it left, right and through the centre. Short and long, orchestrating most of the Madrid attacks from the back, setting his side on their way and controlling the pace of the game. He looked like a player very much at home. Comfortable, at ease with his game and his surroundings -- at last.

A pass completion rate of 89 percent, the majority of which were in the defensive third and middle third. The attacking third was very much left to Isco, Angel di Maria and Cristiano Ronaldo -- Modric knew his place and his role, although that's not to say he didn't contribute in the final third, either.

He showcased his abilities to control the tempo in Madrid's favour throughout and set the attacks going, but he also showed plenty of qualities through work rate and helping out at the back to really warm to the Madrid faithful. His tracking back on one Bilbao counterattack midway through the half to nullify the danger drew one of the biggest chants of the match for the 27-year-old. A player's focus is always on the pitch but that appreciation could not have gone unnoticed.

Modric has become the "go-to" man for the rest of the Madrid players. Whether it be Sergio Ramos or Pepe looking to move the ball down the pitch, or Isco or Di Maria looking to pass the ball back and set up a new route of attack. He has the full trust of his teammates and, in a squad such as Madrid's, that's crucial. Sunday's performance can only have heightened his respect amongst his colleagues.

His performance was in stark contrast to Ronaldo, who opened his account for the season but is still sluggishly adjusting to his new more central role alongside Karim Benzema. Di Maria produced a fine ball for Portuguese to head home Madrid's second on the stroke of halftime but Bilbao's marking left plenty to be desired.

A failure to score in Madrid's first two games of the season may be below-par enough for a player who has a goal ratio of one per game at Madrid, but Ronaldo does not look entirely happy playing in his new role and that must be a concern for Ancelotti. He had 23 shots on goal this season before finally opening his account and it came from some pretty lax marking from the visitors. More chances followed, from free kicks and open play, but you could see the frustration after his numerous missed chances.

Maybe it's just taking time to adjust, as Madrid are as a team, with Carlotto's new formation and tactics, or maybe Ronaldo, as he's previously said, just does not like playing in a more central role, albeit a pretty free one. Whether the arrival of Bale will see Ancelotti move Ronaldo back to his more preferred position out on the left remains to be seen, but Madrid needs a Ronaldo firing on all cylinders if they're to regain La Liga from Barcelona.

Madrid never hit top gear against Bilbao but to comfortably see off a side many predict to be pushing for a Champions League spot come the end of the season can be seen as a positive sign for the campaign. Some stand-out individual performances, from Modric and Isco in particular, plus a sign that some progress is being made as a team to adjusting to a new setup can leave Ancelotti a happy man three games into his debut La Liga term with Los Blancos.

Now bring on Bale.