Madrid pursuit of Bale highlights transfer deficiencies
If gossip be the food of selling sports dailies when there's nothing else happening, play on. But surely there must come a time when UEFA decides to do away with the ridiculous practice of extending the transfer window well into the domestic season with competitive action afoot. The Gareth Bale stage show seems set to finally invite its own curtain, even if Real Madrid was forced to rather embarrassingly take down the one it had erected at the Bernabeu for the Welshman's expected arrival earlier this week.

"I'm not sure how long it is going to take. It could happen very, very soon, or it could go to the last day. It could happen in the next two days." said Andre Villas-Boas on Wednesday, as wearily as should be expected of a manager whose star has gone off on a bit of a strop. Bale, apparently "furious" at his treatment at the hands of dastardly Tottenham, has refused to turn up for work since his return from a club-sanctioned holiday in Marbella as he recovers from a minor injury. It would be interesting if society in general could do the same as a matter of course.

Real, particularly, should be wary of this precedent; contract rebels are rarely a sign of happy times to come. Nicolas Anelka was far from effective at the Bernabeu after sulking his way out of Arsenal, while the fact that Samuel Eto'o would rather hold out for another deal elsewhere, despite reported interest from his alma mater, is not a glowing reference for the treatment of players who thumb their noses at the hierarchy in Madrid.

But Real, for better or for worse, is hellbent on wedding the exciting forward to its increasingly disparate band of not-so-merry men. Iker Casillas' legacy, as noted by Nick Rigg, hangs by a thread. Real's apparent readiness to jettison players of the calibre of Mesut Ozil, Angel di Maria, Fabio Coentrao and possibly Karim Benzema to land Bale hardly smacks of a logical policy of advancement. The early signs were encouraging; Asier Illarramendi, Isco, Dani Carvajal and Casemiro were signed with an eye on the future. The relentless pursuit of Bale -- a player Real arguably does not even need -- reeks of ill-guided imperialism.

A quick look at the real cost of Cristiano Ronaldo's agreement with Real is instructive here. The Portuguese has yet to put pen to paper on a new deal worth a reported 17 million euros a year after tax, but the hesitation may not be exclusively on the part of the player. Under Spanish tax laws, Ronaldo is no longer subject to the so-called Beckham Law, introduced by the government of Jose Maria Aznar, a Real VIP observer, to lure the finest players in the world to Madrid.

In essence, Real has to not only pick up the tab of 17 million euros net for Ronaldo per year, it also has to cover 18 million euros to the tax office over the same annual period. It is a regional tax law that is as complicated as anything gets in Spain -- try changing a bank account or a mobile provider for details -- but one that directly impacts Bale's arrival. A similar outlay to Ronaldo's will be necessary to secure the services of the Welshman, but both at the same time? Real is minted, there is little doubt about that; Forbes lists Madrid as the world's richest club with 650 million dollars in revenue in 2013. But still, the potential purchase of Bale presents the Bernabeu bigwigs with a problem that won't go away.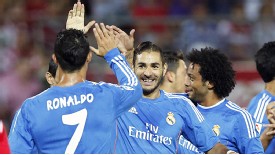 GettyImagesKarim Benzema's future at the Bernabeu has been the subject of conjecture.
"There has been a lot in the press -- they have spoken of interesting options but I have a contract and I am staying at Real Madrid," said Mesut Ozil on Wednesday. "I understand that the club is strengthening and they know what they are doing," Angel di Maria apparently told AS. "But I signed up to 2018 just a year ago and my aim is to stay in the Bernabeu."

So what exactly is Florentino Perez going to do about these benchable bad apples-in-waiting? Add to the potentially ruinous mix that Benzema is a target for other clubs and his work rate hardly admired by the Real faithful, and you have a potential re-jigging of the entire front line with two league games played. And let's face it: Bale is hardly going to help shore up a creaking defence that has been stretched by both Betis and Granada. A tough Champions League draw Thursday will not ease immediate concerns at the back.

Real's transfer policy looked sound early in the summer window but it has descended into a farce worthy of Twelfth Night with the 11th hour fast approaching. Tottenham has done fine business in the time allotted, covering for Chelsea's cheeky swiping of Willian with the signing of Argentina international Erik Lamela. Christian Eriksen and Vlad Chiriches are in the pipeline and, in addition to already-signed Roberto Soldado and Paulinho, the north London club has led the rest of Europe a merry dance in the basic two-step of transfer courting.

Real Madrid has yet to learn the routine and is rapidly becoming the embarrassing uncle at a family wedding. Bale may arrive. Others may leave. But despite the hardball tactics of Spurs chairman Daniel Levy, this should have been a consummated union at least a month ago. The belated signing of Bale will do little other than precipitate an exodus that will destabilize a Real side that by recent standards has shown sporadic signs of promise.

"They can do whatever they want. Whether it was responsible or irresponsible, I really don't care," said Villas-Boas of the Bernabeu stage erected for Bale's unveiling. Real fans would do well to adopt a similar view.