Mixed bag in group stage as Madrid start quest for La Decima -- again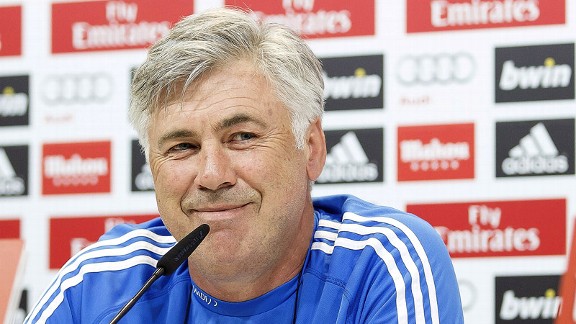 Angel Martinez/Real Madrid/Getty ImagesCarlo Ancelotti's task of winning 'La Decima' starts with Juventus, Galatasaray and Copenhagen.
The draw for the Champions League group stages could have been kinder to Real Madrid, but it could have been worse. It's a middle-of-the-road result for Los Blancos, relatively speaking, and one they'd probably take after last year's Group D, where D stood for "Death."

The champions of Italy, Turkey and Denmark. Juventus, Galatasaray and FC Copenhagen. It is the Champions League, after all.

- Brewin: UCL group-by-group analysis
- Report: Real relishing Juve clashes

When Juve were the first name to be pitted alongside Madrid in Group B, it looked like another tough group was in the cards. Last year, Los Blancos were handed tough tests against Borussia Dortmund, the eventual finalists, big-spending Premier League champions Manchester City and Dutch giants Ajax. This year the third and fourth names in the group, Galatasaray and FC Copenhagen respectively, should not cause as much fear.

Sure, Galatasaray caused Madrid problems in Istanbul in the knockout stages last season, but Los Blancos cruised to a 3-0 first-leg lead and panicked when Fatih Terim's men got some late momentum on home soil. Madrid still progressed and two group matches, rather than defending a seemingly comfortable 3-0 lead in the knockout rounds, should work more in their favour.

Istanbul, traditionally, is always a tough place to go for visiting teams. It's different from your usual European away day. Galatasaray, too, have players such as Champions League-winner Didier Drogba and former Madrid men Wesley Sneijder and Hamit Altintop in their ranks. It will be no walk in the park, but with all respect to the Turks, Madrid has a much stronger squad and should be capable of taking six points from both matches.

Copenhagen have plenty of Champions League experience but will be seen as the "whipping boys" of the group, rightly or wrongly. They usually are, year after year, despite picking up some impressive results in the competition in recent years, and the Danes have made a poor start to their domestic campaign -- something that doesn't bode well for competing against better opponents on the continent.

A clash with Italian champions Juventus clearly will be Madrid's biggest task and one of the contests of the group stages, alongside another Italian-Spanish contest in the Barcelona and AC Milan meeting. Italy's most successful club against Spain's most successful club. A faceoff against their former club for Carlo Ancelotti and Zinedine Zidane. Plenty of romanticism in the air. Juventus have won the past three European meetings against Madrid, too.

Juve, alongside Madrid, will be one of the favourites to win this year's competition, a cause boosted not only by their Serie A success last season, but by summer additions including Carlos Tevez, who scored the only goal in Juve's opening-day victory at Sampdoria, and Fernando Llorente, a familiar face with Spaniards, who could only make the bench at the weekend, such as the Old Lady's strength in depth. There could also be an interesting contest between Gareth Bale, should he sign, and Paul Pogba, given the Frenchman's agent is quoted as saying his player is worth more than the Welshman.

It's a mixed bag for Madrid, but one that they and Juve should come through.

On paper, Ancelotti's men could have been handed easier ties. They could also have been handed a group including Dortmund again, or Manchester City again, given the way the seedings work, taking into account the past five years of competition. Napoli, too, could have been in Madrid's group, as could a tricky trip to Glasgow to face Celtic. Things could have been a lot worse.

The draw took place just hours before Madrid lifted the Teresa Herrera trophy in Galicia thanks to a 4-0 win over Deportivo -- the ninth time they've done so. The number nine is one Madridistas are not so keen on and they'll be hoping their side can tick that number over to 10, La Decima, in the Champions League come the end of the season.

Jose Mourinho at least improved Madrid from the round-of-16 stage in getting Los Blancos to the semifinals the past three years, but club president Florentino Perez will be hoping that Ancelotti, a man who has won the Champions League twice before, finally can guide his club to the holy grail for the first time since 2002.

They may well have to do it without the services of Kaka, who announced after Thursday's friendly against Deportivo, in which he got on the score sheet, that he was looking to leave the Spanish capital before the close of the transfer window Monday night.

The Brazilian's future has been up in the air for a number of years, but this is the first time the former world player of the year has announced his desire to leave, saying: "I want to leave. I think now is the right time for me and the club to part company amicably. I have spoken to Carlo Ancelotti and the club, everyone knows. My father is having talks with the club to find a solution."

The former AC Milan man has been surplus to requirements for a while now but Ancelotti's arrival sparked rumours of one last chance, given his relationship from their time at the San Siro, where he was at the top of his game. That has failed to materialise and, if anything, Kaka seems to be further down the pecking order following the arrival of Isco, and the seemingly imminent arrival of Bale.

A player of Kaka's ability needs to be playing football on a week-to-week basis, especially in a season that culminates with the World Cup in Brazil. He'll be desperate to feature in that and knows he needs to be playing regular first-team football to be in with a chance, and to get his form to a good level of consistency.

His departure should suit Madrid, too, given the wages he's on at the Bernabeu. Whether it's a loan deal, with Madrid still paying some of his wages, or a permanent deal, is as yet unknown, but the decision to move on should be a good move for the player.

As I type, AC Milan already seem the front-runners to re-sign their golden boy. Good luck, Kaka.