San Iker's Madrid future in jeopardy after Ancelotti snub
More than 650 appearances in goal for Real Madrid. Almost 150 for Spain. Five La Liga triumphs, two Champions League medals, one Copa del Rey, four Spanish Super Cups, one European Super Cup and two InterContinental Cups. Internationally, one World Cup and two European championships. Records galore. A stacked reputation.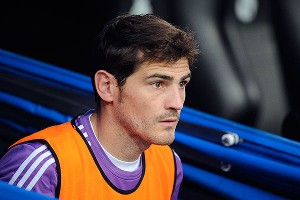 Pedro Armestre/AFP/Getty ImagesDespite the change in coaches, Real Madrid's Iker Casillas started this season the same place he ended the last -- on the bench.
Iker Casillas, or "San Iker" as he's affectionately known, is a Madrid legend. Nothing that happens from here on in will change that.

But with Carlo Ancelotti opting for Diego Lopez in Madrid's first two La Liga games this season, as Jose Mourinho did for the whole of the second half of last season, the 32-year-old's Bernabeu future is in jeopardy.

Casillas' bio on Madrid's website reads: "No one has challenged Casillas as the starting keeper of the First Team since 1999-00, and he is one of the squad's most experienced players and a team captain." Maybe it needs some editing -- if anyone dares.

-Video: Real fans split on Bale

The Spanish captain, likely to remain as Spain's No. 1 and captain for a while yet, has not played a league game for Los Blancos since January, when Madrid thrashed Valencia 5-0 at the Mestalla. Mourinho made the huge call to drop the stopper just before the Christmas break when Madrid visited Malaga and placed Antonio Adan in goal. Los Blancos duly lost 3-2 but Adan was preferred to Casillas, on the whole, until the second coming of Lopez.

From the turn of the year until Mourinho's departure, his decision to go with Lopez rather than Casillas caused outrage amongst the Spanish press and Madridistas. It was nothing against Lopez, who was returning to the Spanish capital for a second time -- more so toward Mourinho for dropping a club legend.

Indeed, Lopez played well for the most part, getting plaudits from the press a number of times, and being named as man of the match by Sir Alex Ferguson as Madrid sent Manchester United crashing out of the Champions League, with Lopez producing a string of fine saves.

Few expected the former Sevilla man to get the nod when Ancelotti arrived, however. A clean slate for Casillas, many thought. Surely Carletto would not be so daft as to leave Casillas on the bench and cause more divisions amongst supporters, and possibly amongst the squad? It was a given, it seemed, that San Iker would be back between the sticks.

But that Bernabeu crossbar has not been touched superstitiously for months, and it's getting lonely (Casillas is superstitious and touches the crossbar whenever Madrid scores). Has its relationship with Casillas come to an end?

To get to the point where the Mostoles-born stopper could leave the club before the close of the transfer window once was unthinkable. Now it's being mooted. Arsenal and Manchester City have been linked with taking the Spanish No. 1 to the Premier League, and even Barcelona's name has been thrown into the hat, too, although surely not.

When Lopez was handed a starting spot for Madrid's opener at home against Betis, Ancelotti hinted that Casillas could soon return. "Today the goalkeeper was Diego," he said. "For the next game we will see ..."

The next game came, at Granada on Monday night, and Lopez remained. He kept a clean sheet, too. Two games down, and Casillas remains a Bernabeu benchwarmer. Now, it seems, that is unlikely to change unless Lopez has a few nightmare performances and hands the No. 1 shirt back to him on a plate.

First Mourinho, now Ancelotti. Two of the best managers in world football, both snubbing Casillas, who is Madrid's, and one of the world's, most decorated footballers. The time has come for San Iker to make a decision.

It would be galling, for fans, the players, teammates and the club, to see a player of Casillas' magnitude leave the Bernabeu, no matter how many first-team appearances he's made in 2013. There's no doubt about that. The shot stopper has taken on Raul's role since the forward made his own tough departure. The two met at the Bernabeu last Thursday as Madrid took on Raul's current club, Al Sadd, from Qatar. "At least I will play in the Bernabeu Trophy," Casillas said after the Betis game and before the match with Al Sadd.

He sounded like a goalkeeper resigned to a future on the bench. Casillas has said that one day he would love to be president of Madrid, a club he loves and holds dear to his heart. In that, one would presume he wants to stay at the club until the end of his career. A one-club man, and in this day and age there are fewer and fewer.

But Casillas is not a player who should have his bum parked on a bench for a length of time. If he sees no way back in, it's time to move on, however hard that may be. At 32, Casillas still has years left of playing first-team football at a high level, at a level challenging Madrid. Goalkeepers often play until they're 40 or older and Casillas is a player who could, and should, be doing just that.

It would be a painful divorce, but it would be for the good of his career. Nobody wants to see Casillas benched and it can't be doing him any good, as a player, and mentally after all those years of being the first name down on the team sheet. Despite their unconditional love, 75 percent of Madrid fans said Casillas should depart for pastures new in a Marca poll.

He may stick it out until the winter at least to try to win the starting spot back from Lopez. It would take only a couple of good performances to stand a chance of reclaiming what many believe is rightly his and all, maybe, will be forgotten.

But in a World Cup year, Casillas may well see these next few days before the close of the transfer window as crucial. He may still be favoured by Vicente del Bosque, but the Spain boss will want his players getting regular time on the pitch before his side defend their world crown.

The talk may be of Gareth Bale, but there could well be another big talking point at the Bernabeu before the transfer window closes next Monday night.