Bernabeu prepares to welcome Bale
Prepare the stage, get the turnstiles in motion and write up the press releases. The saga that is "Gareth Bale to Real Madrid" seems to be coming to a conclusion. The Bernabeu is set for another welcome that only the Bernabeu can pull off.

The white smoke from Madrid's home on the Paseo de la Castellana signals that the Welshman's unveiling is, at long last, imminent. It was always going to happen -- Madrid don't usually miss out on their man -- but club president Florentino Perez is set to part with the biggest wad of the club's cash ever before the transfer window shuts, with a fee of 99 million euros currently doing the rounds in the media.

Reports suggest it will be paid in installments and that is the only thing coming between Tottenham and Madrid shaking hands, but that is only a minor detail in Los Blancos getting their top target.

So Bale should brace himself for a typical Madrid welcome, one that will sweep him firmly off his feet. As usual, Perez will likely show off his latest capture on the Bernabeu pitch, with fans invited to join in the unveiling and pack out the stadium even without a ball being kicked in anger. Though many will question whether the Welshman falls in the same bracket as Ronaldo and Kaka, the price tag certainly does. As such, it will excite Madridistas.

Pictures have shown the club setting up the stage at the ground for Bale's unveiling, and have also captured "Bale" lettering for the back of the shirts in the club shop. "Bale Fever" is growing and it will be at fever pitch when he swaps one white shirt for another and does a few keepy-ups on the hallowed turf. Millions have been spent this summer in strengthening Carlo Ancelotti's squad but this one, above all else, is the one Madrid wanted.

Dani Carvajal, Asier Illaramendi, Casemiro and Isco have all proved useful additions for Madrid over the close season, with the latter in particular showing that he's going to be a hit in the Spanish capital following his late winner in the season opener against Betis last weekend. But despite some good, Spanish-oriented business being done, Madrid wanted their Neymar. They wanted their Galactico. Now, it seems, they have.

Madrid's visit to Granada on Monday night will probably come too soon for the Welshman to make his debut. It may well be that his signature isn't even announced by then. But a home match against Athletic Bilbao the following week could see Bale make his bow.

So where exactly will he fit in?

He actually started out as a left back at Southampton, where he came through the youth ranks, before being switched to an out-and-out left winger. Last season Spurs boss Andre Villas-Boas tended to use him more centrally and he seemed to go from strength to strength.

But everyone knows Cristiano Ronaldo likes his place out on the left of Madrid's attacks. It's where he's scored an embarrassing amount of goals and it's where he's happiest, and you don't want to go upsetting the Portuguese -- after all, he will be Madrid's man main despite the furor surrounding Bale.

Los Blancos also have an envious number options in the centre despite Xabi Alonso's injury, with Isco shining last weekend (albeit primarily in a wide midfielder role) regardless of Mesut Ozil's preference in the middle -- he, too, had a role on the opposite side to Isco, wide on the right but coming inside as often as possible. Luka Modric may also be pushed further forward when Illarramendi is fit for selection, while Angel di Maria offers options all over the attacking third.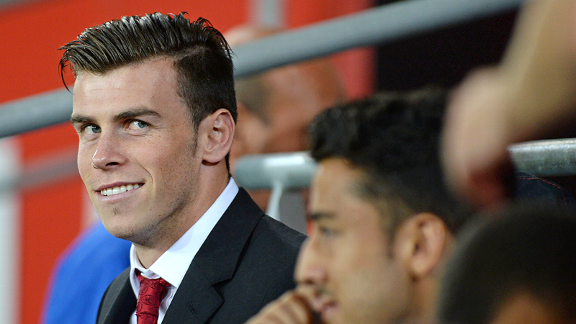 Matthew Horwood/Getty ImagesGareth Bale doesn't know what he's in for at the Bernabeu should Real Madrid confirm his transfer.

Last week Ancelotti lined his men up in a flexible 4-4-2 formation, with the full-backs pushing forward pretty much as wingers and the wide midfielders of Isco (on the left) and Ozil (on the right) moving inside. The Italian manager is likely to stick with a more deep-sitting central two in the midfield, albeit tinkering with that given last weekend's problems defensively, meaning that Bale would be in for either Isco, or Ozil. Given Isco's performance last week, his absence is unlikely.

More likely is Madrid having to change formations to include Bale in the line up. Although a starting place on the right has not been the norm for Madrid's soon-to-be No. 11, that seems like it could be an option with Madrid reverting more to a 4-2-3-1 formation or some such variation. Benzema would be the leading man, Ronaldo would slot back in his favoured attacking position on the left with Isco down the middle and Bale on the right. All three could interchange comfortably, with Ronaldo on the left as a right-footer and Bale on the right as a left-footer surely scaring the hell out of defences -- on paper. Playing Bale there could also limit his powerful, surging runs forward.

Ancelotti will have a lot of thinking to do to get Bale in the starting XI. It's not a bad thought to have, though.

Bale's probable arrival may not be the only bit of transfer business Perez is looking to complete in the coming days, although it may as well be given the column inches it will attract. Granada left back Guilherme Siqueira is a target and reports in Spain suggest that Perez will meet with his opposite number when the clubs meet in La Liga on Monday night.

Premier League duo Everton and Liverpool have been chasing the Brazilian's services and are likely to offer him first team football, but Madrid seem to be front-runners now as a replacement for Fabio Coentrao, who is expected to leave the Spanish capital before the transfer window shuts on Monday, September 2.

The English press has also been linking Arsenal with swoops for Karim Benzema and Angel di Maria this week. Arsenal's track record of player recruitment, especially this summer, has not been good, and you have to think the links with Benzema comes due to the smallest puff of smoke from the tiniest of fires. Benzema is Madrid's only experienced out-and-out striker since the departure of Gonzalo Higuain to Napoli and the club would be mad to sell the Frenchman this summer. Alvaro Morata and Jese Rodriguez provide exciting, but young and relatively inexperienced, backup for the former Lyon man and with all due respect to the pair, Ancelotti would not want to be left with just those them to lead the line.

If Benzema was to leave you would think Los Blancos would have one, or possibly even two, replacements lined-up. Luis Suarez would be a great options but talk seems to have cooled on that front, at least for this transfer window.

Di Maria is the more likely of the two to be on his way, with the Argentine already having been linked with a move to Spurs as part of the Bale deal. Bale's arrival will surely shove the former Benfica winger further down the pecking order and he will just want to be starting games, especially in a World Cup year.

So di Maria -- possibly. Benzema? Despite his attempt at a record number of offside decisions in one half against Betis last week, Madrid would be mad to let him leave at this stage. Though for now, all Madridistas will be focused on welcoming Bale into the fold.