Spurs spending suggests Bale deal is close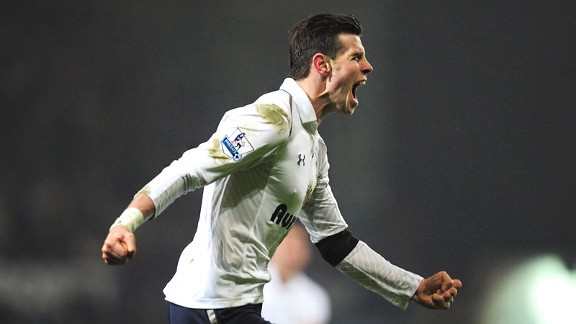 Jamie McDonald/Getty ImagesWith all of the reported spending coming out of White Hart Lane, a Gareth Bale move to Madrid could be very close.
Tick tock, tick tock. Will he or won't he? Do Madrid need him or don't they? Is the price excessive or a sign of the times?

The Gareth Bale-to-Madrid saga continued to rumble with Sky Italia suggesting today that Tottenham Hotspur have agreed to a fee of £93 million plus the services of want-away Fabio Coentrao for their Welsh wizard. There's yet to be any confirmation or denial from any party, but the report suggests a deal is still very much being scrapped out between the two clubs and agents, if it hasn't been sorted already.

- Transfers: Shirty business to lure Bale to Madrid
- Train: Can Ancelotti keep Casillas issue from boiling over?

Another Bale story, another number that seems excessive for a footballer. Don't worry -- there's more than a week to go before it all stops, when the transfer window slams shut for a while at least.

But more than this report coming out, the money Spurs are splashing out this summer, which is set to continue, seems to tell more of a story.

Anzhi Makhachkala forward Willian is said to be close to completing a £30 million move to White Hart Lane, while the Premier League side are also understood to be chasing Roma's Erik Lamela. The potential arrivals would follow big-money moves to London for Roberto Soldado, Nacer Chadli and Paulinho, among others.

It means Spurs could be spending up to £100 million on new recruits this summer. That number ring a bell? Of course it does. It's the amount being bandied about for Bale. Two plus two, in this instance, seems to make four.

You've got to hand it to Spurs. From their point of view, it's very much the right way to do it. Selling Bale and pocketing a load of cash would set the sirens going among clubs Spurs would look to for players to replace Bale. Asking prices would go up. Daniel Levy and company would also risk panic buying, and ending up with sub-standard players being so close to the close of the transfer window.

Buying replacements and additions before selling Bale makes complete sense -- they should be getting them for a fairer price. Bale is Tottenham's player, and they are doing their business how they see fit.

It's not completely out of the question that Spurs are bringing in these top players to add to -- not instead of -- Bale. A show of strength and power in luring one of the best players in the world to stay at their club. A big move forward in English football, and beyond. Spurs, and Levy, are ambitious; they want to break into the top four, a Champions League spot, in the Premier League season after season.

But Levy is also a big businessman. He thrives on making big profits on his players. He knows how to work the transfer market and ultimately he seems to do what's best for his club financially. Selling Bale for as close to £100 million as possible and bringing in the replacements before any deal goes through strikes me as some great business for Spurs. They know how desperate Madrid is for their man and they're extremely unlikely to pull out.

Saturday's La Liga opener against Betis, in which Madrid won 2-1 thanks to a late Isco header, also brought up some new questions, and answers, as to where Bale could actually fit, too.

Much licking of lips has been done over Bale and Cristiano Ronaldo terrorising defences throughout La Liga, but few knew exactly how Carlo Ancelotti would be lining his team up Sunday night at the Bernabeu. Plenty of formations had been tinkered with during the summer, but few could guess Los Blancos' starting 11 and formation.

As it was, Madrid seemed to go with a very flexible, and not exactly inspiring, 4-4-2, with Luka Modric and Sami Khedira in the middle, Isco out on the left and Mesut Ozil on the right. The two wide players more often than not drifted into the centre, packing the midfield, while the full backs powered forward to act as wingers on the attack, pretty much leaving Madrid with a back two on occasions. Ronaldo roamed up top with a bit of a free role alongside Karim Benzema, but that didn't seem to work too well on first sight.

Whether Ancelotti sticks with that is unknown -- whether or not Bale arrives in the coming days. If the Welshman did appear in the Spanish capital before the transfer deadline, I wouldn't be so keen on him lining up for Madrid as they did against Betis. It's not that he can't play centrally, he showed that plenty of times with Spurs last season, but his real strength is having space to run at and for me, he wouldn't get that in Madrid's current system.

A 4-2-3-1 or 4-3-2-1 formation, both of which were muted as possibilities for Madrid before the weekend opener, would suit his style better, and Ancelotti may well be keeping that for the Welshman's arrival. Los Blancos tried both out during the summer, albeit not as often as the 4-4-2 or 4-3-3.

Tactics, confusion and player selection debates aside from Sunday, Madrid's performance on the whole certainly will have edged the Madrid powers-that-be closer to a deal for Bale, rather than cooling the interest. Reports have been doing the rounds in Spain recently as Madrid continue to haggle over the price of the player, and decide on just where he will play.

An improvement over last season's opening 0-0 home draw against Valencia it may have been, but Madrid were not exactly the all-conquering possession-based side many expected from what was an extremely fruitful and encouraging close season. Things should improve, but that performance may have convinced Florentino Perez to part with a bit of extra cash this summer, rather than wait for their top target.