Isco brings disco to relieved Madrid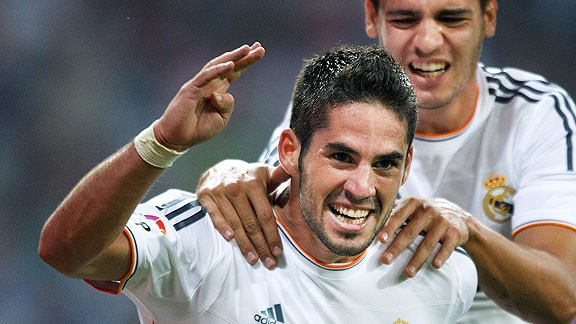 Gonzalo Arroyo Moreno/Getty ImagesIsco, left, was the hero in his Bernabeu La Liga debut, scoring four minutes from time to give Real Madrid the win. Alvaro Morata joins in the celebration.
Finally, an excuse to use it. There's no disco without Isco.

The 23-million-pound man made his competitive debut for Real Madrid in their season opener against Real Betis at the Bernabeu on Sunday night, and he certainly got a largely frustrated Madrid faithful dancing with joy thanks to his late winner in a against Pepe Mel's men.

A header, from a little guy. Karim Benzema leveled for Madrid after Jorge Molina had given the visitors a shock early lead, but the Frenchman missed a hatful of chances, was caught offside numerous times and even left the pitch to whistles from the home fans -- just one game into the new season.

Yet Isco, one of Madrid's better performers on the night, saved the day with a superb finish four minutes from time. He showed the positioning, anticipation and finish of a world-class striker to nip in ahead of the Betis defence and steer a superb, inviting Marcelo cross into the back of the net.

The former Malaga man was already in line to take the man-of-the-match plaudits for his performance -- although Madrid's performance overall left plenty to be desired, and that's not taking anything away from an impressive showing from Betis. His movement looked good, his passing on song, and he assisted Benzema with his goal before becoming Madrid's match winner.

It all came on his debut, and Isco stole the show.

It was all set up nicely with Madrid choosing one of their big summer recruits as the player to address the media before the match. He spoke well, and he spoke of the thrill of finally running out on to the famous Bernabeu surface for his competitive debut in the all white.

Nerves could have overcome him, but as well as having the obvious qualities enabling him to "crack" Madrid, he also seems to have the head -- the mental strength.

It was difficult to pinpoint exactly where Isco was playing as Carlo Ancelotti showed us his hand for the first time. Seemingly positioned wide on the left, he looked to tuck inside to a more central role when Madrid attacked, with Marcelo pretty much operating as a winger and thus allowing Isco to move inside, where he can do more damage. He is, of course, not an out-and-out winger. It was the same on the right, with Dani Carvajal pushing forward constantly and Mesut Özil tucking in.

It is also crucial to note it was the Spanish international's first competitive match as a Madrid player. There is time to jell, grab more of an understanding alongside his teammates and possibly alter positions depending on if there are any more additions before the close of the transfer window and when those on the treatment table return to full fitness.

But, as far as debuts go in front of your new supporters, it could not have gone much better for the Benalmadena kid.

In the attacking third, he completed 12 of 15 passes -- one of them was key, a deft little touch that traveled only a few yards but was weighted perfectly for Benzema to level. Most of the others were long-ranging passes out to the wings, usually to Carvajal or, on the other flank, Marcelo. In total, he made 27 successful passes on 31 attempts. Impressive, and key in Ancelotti's vision of a more possession-based team.

And who said it was all about the attack? Isco showed he has a great engine and tracked back to help a Madrid defence that looked all at sea for most of the game, chipping in with three successful tackles to win the ball back and set the attack rolling at the other end.

So it was all smiles for Isco, but what about Carvajal, Madrid's other debutant? The former Leverkusen man showed what he's all about going forward, offering plenty of attacking threat, but struggled a bit defensively.

Maybe it could be put down to a bad day at the office all-round for Madrid at the back. Sergio Ramos had a real stinker throughout the 90 minutes and Madrid fans will be desperate to see the calmness of Raphael Varane returning. On Sunday night's performance, the Madrid medical staff will be working overtime to get the Frenchman ready for action.

Carvajal got caught out a couple of times at the back, and a couple were almost crucial. In the first half, he lost the man he was marking, Emmanuel Nosa, and the Betis man was free to power his header against the crossbar. Not long after Cedric, who looks a real bargain for Betis, got the better of him and went down under Carvajal's challenge. The referee waved away protests, but, on another day, a penalty could have been given.

On the plus side, Carvajal looked good in attack, almost a carbon copy of Marcelo down the right and looked more capable in the creativity department than Alvaro Arbeloa. Operating pretty much as a winger when Madrid had the ball, the defender swung over a couple of dangerous crosses and allowed Özil to move inside more.

Hopefully, with an all-round steadier defence -- and that not only includes Varane's return but, for my money, Xabi Alonso returning to the midfield and helping to tighten the lines between the defence and midfield -- Carvajal will improve defensively, too. At the very least, he is superb competition for Arbeloa, and it'll be interesting to see who Ancelotti goes for in the long run.

Casemiro also made his first competitive appearance for Los Blancos since making his move to the Spanish capital a permanent one. The Brazilian actually made his first-team debut against Betis last season in April when on loan at the Bernabeu, and his performances over the summer have been impressive -- enough to trust the holding midfielder to come on in place of Sami Khedira in the second half.

It wasn't the best performance, but nor was it the worst. If anything, he was brought on to offer a bit more protection to the back four and also allow Luka Modric to drive forward more. That certainly worked with the Croatian playing well, although Ancelotti will likely stick with Khedira next Monday at Granada, injuries permitting.

Also worth a mention was Ancelotti's decision to go with Diego Lopez in goal rather than Iker Casillas. The decision to drop Casillas last season was arguably the start of Jose Mourinho's downfall at the Bernabeu, and many believed normal service would be resumed under a new manager this season. After all, Ancelotti didn't want to cause a stir on that front already, did he?

Well, he did. The Italian has said throughout the summer that he had trouble deciding on who would be the club's No. 1 goalkeeper this season and that he would decide on the day who would get the nod.

Casillas made a long trip to Ecuador during the week to play for Spain, but goalkeepers are not usually the ones to be rested after such trips, especially at the start of the season and especially as far as Casillas is concerned -- he would have been desperate to play and put last season behind him.

In fairness to Lopez, he played well last season when called upon and didn't do a great deal wrong against Betis. A couple of smart saves, a couple of wise decisions and good positioning. One or two question marks over his positioning at corner kicks once again, but a solid enough display.

Madrid's victory over Betis was far from convincing, but at least there was plenty to take from the performance of those making their debuts -- especially Isco. Get ready for plenty of dancing this season.