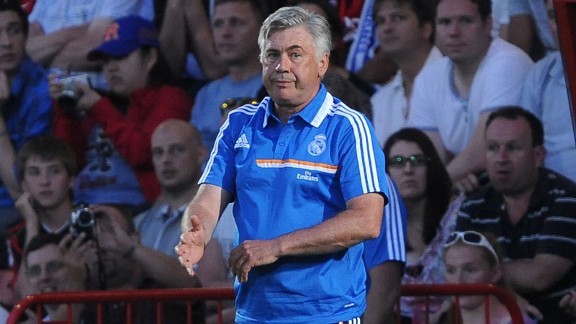 PA PhotosCarlo Ancelotti will be afforded some leniency in his first year at Real, but expectations are always high.
Real Madrid boss Carlo Ancelotti said recently that the squad currently at his disposal is the best he has ever had. Whether the Italian schemer was simply trying to pour cold water on the flames of the pursuit of a certain inactive member of the Dragons -- who eased speculation over the official line of an injury to his buttock by spending Wales' friendly against Ireland perched firmly on it -- or if he really believes this is a squad that can propel Real to glory on three fronts this season only he knows. But it certainly has put the Italian's own behind that little bit further into the Bernabeu firing line that has claimed so many coaches before him.

Of course, Ancelotti is not exactly on a trial run in Madrid: Vanderlei Luxemburgo or Carlos Queiroz he is most definitely not. Two European Cup titles as both a player -- in Arrigo Sacchi's back-to-back title winning side of 1989-90 -- and two as manager of AC Milan, in addition to league titles in three countries stands him in pretty good stead as far as pedigree goes. But his main battle in his first season in charge of Real will be to manage expectations.

There is little doubt the players will respond well to a coach who has come up through the ranks. Others who never really made it as a player don't command the kind of respect that those that graced the grandest stages do -- a logical viewpoint among the foot soldiers that have to deal with high pressure games on a regular basis. Computer statistics, dieticians and psychologists are one thing. Having been there, done that, thanks very much, is quite another.

Ancelotti clearly has one of the best squads in Europe at his beck and call, but just how good? Will another addition really make any difference? Concerns over Raphael Varane's knee suggest an alternative to the cut-and-thrust stylings of Pepe may be handy if he and Sergio Ramos are required to spend the early part of the season on the field, or as the case may be, off it halfway through a game. Just what can Real expect in Ancelotti's first season?

La Liga

Let's face it, only two teams are going to challenge for the title this season. No club has pipped the big boys since Rafa Benitez's Valencia in 2004, and in the past three seasons either Real or Barça has put on 100 points or more in swatting aside the rest of the division. Atletico gave it a decent shot last season but fell short when playing the big two. And only Atletico has replaced its star player with anything approaching a decent alternative in the close season.

Offloading Champions League-chasing Radamel Falcao to Monaco for €50 million and buying David Villa for a tenth of that -- to be reimbursed over three years -- is the coup of the summer. Villa may be a little over the wrong side of the hill, but he still knows where the goal is and should provide at least 20 to make up for the Colombian's scoring prowess. The addition of Leo Bapistao is another reason for cheer at the Calderon. But third is the best any side other than Real or Barça can hope for.

In any case, the Atletico bean counters could certainly teach the Spanish government a thing or two about bailouts.

But every other side that could give the juggernauts of Camp Nou and the Bernabeu a run for their money on any given day have been significantly weakened by financial constraints. Valencia has sold Roberto Soldado and brought in Helder Postiga. Sevilla offloaded Jesus Navas, Alvaro Negredo and Gary Medel, among many others. Betis is without Benat, Jose Canas, Adrian and Alejandro Pozuelo, key players in its fine 2012-13 showing. Liga stand-out youngsters Isco and Asier Illarramendi have both gone to Real. Malaga has been pruned of all its star players and Celta will struggle more than is customary with Iago Aspas swapping the driving rain of Galicia for that of Merseyside.

In short, the Liga also-rans are now swimming like Eddie the Eel; up a certain creek without anything obvious to give them a bit of momentum.

Second is guaranteed. First would be nice. Barcelona is not exactly in transition but it is not the Barca of the Guardiola glory years either. Leo Messi's fitness remains an incognito: the Argentinean four-time player of the year was risked at the tail end of last season and is not fully fit going into this one. Neymar was not a bad little addition to Barca's front line, although the longevity of Xavi, Carles Puyol and, to a lesser extent, Andres Iniesta and Victor Valdes are not inconsiderable question marks hanging over the current champion. Add a manager untested in Europe, an exodus of Barca B fill-ins and a serious gap in central defence that has yet to be addressed and the champions look a little less invulnerable than in recent seasons.

Ancelotti's task is to attack those vulnerabilities without alienating his squad, the media, the Bernabeu hierarchy and without jamming his digit anywhere other than in the direction of the other end of the pitch. He is pretty much the only manager Real could have turned to fill all of those requisites. It is not an enviable task. The league title will not be decided over two clasicos -- a few bumps in the road are inevitable in Madrid and Catalonia -- but Ancelotti certainly has a significant advantage in squad resources as things stand.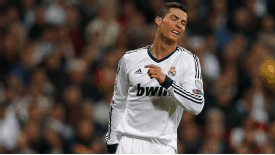 APReal will be hoping to go at least one better than last season's Champions League efforts.
Champions League

Ah, the big one. It is little secret that Florentino Perez would happily sign over his construction empire to the Sisters of Charity if it would deliver old big ears to the Bernabeu again. Here is where Ancelotti will require all of his wiles: the influx of young talent into the first team can be judiciously employed against lesser Liga lights. Against the powerhouses of Europe, old heads will be required. Casemiro, Isco, Dani Carvajal and Alvaro Morata are quite capable of tearing Getafe, Almeria, Valladolid and Elche a new one on their own, but Ancelotti will need a full squad of experience in Europe's premier club competition.

Xabi Alonso is no spring chicken; Alvaro Arbeloa has been a headless one for some time and Fabio Coentrao would quite clearly like to fly the coop. Given the scarcity of top quality cover in the defensive area, it is a source of some concern if a couple of injuries arise. Rather than a typical Perez drive to sign the most expensive attacking player that may be available, a serious look at the back is needed.

Potential Champions League opponents as early as the group stage (with the final round of playoffs to come) include PSG, Arsenal, Juventus, Manchester City, Borussia Dortmund, Galatasary and Napoli. It is likely Real will get Ajax of course, but anything other than a commanding start will not go down well. Last season Real was hardly handed an easy group, but nonetheless progressed to the semi-finals. As it did the season previously, and the season before that.

Previous to the arrival of Mourinho, the side had not got past the first knock-out stage in six years. Ancelotti can safely fall between the two in his first season but with the Premier League hegemony at an end, Italy in tumult and Bayern not looking too convincing under Pep Guardiola at the moment, anything less than a semi will not likely be much cause for arousal in Madrid.

Mourinho has set the bar high. Ancelotti is versed well enough in the game to know that he must at least clear the same height.

Copa del Rey

Another legacy of Mourinho - that Real did not win the domestic cup competition in 13 years before the Portuguese arrived in Madrid - is not exactly a symptom of overt professionalism. Most teams start to take the cup seriously around the last eight stage but Real never really got out of second gear in the pre-Mourinho era. Manuel Pellegrini is probably quite happy at City, but he might still be manager of Real had he not overseen the Alcorconazo, which is always worth a link.

Expect Carlo to take the competition as seriously as his predecessor this year as a back-up to greater potential shortfalls, in the same vein as Mourinho's first-season mindset. Real may not expect the earth of Ancelotti this season, but they'll expect a domestic cup final at the very least.