Bale saga rumbles on amid a critical stretch for Ronaldo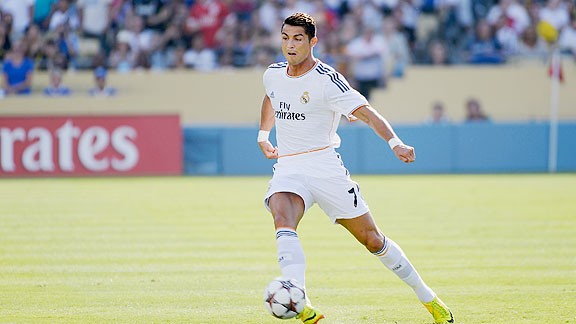 Kevork Djansezian/Getty ImagesCristiano Ronaldo's current Real Madrid contract runs out after the 2014-15 season.
All the talk at Real Madrid is focused on if and when Gareth Bale will swap the all-white of Tottenham Hotspur for the all-white of Madrid, but the next few weeks are pretty big for Los Blancos' current talisman, Cristiano Ronaldo, too.

The Bale saga rumbles on, and not exactly in a pretty way, with many reports suggesting the Welshman could ultimately be Ronaldo's replacement at the Santiago Bernabeu.

The Portuguese star is not in any rush to get away from the Spanish capital, nor is he expected to be anywhere else than in a Madrid shirt for the next year or two. But with many predicting he could leave at the end of his contract, in 2015, people have been putting two and two together and coming up with Bale as being a long-term replacement for the former Manchester United man.

However, reports in Marca this week claim Ronaldo has committed his long-term future to the club by signing a new-and-improved deal that will keep him at Madrid until 2018 on a £14.8 million per year deal after tax. The sale of his image rights were also said to be crucial in the deal. The player himself, and indeed the club, has yet to confirm the reports but could make an announcement before the start of the new season in just under two weeks.

- Ronaldo coy on Real future

"The situation still hasn't been resolved and I don't think now is the right time to talk about it," Ronaldo told Spanish sports daily AS. "Perhaps we'll be able to give more concrete news about this further down the line but now the only thing in my remit is to train and work."

Madrid, and president Florentino Perez, have always been desperate to keep Ronaldo, arguably one of the two best players in the world. He is Madrid's talisman. On and off the pitch. Don't forget the off-the-pitch portion -- merchandise sales at Madrid, especially in the financial fair play climate, are crucial. But despite still having years to run on his deal, the 28-year-old has been constantly linked with a move to pastures new.

Manchester United, where he was loved and where he was emotionally attached, if not to the rain, had long been touted as a possible destination; while the big bucks of Paris Saint-Germain are admirers and also AC Milan have said to be looking at the possibility of a real coup with Ronaldo in recent seasons.

While we can't say with any certainty if the talk had an impact on his game -- and judging by the goals, assists and general play from last season, it doesn't seem like it did -- it cannot be easy for the player, or the club, to keep pushing away the rumours and the interest. It would be much easier for his future to be clear-cut and relaxed -- that's if he wants to stay at Madrid, of course.

So it makes sense for Madrid to try and put those rumours to bed, especially with the player now entering his final two seasons on contract. That talk will only intensify, especially if things do not go as planned under Carlo Ancelotti this season.

What better way to start the season than to announce a new deal for Ronaldo? Oh... and to announce the arrival of Bale, too, I guess. It could be a huge few weeks for the club if they were to pull that double coup off.

The new contract could also be for UEFA's Best Player in Europe if Ronaldo manages to win the coveted prize this season. He, along with Lionel Messi and Franck Ribery, has been named on a three-man shortlist for the award -- just as he was last season alongside Messi and Andres Iniesta, who took the prize a year ago.

Much was said of Ronaldo missing out on the gong last year. Was it the cause of his "sadness" earlier last season? The player said no, but the look on his face when Barca's Iniesta scooped the accolade said it all; he wasn't happy.

It's well publicised that Ronaldo is a player who loves to be loved. He's a player who needs care and attention to play at the very top level of his game. Some laugh at that, but it certainly seems to be the case. So imagine a Ronaldo going into the new season on the back of a brand new contract and the award for the best player in Europe last season, officially. That's enough to scare plenty of La Liga defences if he didn't already.

Ronaldo and Messi were phenomenal last season -- again. Madrid's man netted 34 La Liga goals and was top scorer in the Champions League with 12, while Messi won the European Golden Shoe for his 46 league strikes.

But while the La Liga pair were more fruitful in front of goal, I can't help but think Ribery will take the honours this season. The journalists who help pick the winners are asked to pick on personal performance last season, but Ribery's part in helping Bayern Munich to the Champions League and domestic domination must surely play a lead role.

The winner will be announced when the group stages of the Champions League are drawn on Thursday, August 29, and the full list is below -- with positions four to ten already announced.

Top three shortlist: Lionel Messi, Franck Ribery, Cristiano Ronaldo. 4 Robert Lewandowski - Borussia Dortmund (80 points), 5 Arjen Robben - Bayern Munchen (55), 6 Thomas Muller - Bayern Munchen (51), 7 Gareth Bale - Tottenham Hotspur (48), 8 Bastian Schweinsteiger - Bayern Munchen (34), 9 Zlatan Ibrahimovic - Paris Saint-Germain (27), 10 Robin van Persie - Manchester United (24).