What will €145m buy Real?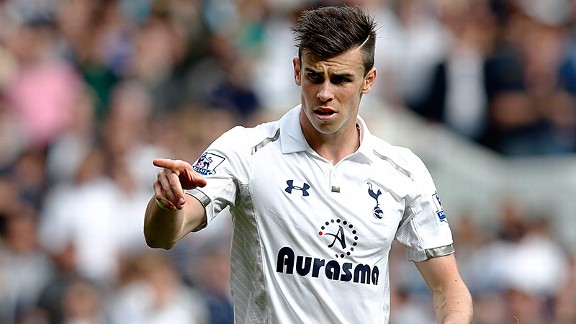 AP Photo/Sang TanGareth Bale: Not really worth the money
What would you do with €145 million if you were in charge of Real Madrid? According to reports on both side of the English Channel on Wednesday morning, that it the amount of change Real will need to scrape together to force Tottenham chairman Daniel Levy to sell his prized asset, Gareth Bale, to the Spanish club.

But what purpose will it serve if Real do obliterate the world transfer record to secure the services of the Welsh winger? There are many things to consider over such a transfer, the first and foremost of which is one Cristiano Ronaldo dos Santos Aveiro.

What do you do if you are in possession of the world's most expensive player, and arguably the best player in the world in his position? Do you buy another world-class player who occupies the same part of the pitch, and make him the world's most expensive player while you're at it? This does not seem a particularly sound bit of diplomacy, if you want to keep the club's star turn wearing the white shirt.


A similar situation has arisen at Barcelona, where doubts persist over whether Neymar and Leo Messi can play together. Whether Ronaldo and Bale can play in the same side is secondary to happy-go-lucky bonhomie in the locker room. Nothing corrodes a side quite like professional jealousy. If Ronaldo was feeling sad last season because Real wouldn't meet his astronomical financial demands, he's hardly going to be the happiest boy in the sand pit when a younger, just as marketable and more expensive pretender to his throne rocks up.

It is perhaps in Neymar, and to a lesser extent Edinson Cavani, that the real purpose of Real's pursuit of Bale lies: What we have here is a good old-fashioned case of egomania. Real do not like being the poor relation in the rich man's club and intend to show that they still have the clout to warrant the claim of being the Biggest Club in the World, TM.

Or maybe I'm wrong and Florentino has been planning this all along, starting with Luka Modric and the "special relationship" with Tottenham - which seems to involve Tottenham bending to Real's will - and culminating in handing Modric back plus a pile of cash to lure Bale to the Bernabeu. Perhaps Ronaldo is to be jettisoned next summer, after Bale has acclimatized to the Spanish league. If so, you really have to doff your cap to the builder.

However, Perez said a couple of weeks ago that he expects Ronaldo to retire in Madrid.

Acclimatization is another issue to consider. British players are notoriously bad travellers, with the only recent Liga exceptions of David Beckham and Alan Hutton. Jermaine Pennant was apparently so eager to escape the clutches of Zaragoza that he forgot he had a Porsche parked at the train station.

Bale's countryman Ian Rush said he couldn't get used to Italy because it "was like living in a foreign country." Michael Owen warned on the BBC on Wednesday of the perils of heading into the unknown and the inconvenience of living in a five-star hotel for months. "Abroad" is a dirty word in the British psyche.

Bale appears to be more articulate than most and a well-rounded young chap with sound advice and good support. But that still doesn't mean he will get used to playing football at midnight. And that's before the language barrier is taken into account. Judging by this, if Sergio Ramos is the bilingual poster boy for the club, Bale will need to learn Spanish pretty quickly: http://www.youtube.com/watch?v=Vk2NSZyQLZA

Then there are his potential team-mates. Ronaldo is unlikely to be enthused by the deal, and Ramos was hardly hopping from foot to foot with glee at the prospect either. "The price is dictated by the market," the Real vice-captain said. "It is important to bring in young national talent and a club like Real Madrid should have a Spanish foundation. It's up to the club to decide if Bale comes."

€145 million is not the sort of money that even Real can blow without getting a bit back. Modric has apparently been offered to Spurs as part of the deal, as were Angel di Maria and Fabio Coentrao. Even those who want out of the club will not appreciate the ignominy of being hawked about in player exchange deals. Sami Khedira is the current apple of Chelsea's eye. Will the addition of Bale compensate for the sort of gaps those departures would leave?

The pursuit of Bale makes little sense in the short term. It would be far wiser to strike a deal similar to the one that brought Ronaldo to the Bernabeu in the first place: another season at Spurs, a Champions League finish as a parting gift and an arrival next summer for an eight-figure fee. That would also give Perez time to gauge Ronaldo's contract situation and sound out potential buyers if the Portuguese decides to move on.

Or maybe Spurs and Real can just do a swap? It's about as likely as Bale's signing this summer ending up as a success story.