Madrid continue to crack into U.S. market - and add 11-year-old to academy
Cristiano Ronaldo's skills on the football pitch are undoubted. But when it comes to pitching a baseball, Real Madrid's talisman leaves plenty to be desired.

CR7 was handed the ball at the Yankees-Dodgers baseball game in Los Angeles on Wednesday night to throw the ceremonial first pitch during Madrid's preseason tour of the U.S. But, unlike his pinpoint passing and shooting, his aim was well off target. He needed two attempts to hit the glove.

The first went high and wide, but the Portuguese forward was handed another chance and didn't disappoint the second time. It provided some down time for Ronaldo and his Madrid teammates in what has otherwise been a hectic tour of America as Los Blancos prepare for the new La Liga season, which begins Aug. 17 at home against Real Betis.

- Mourinho on Chelsea


- Mourinho on Gareth Bale


- Mourinho on his legacy


-Ancelotti: Ronaldo can choose his position

But while it was a bit of rest and play for the players and staff, the event was one very much drawn up in the Madrid media room. A great photo opportunity for the media, a great chance for some pro-Madrid publicity in a country the club continues to chip its way in to. Actor Samuel L. Jackson was thrown in for good measure.

Madrid is on their fourth consecutive summer trip to the States. Jose Mourinho took his men stateside during his three-year stay in the Spanish capital and Carlo Ancelotti is enjoying his first. Los Blancos are, once again, at the UCLA campus in Los Angeles and playing four friendlies, three in the International Champions Cup. Madrid, who defeated the Los Angeles Galaxy 3-1 on Thursday in Glendale, Ariz., , return to Dodger Stadium on Saturday to face Everton in the first match of a doubleheader. Juventus meet the Galaxy in the second game.

The facilities Ancelotti and his men are using during their stay are top-of-the-range, and their opponents for the friendly clashes will offer good preparation for the new season. Inter Milan is also are among the clubs featured in friendlies in America this summer.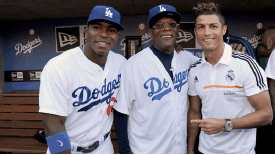 GettyImagesLA Dodgers outfielder Yasiel Puig, Samuel L Jackson and Cristiano Ronaldo made up an unlikely triumvirate during Real Madrid's US tour.

The trip is also huge for Madrid for other reasons, namely for marketing in a country where the sport continues to grow, and where the audience is potentially huge.

The MLS continues to improve and attracts more and more household names: Thierry Henry, David Beckham and Robbie Keane are just a few past and current examples. International football also continues to grow in U.S. schools and colleges. But, as with the Asian market, there is still plenty to be tapped into, especially for major European clubs such as Madrid.

This, clearly, has not been ignored. For a football club that brands itself as the biggest in world football, cracking into the U.S. market is crucial, especially with UEFA's Financial Fair Play regulations to consider.

Preseason may be for team preparation, but the modern preseason also equals big bucks. With clubs needing all the extra income they can get in light of FFP, clubs are not simply taking on teams in their own country in preseason, they are racking up the air miles promoting themselves in as many different continents as they can.

Madrid have played in England, Sweden, France and now the U.S. over the summer. Other clubs, such as Manchester City, have gone even farther and done more than one tour to please their fan bases around the world. The exercises are brilliant publicity, but they're also big earners for the big clubs. Preseason is now a big event for those foreign fans.

When Los Blancos toured Asia a decade ago, reports suggested they sold 210,000 jerseys in just 17 days. Quite a money generator. Add the match fees and other extras, and that's a fair whack of cash to be earning during a traditionally quiet period on the income front.




But it's not just the money Madrid earns while partaking in these tours, it's the money they will hope to continue to receive from foreign fans and potential new fans in merchandise sales and in the sponsorship. Expect these preseason tours to become more frequent and more financially rewarding in the coming years.

Everyone knows the popularity of the big European clubs in Asia, an area Madrid has already explored, but now Los Blancos' focus is seemingly fully on cracking the States.

It's probably no coincidence the news Madrid would be taking on their first American to their academy came out during the club's stay. Joshua Pynadath, 11, of Los Altos Hills, Calif., impressed the Madrid youth coaches in a trial earlier this year and will join with Real's Alevin A team later this year, with his ultimate goal of emulating his hero, Cristiano Ronaldo.

While wishing Joshua all the best ahead of moving to Madrid with his family, at 11 there is still some time to go before the youngster can even think about gracing the Bernabeu. His career can still go either way. But it's a sign that Madrid are tapping into the American market, not just for fans but for future players, too.

It's nothing new. Plenty of clubs have scouting networks in the U.S. and have done so for a while. Pynadath's story came to fruition thanks to him becoming the first American to be selected to be part of Madrid's academy, quite a stat given the size of the player pool available for selection and the growth of the game there.

Freddy Adu and Jozy Altidore both drew big interest in America when they broke onto the scene, but neither lived up to their high expectations when moving over to sample football in Europe. Pynadath has the advantage of honing his skills in Europe at an early age, and while it is too early to tell if he'll be a future Madrid first-team player, his move is certainly something that bodes well for young American footballers.

A club the size of Madrid taking a big interest in both support and potential players from the U.S. can only act to inspire other young American footballers in the future. It's a case of "watch this space."