Ancelotti's Real takes shape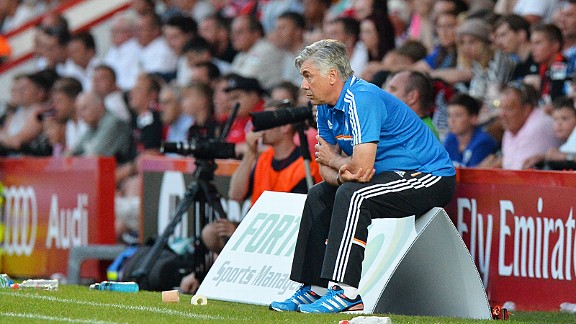 GettyImagesCarlo Ancelotti has made his mark on Real Madrid
Questions were asked and answered in Real Madrid's 1-0 victory over Paris Saint-Germain in Gothenburg on Saturday evening, but with the traveling Castilla contingent confined to the bench for the duration, some of the foundations of Carlo Ancelotti's first-team blueprint for the upcoming season were on display.

Firstly, the lack of a senior number nine to compete with Karim Benzema appears to be of little concern to the Italian, who fielded a species of 4-3-2-1 in the first half. Sami Khedira was in the holding role with with Isco and Luka Modric occupying the space between Cristiano Ronaldo and Mesut Ozil, in support of Benzema. The fluid formation allowed Ronaldo to drift in to combine with Benzema while Isco moved out to the left, a clear indication that, far from rotating the Spaniard and the German midfielders, Ancelotti intends to combine them.

-Real bid 100 million euros for 'unsettled' Bale

Ozil said before the game that the right is not his natural position but on the evidence of his performance he might find himself playing there quite a bit more. Easily Real's best player on the night, Ozil tormented the PSG back line with clever movement and provided the pass for Benzema to thrash home the only goal of the game with an instinctive finish from the edge of the box.

Thus far in pre-season the sharpest thing about the France striker has been his new hairdo and although he is a slow starter, Benzema generally looks to be getting to somewhere near his peak, even if in terms of the squad as a whole that is rather less sprightly than many of his colleagues. That was another facet of Real's overall performance that stood out. Just two weeks after the summer break, several -- notably Ronaldo, Dani Carvajal, and Ozil -- looked competitive match-fit in Sweden.

Ancelotti's former club lined up in the way it often did last season, in a 4-4-1-1, occasionally morphing into a 4-2-2-2. Real appeared to try both systems in the second half, after Casemiro and Angel di Maria came on for Modric and Isco. The Argentinean went out to the left with Ronaldo moving into a more central role behind Benzema, which freed up the nominal front pair to launch some archetypal counters.

In a second switch, Kaka came on to play between the lines in the sort of role he exploited with such elegance while Ancelotti's pupil at Milan, with Ronaldo ahead of him. This produced a few openings for the Portuguese, who showed a deft touch to create a chance in the box late on, shaping to shoot and laying the ball off outside him instead. The impetuous Ronaldo of old would not have hesitated to have a pop -- his maturity now suggests his developing new role could be a mine of gilt-edged assists for his teammates. A more central role also had the PSG defense instinctively tracking Ronaldo's runs, opening up the left flank particularly for incisive forays by Di Maria and Kaka.

Although Real will obviously exploit its blistering end-to-end armory whenever the chance arises, Ancelotti's tactical tweaking gave a hint of his vision for the forward talent at his disposal with four attacking players dovetailing in an interchangeable front line, much like Lavezzi, Moura and Pastore buzzing around Ibrahimovic. All in all, it bodes well for the season ahead.

What is less clear is how Real will line up at the back. Alvaro Arbeloa has likely been an uncomfortable viewer of Real's pre-season thus far as Carvajal has slipped effortlessly into the mix at right back. The 21-year-old is more than assured after his award-winning season at Leverkusen and there are few greater tests for a defender in European football than keeping Zlatan Ibrahimovic quiet, which he largely did.

Admittedly, the big Swede looked knackered throughout the match but when he did get a sniff of a chance, Carvajal was there to put his nose out of joint. Arbeloa, by contrast, was embarrassed by Neymar in the Confederations Cup final and may well be looking at a serious challenge to his place for club and country this season.

Xabi Alonso is another player whose position is under considerable threat. It was to be expected that he would have to see off the challenge of Asier Illarramendi after Real made him the joint third-most expensive Spanish transfer between Liga teams after David Villa and Dani Alves, but the Basque warhorse probably didn't think that Casemiro would be an additional problem -- the Brazilian's pre-season prowess suggests otherwise.

Left-back is also another area of concern. Fabio Coentrao completed the 90 minutes with minimum fuss but little shine, but has reportedly asked for a transfer for personal reasons. Denis Cheryshev has auditioned for the role but a player habitually deployed at left wing for Castilla and up front for Russia under Fabio Capello is not a quick fix. Nacho Fernandez can play at either left-back or in the middle, and his showing against a world-class, if lethargic, PSG attack will have encouraged Real's technical staff.

These, of course, are all nice little headaches for Ancelotti, and further pointers will be provided in the USA leg of the pre-season, which starts in Phoenix for the Champions Cup tie against LA Galaxy next week. The return of the Confederations Cup vacationers will hand Ancelotti his full complement for the first time. After an unbeaten continental soiree culminating in the arena that hosted the 2006 European Athletics Championship, things certainly look to be on the right track.