Madrid offer support as Vilanova leaves for his own personal battle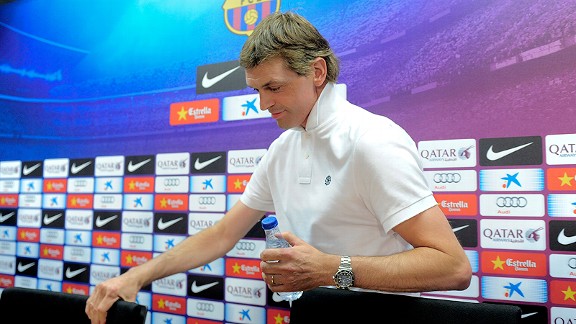 Josep Lago/Getty ImagesReal Madrid have offered their support for former Barcelona manager Tito Vilanova.
Believe it or not, some things in life really are more important than football. Like life itself. On Friday, Barcelona announced that Tito Vilanova had stepped down as manager to focus fully on winning his battle against throat cancer rather than on winning trophies at the Camp Nou. We all wish him well in what will be the biggest match of his life.

- Hunter: Anims, Tito
- Tomas: Vilanova departs to win his fight for life
- Barcelona confirm Vilanova exit

It was shock news, news nobody wanted to hear. But with less than a month to go before the start of La Liga, where does that leave Barca? Is it advantage Madrid already before a ball has even been kicked? Or will Barca come out of it stronger? President Sandro Rosell is hoping to name Vilanova's successor as early as possible -- hopefully early next week. It could be the biggest call he's had to make.

The rivalry between Barcelona and Real Madrid is as big as they come. But that pales into insignificance when something such as Vilanova's battle against cancer comes into play. It was therefore nice to see Carlo Ancelotti open his latest news conference by sending a message of support and encouragement to a man who would have been going head-to-head with him for La Liga, and many other trophies, next season.

"I'd like to send my colleague Tito a message of support and encouragement," he said. "It saddens me. He's a fighter and will go on fighting. I'd like to let him know that he has the whole squad and the club behind him. We hope that everything turns out well."

A nice touch from Ancelotti. Many of Madrid's players, too, offered support for Vilanova through social media. It's not the kind of reason you want to see two old foes come together in support of the same thing, but it was nice to see, nevertheless. Perhaps a tone set early for a less stormy relationship between the Spanish giants in the coming years than we've witnessed in recent seasons.

Vilanova spent only one season in charge at the Camp Nou, but that one season saw him reclaim La Liga from Jose Mourinho's Madrid. Not just reclaim it but reclaim it with a record points total of 100 for the Catalans, a total matched only by Madrid, the season before. Many doubted whether Barca could continue in the same manner as they had under Pep Guardiola, but Vilanova, his assistant, proved he was well up to the task with a scintillating start that put Barca on their way to a comfortable title.

It was a season, however, that came off the rails somewhat when Vilanova suffered a relapse in his cancer and had to travel to New York for treatment. It left Jordi Roura in charge for two months and Barca, for a spell, suffered a dip in form. Although Vilanova's health is, of course, paramount, Barca needed to think about the good of the club, too. It can't be good for the players to see their coach away receiving treatment for cancer while another man steps in in the interim. It didn't work last season, and it probably wouldn't next season, either.

The Bernabeu will be keeping a watchful eye on just who replaces Vilanova, then. Rosell is looking to make a quick appointment with the new season less than a month away, but the news on Vilanova seemed to come somewhat out of the blue. It was, seemingly, a decision that was not mulled over for weeks and months, more like days.

It has left Barca looking for a Plan B, not the ideal preparation for the new season, especially with transfer rumours, of players moving to and from the club, still rife. Madridistas were waiting impatiently for Ancelotti to be confirmed as new manager, but at least the Italian arrived in time for the start of pre-season. The next Barca boss will come in with pre-season well underway and with a big act to follow.

All this could, therefore, work in Madrid's favour, although, clearly, they wouldn't have wanted it to come in this manner. There's a newfound calm at the Bernabeu after the arrival of Ancelotti. Although Gareth Bale, Madrid's top summer target, looks set to remain at Tottenham Hotspur for another season, Madrid has recruited well and recruited early. Ancelotti arrived to pre-season with his new charges in place and ready to go. The preparations in the Spanish capital for the new season are going a lot smoother than over in Catalonia.

Madrid's next step in their preparations for the new season take them to England to take on second-tier side Bournemouth on Sunday night in their first pre-season friendly. Ancelotti has named a strong squad. Summer recruits Daniel Carvajal, Isco, Asier Illarramendi and Casemiro are all named and expected to get their first run-outs. Gonzalo Higuain, linked with a move to Arsenal, is also included, as is Kaka, who undoubtedly will be out to impress his new boss in a bid to rekindle his form this season.

The scoreline will be pretty irrelevant, although with Madrid sending over such a strong squad, they will be big favourites for the win. More important for Ancelotti will be to see his new players in competitive action for the first time and see how well his new signings fit in. He'll also be keen to avoid any injuries, as is always the case in these type of matches.

After the years of battles between Jose Mourinho, Pep Guardiola and Tito Vilanova, it'll be all change for Barca and Madrid in La Liga next season. We wait on the news of Vilanova's successor, wish the former Barca boss all the best in his fight and hope to see him back in management as soon as possible.