Does Madrid have window to make run at Ibra?
Aurelio de Laurentiis is a bit of a wag by anybody's standards and hardly afraid to speak his mind. A scion of the De Laurentiis film-making family and cousin to the television chef Giada de Laurentiis, the Napoli owner and president certainly knows how to cook up a storm, having once had a pop at Silvio Berlusconi and threatened to deprive Ezequiel Lavezzi's agent of jewels rather more intimate than his Argentina star client.

So when De Laurentiis holds forth, most take his words with a pinch of salt. But the firebrand Italian's pronunciation over the future of Zlatan Ibrahimovic on Monday warrants a closer look. Edinson Cavani is expected to join PSG this week, and De Laurentiis stated that the Sweden striker has been "promised other horizons."

-Napoli chief: Ibra making way for Cavani at PSG
-Video: Real Madrid begin training

The potential availability of the colossal Swede should be of interest to Real Madrid. His agent, Mino Raiola, said last month that his charge "has always enjoyed good relations with his coaches, except Pep Guardiola." A touching statement, but reports suggest that Ibrahimovic has already had a bit of a tiff with incoming PSG coach Laurent Blanc, who with Lavezzi omitted Ibrahimovic from PSG's training camp in Austria.

It is silly season, but a Spanish radio program, Punto Pelota, has gone all out and suggested that Ibrahimovic has let Carlo Ancelotti, a coach the big man does admire, know that he would be willing to take a pay cut to rejoin him at the Bernabeu.

Florentino Perez's pen will have been rattling between his teeth as he crunched the numbers on that news. There are two criteria in the Real president's thinking when making a signing: on-field prowess, and merchandizing potential. Perez admitted as much last week, saying that Kaka's transfer had been a success, if not entirely in sporting terms, then certainly in the media pull of the Brazilian star. "He is the second-most followed player on Twitter, after Cristiano Ronaldo," Perez noted.

Ibrahimovic meets both requirements roundly. His star quality is global and last season he was the top scorer in France with 30 goals and chipped in with eight league assists and seven in the Champions League. He also picked up 13 man-of-the-match awards in Ligue 1 last season.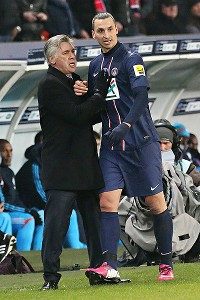 AP Photo/Michel EulerCould Carlo Ancelotti be the bait that lures Zlatan Ibrahimovic to Madrid?
It is little secret that Real is in the market for a new striker, if the right one comes along. Cavani was a target but has apparently chosen the City of Light over the Spanish capital. Reports abound that Luis Suarez is another, but Real has made no concrete move in that direction.

If I may say so, that is a good thing on several levels: one, the Uruguay striker is an odd fish and comes with a fair bit of baggage -- and not the airport sort -- not to mention a price tag of 40 million euros. Arsenal has made a bid but the feeling is that this is merely to smoke out Gonzalo Higuain, who has apparently been offered to Liverpool in part exchange plus cash for Suarez. That, frankly, is a bloody good deal for Liverpool.

Suarez's stats from last season do not bear out his price tag: He scored 23 league goals (five against Wigan) at a shots-to-goal ratio of 8.13. Higuain required 56 shots to bag 16 league goals from 10 starts and nine substitute appearances, a conversion rate of 28.6 percent. Ibrahimovic's conversion rate was 19.1 percent from fewer overall shots than Suarez.

Being supplied by Ronaldo, Mesut Ozil, Xabi Alonso, Lavezzi, Lucas Moura, Javier Pastore, et al, is a little different than trying to bring down hoofs from Stewart Downing and Joe Allen, but the fact remains that Suarez needs a long line of cows' backsides before his banjo finds the mark.

There are few world-class strikers available in the summer market now that Hull are closing in on the sought-after signature of Nicky "Paddy Power" Bendtner, and Cavani is arguably another snub to Real's ability to capture the big names this year, Neymar having already slipped through their fingers despite a fair bit of previous grooming. Stefan Jovetic remains on the shop shelf, Luis Muriel is a bright talent and Leverkusen's Stefan Kiessling certainly knows where the onion bag is, but none really have the marketability that Ibrahimovic represents, much less an all-but-guaranteed impact on the field.

At almost 32 and with maybe one major move remaining in his nomadic career, the big Swede will be amenable. Any transfer fee will be made more palatable if the player wants to leave and PSG are willing to offload him -- and like David Beckham, the original Ronaldo, Zinedine Zidane, etc., will be swiftly recouped in image rights and shirt sales anyway.

The mere prospect of the Portuguese Ronaldo linking up with Ibrahimovic is the stuff of footballing dreams and the former Milan, Barcelona, Inter, Ajax, and Juventus forward knows a little about winning trophies at the highest level. It is also worth noting that Higuain, Karim Benzema and Alvaro Morata did not reach Ibrahimovic's league tally between them last season, while the first-choice pair managed only three more across all competitions.

It is silly season, lest we forget, but there is little reason Ibrahimovic would baulk at a two-year gig -- the number of years remaining on his PSG contract -- or that the oil-rich Ligue 1 club would turn its nose up at an offer considerably less than Suarez's current going rate if the player fancies a move. And from a purely esthetic point of view, Real fans would not mind a couple of extra euros on the entrance fee to witness moments of genius, of which only Ibrahimovic is capable.