Kaka set for one last chance at Madrid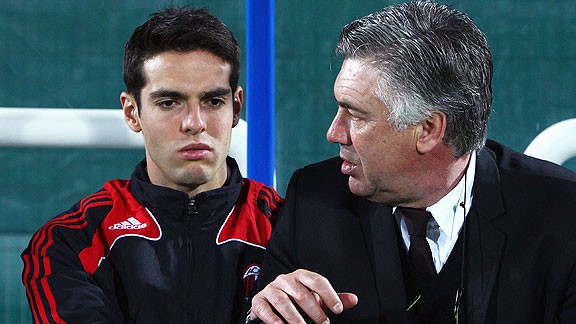 Ryan Pierse/Getty ImagesReal Madrid supporters hope Kaka will recapture some of the magic he had at AC Milan when Carlo Ancelotti was coach.
Few footballers look forward to preseason training. Plenty of hard graft, ramping up the fitness ahead of the new season and no matches, of importance anyway, to look forward to. Players know the importance of preseason for the campaign that lies ahead, but few, if any, really enjoy it.

It may well be stretching things to say Real Madrid's recently bit-part former World Player of the Year winner Kaka will "enjoy" returning to training this summer. It probably is. The Brazilian will, however, be looking forward to giving it one last shot in making an impact at the Bernabeu. The last-chance saloon -- but haven't we said that before?

- Thiago Cara: 29 Shades of Kaka
-Cox: Fast forwards who peaked early

Kaka hasn't hit the heights that saw him clinch the Ballon d'Or and FIFA World Player of the Year awards in 2007 while with AC Milan since his big-money move to the Bernabeu, that is clear to see. He has long been linked with a move away from the club, with former boss Jose Mourinho using him sparingly.

The Brazilian's high wages aren't exactly helping matters either, but two years remain on the 31-year-old's contract and few clubs are forthcoming for his signature.

We've been through this before. A talent going to waste. Wages that could be better spent elsewhere. Perhaps on a certain Gareth Bale, etc., etc.

This time, however, there's a twist. Kaka has seemed to be edging toward the Bernabeu exit door over the past two seasons. But another life, one final life, seems to be on the table for a player who will be desperate to shine over the course of the 2013-14 season with the World Cup in his home country on the horizon.

Of all the managers Kaka could have wanted to succeed Mourinho, it was Carlo Ancelotti, the man who was in charge of Milan when Kaka won the top prizes for the world's best footballer with the Italian giants. That was in 2007 and plenty has changed since. Chalk up a list of the world's best players now and the Brazilian probably wouldn't make the top 10 -- or get near it.

It should be enough to give Kaka one last push to make it in Madrid. He has shown signs of his brilliance before -- of course he has -- but, either through injury, his own below-par form or a failure of Mourinho to trust him in the matches that really mattered last season, he hasn't been able to do it consistently. He hasn't been able to take his powers to the next level, as was expected when Madrid shelled out 75 million euros for his services.

Ancelotti will know all about his qualities. Kaka was the best footballer in the world when Ancelotti last managed the Brazilian, so there should be a soft spot within the Italian to really give his former genius another crack in the all-white. While Mourinho refused to put his trust in the attacker, Ancelotti will and he'll have plenty in reserve, too. It's just a matter of whether Kaka, after years of bit-part football in the Spanish capital, can still come to the party.

Past loyalties aside, Madrid's new boss has promised a clean slate to all players on his current playing staff, something that was crucial following the squad breakdown under Mourinho last season. That means a chance for everyone, Kaka very much included, to impress in training and in the club's numerous preseason friendly matches, which start in England at Bournemouth on Sunday.

The summer arrivals of Isco and Asier Illarramendi, clearly, won't have gone unnoticed. Illarramendi, who arrived from Real Sociedad, may well be a player who sits a bit further back -- more your Xabi Alonso type -- but he can certainly also add attacking punch to Madrid's midfield. Isco, for the most part, is a player who would be in direct competition with Kaka. Big money was spent on the former Malaga man and one would expect him to get the minutes on the pitch to match. Add Mesut Ozil and Luka Modric into the mix and there's some competition right there.

It's also not to say Ancelotti, or Carletto as he's affectionately known, has a magic wand that he can wave over the former Milan man. You have only to look back to the Italian's appointment as Chelsea boss to see another star on the wane suffering similar fortunes to Kaka. Many expected Ancelotti to revive Andriy Shevchenko's career when he arrived at Stamford Bridge. The Ukrainian had suffered a big dip in form when he left Milan for London and his former boss, under whom he also won the world's best player award, failed to help him recover.

That could happen with Kaka. The damage may well have been done. Ancelotti will at least try, and the opening weeks of preseason and the Liga season will be crucial for a man who will be desperate to get regular time on the pitch in a bid to impress the Brazil coaching staff ahead of next year's World Cup. Kaka will be 32 then, making it possibly the last major international tournament he could be involved in.

If Kaka is not getting the minutes he wants with Madrid, we could possibly see a loan move elsewhere to help him to do just that, such is the importance of the next season to the player.

All were expecting better things from Kaka at Madrid. All are hoping that this one seemingly final chance will work out, for him and the club. All will be revealed soon.