Madrid's quiet summer suggests long-term approach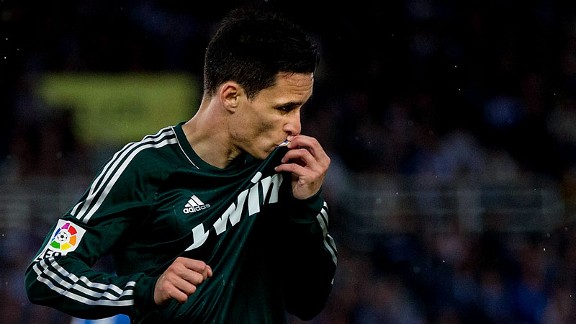 Gonzalo Arroyo Moreno/Getty ImagesOne Spanish player who will not be at Madrid this season is Jose Maria Callejon, who has been sold to Napoli.
There are many mysteries to ponder in the human desire for answers: the Gordian knot, for example, or the 1980s equivalent, the dastardly Rubik's cube. Hollywood's insistence on making films that feature the unholy trinity of Stiller, Sandler, Wilson and their ilk is also something of a head scratcher. It can only be assumed that, much like the interminable "Big Brother," somebody, somewhere is willing to watch.

In Spain at the moment there is the question of just how many politicians have had their fingers in the till -- something that may in time bring down the current government -- and indeed just how many matches in La Liga may have been conducted outside the traditional spirit of sportsmanship and fair play, a matter that is now on the desks of both the Professional Football League and UEFA.

In the capital, though, the question being asked by many observers of Real Madrid is of a different financial bent: When will Florentino Perez get the Bernabeu checkbook out and cut himself a healthy slice of the global transfer market?

At just over the halfway point between the end of last season and the first round of matches of 2013-14, Real Madrid has made a small splash in the transfer market. Isco arrived shortly after Carlo Ancelotti was installed as coach, joining canteranos Jese Rodriguez, Alvaro Morata, Nacho and Casemiro in the first-team squad. The buy-back clause was exercised to retrieve the exciting Dani Carvajal from Bayer Leverkusen. Not bad business by any standards. But it is hardly the sort of Perez modus operandi to which Real fans have become accustomed.

By this stage of the summer in 2009, shortly after his unopposed re-election as president, Perez had signed Kaka, Cristiano Ronaldo and Karim Benzema.

A clue to el presidente's thinking is the policy he adopted in 2010, when he attempted a re-Spanishization, if that's a word, of a squad that had lost fan favorites Raul and Guti. Thus far this summer, Real's transfer activity has centered on young Spanish talent with Casemiro the only non-national incorporation to date.

This is not to say that Real has suddenly adopted a policy similar to that of Athletic, which contracts only players of Basque heritage, or Real Sociedad, which does not contract Spanish nationals from any other region of the disunited states of Spain but will employ foreigners. But it does suggest a seismic shift in ideology at the Bernabeu, and one that isn't such a bad idea in the current transfer climate.

Real Madrid is not skint, that much is clear. In fact, it is one of only two clubs in Spain that can afford players in the double-digit bracket. But Perez is keeping his wallet close to his chest in this election summer, actively chasing only Asier Illarramendi, the Real Sociedad starlet who is a potential long-term replacement for Xabi Alonso for both club and country.

But La Real is not going to make life easy for Perez and Zinedine Zidane, despite Illarramendi's desire to join and an initial agreement between the clubs for the transfer. The Donostia club is holding out for 40 million -- a fair whack for a player with one full decent season under his belt -- while Real would prefer to pay the 30 million his buyout clause requires.

However, a compromise will surely be reached, with several players on Real's books clearly surplus to requirements and worth a few quid to an interested suitor. The problem is who is interested, and in whom? No firm offers have been received for Gonzalo Higuain or want-away Fabio Coentrao; the brooding Pepe has been overlooked so far; Kaka looks set to be given a final chance to resurrect his Real career; and nobody has been banging on the door for the lethargic Angel di Maria. Real currently has the maximum number of first-team players permitted by the LFP, so sales will be required before additions can be made.

Which is why the transfer of Jose Callejon to Napoli makes no sense at all. The Andalusia speed merchant was a trusted employee of the previous regime who lacked the pure exuberance of Di Maria but at least put in a shift when played and chipped in with some very useful performances. If the thinking at Real is to bring in young players to push the established stars to greater effort -- something that was severely lacking at times last season -- the sale of Callejon is unlikely to light a fire up Di Maria's backside as the addition of Carvajal will in the desperately out-of-sorts Alvaro Arbeloa. Isco will give Kaka, Luka Modric and Mesut Ozil food for thought, but whether or not he will automatically demote either of the latter two to the bench is open to question.

- Napoli seal Callejon signing

Real has been linked with some big-name players, with some of the more excitable pro-Madrid press claiming that the Ricardo Cavalho-vacated No. 11 shirt is being reserved for Gareth Bale, but the question presents itself: What does Real actually require in this transfer window?

The defense is adequately stocked; holding midfield boasts three candidates with Casemiro's promotion and probably four in due course; attacking midfield is over-staffed already; and three strikers is probably enough. Certainly Edinson Cavani or someone of his caliber would shift a few shirts, but Higuain was more lethal last season in terms of accuracy and conversion rate while Benzema, a Perez fetish, will be going nowhere.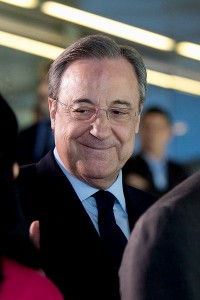 Pablo Blazquez Dominguez/Getty ImagesA lack of 'Galactico' signings this summer hints that Florentino Perez's modus operandi is changing.
Ancelotti was brought in primarily to get the best out of a squad that is already worth upwards of a cool half billion euros. Perez may yet have the sort of transfer up his sleeve that will emulate the heady days of the Galacticos 1.0 and 2.0, but it's equally possible that he sees little need to stump up multiple multimillion fees this summer, instead focusing on a more long-term approach than he is generally associated with. And frankly, it might be the best idea he has had in his three stints at the helm of the club.

Domestically, Barcelona is Real's only genuine rival and there is no guarantee -- as Johan Cruyff, a man who knows a little about football but rather less about diplomacy, pointed out -- that Lionel Messi and Neymar will function in the same team, especially taking into account the Argentinean's love of ceding the limelight.

In Europe, only Bayern and Barsa boast a better recent record. Manchester United is incognito after the retirement of Sir Alex Ferguson and the wiles of Jose Mourinho at Chelsea may take more than a season to take full effect; the Portuguese has consistently stated Season 2 is always his most productive. Meanwhile, Real is certainly no weaker than last year and has introduced young blood to remind established players that nothing is permanent, and much less so under a fastidious new coach with no national ties to influence his thought processes.

It could be a profitable season for Real on the pitch as things stand; and how much more satisfying in the age of massive expenditure for instant success would it be for all concerned if it's achieved on the club's current transfer outlay of about a third of a certain Welsh winger?