Madrid continues Spanish infusion with Illarramendi signing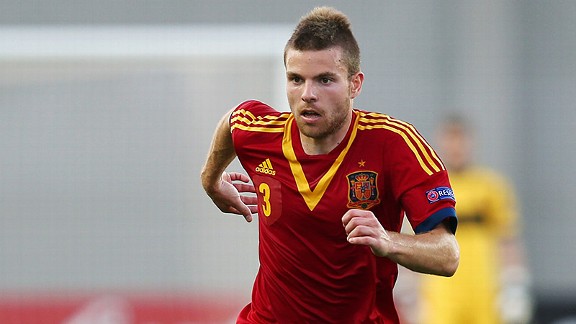 Alex Grimm/Getty ImagesAsier Illarramendi is the third player from Spain's victorious Euro Under-21 side to join Real Madrid this summer.
It's a rare day when you can say Real Madrid are taking some inspiration from Barcelona, very rare indeed -- and Madridistas won't thank me for saying that. With Asier Illarramendi, however, comes Madrid's fourth summer signing and their third from the Spanish U21s, along with a sense that Los Blancos are attempting to copy the successful Spanish-led midfield that has seen the Catalans on top in La Liga in recent seasons.

- Real Madrid announce Illarramendi signing
- Train: Quiet summer suggests long-term approach

Over at the Camp Nou, Barca have thrived with the midfield trio of Sergio Busquets, Andres Iniesta and Xavi, and that success has been transferred to the national side, too. They've grown old together, spent years finding out their strengths and weaknesses and forming a natural partnership that has helped lead Barcelona, and Spain, to trophy after trophy.

Now Madrid are seemingly looking to follow suit. Busquets, Iniesta and Xavi may be the present for Spain, but Los Blancos are very much planning ahead, and not too far ahead, either. In Illarramendi, Isco and Daniel Carvajal, Los Blancos and Florentino Perez have swept aside their reputation of signing Galacticos this season and have instead opted for Spain's best young players to take them forward.

Madrid has still splashed the cash. Signing top youth isn't cheap these days. Confirmation of Illarramendi's move to the Bernabeu came through on Friday, for a fee reported to be £34 million, while Isco arrived from Malaga for a reported £23 million and Carvajal returned from a spell in Germany with Bayer Leverkusen for £6 million. Add Casemiro, now a permanent fixture from Sao Paolo, into the mix and Perez has still let almost £70 million out of his wallet. Cash that could have gone towards a certain Mr. Bale.

It's wrong to say these players are for the future, but Madrid is planning long-term. Isco and Carvajal are both 21 and Illarramendi is 23. All three featured in Spain's successful European championship campaign in Israel this summer and all three are expected to be crucial cogs in Spain's senior side sooner rather than later.

Only Carvajal may have come through the club's youth ranks, as opposed to the aforementioned Barca trio who all progressed through La Masia, but all three of Madrid's Spanish signings have plenty of time on their side to develop, improve and grow old together at the Bernabeu.

They already arrive with good reputations and the qualities to cement a place straight in Carlo Ancelotti's starting XI. One of Madrid's problem areas last season was at full back and Carvajal, after receiving plenty of plaudits in the Bundesliga, can slot in nicely at right back. Isco, too, has shone with Malaga and helped them to the latter stages of the Champions League last season. A battle with Manchester City for his signature should mean Madrid are keen to give him plenty of first-team football next season.

What for Illarramendi? At £34 million from Real Sociedad the Basque-born player is the most expensive Spanish player Madrid has ever signed, exceeding the £30 million shelled out for Xabi Alonso, and for that kind of money you would expect him to be handed plenty of minutes next season.

Many have compared him to Alonso and it's easy to see why. As with Alonso, Illarramendi came through the youth ranks at Real Sociedad and helped the Basque club to an impressive Champions League finish. He has a superb midfield engine and his passing is exceptional, whether it be from deep or in attacking situations. He has an old head on a relatively young body and should be able to handle the pressures in the all-white shirt. Throw in good tackling, positioning and free-kick taking and Illarra could well be one of world football's best midfielders in time (no pressure there, then).

It'll be interesting to see if Ancelotti throws him straight into the first team or gradually edges the tried-and-trusted Alonso out, eventually with a view to moving him elsewhere when his contract is up. Illarramendi is seen as the perfect replacement for Alonso but it remains to be seen whether they can complement each other in the starting line-up. Only time will tell.

Despite a disappointment among Madrid fans that Gareth Bale is yet to swap North London for the Spanish capital, Madrid have done some good business this summer for my money. Cash has been splashed, but for me it's been splashed wisely, on young Spanish players who can grow old together at the Bernabeu. Illarramendi and Isco formed a brilliant partnership for Spain's U21s this summer and that bodes extremely well for Madrid.

Of course, in a perfect world Madridistas would love to see their club produce its own talent from its cantera, such as Carvajal and Alvaro Morata. It's cheaper, and in a romantic way it's more satisfactory to see "one of your own" representing the team you support out on the pitch. It's what fills Barca fans with pride thanks to the success of their youth set-up, and it's what Madrid strives to do. Maybe that will be handed more importance with the arrival of Ancelotti and the new role for Zinedine Zidane.

It's also somewhat fitting that the Frenchman is helping Madrid sign these young Spanish stars. It was when he graced the Bernabeu pitch that Madrid pledged to sign Galacticos but also produce top young players. The "Zidanes y Pavones" era. The "Pavones" part of that may have failed somewhat, and only one of the three Spanish signings this summer may have been made in Madrid, but Madrid's focus on building a team around young Spanish players is healthy and bodes very well for the future.