Carletto's El Clasico debut in late October
Sunday Oct. 27 and Sunday March 24 -- dates that can be penned straight into the diary for football fans, not just of Real Madrid and La Liga, but across the world, after the fixtures for the forthcoming Spanish season were unveiled Tuesday.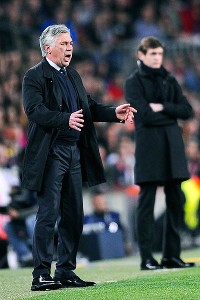 AP Photo/Manu FernandezCarlo Ancelotti and Barcelona's Tito Vilanova coached against each other in last season's Champions League. They meet again in much different circumstances the weekend of Oct. 26-27.
No prizes for guessing who Madrid's opponents will be on those two match days -- Barcelona. The matches all Blancos supporters will eagerly anticipate next season. Carlo Ancelotti's first taste of El Clasico.

Throw in El Derbi, too, after last year's feisty matches, the weekend of Sept. 28-29 and March 1-2 as the highlights, on paper, for Madridistas in the 2013-14 season, which kicks off on Saturday, Aug. 17 at the Bernabeu against Real Betis.

Such is the Spanish way of moving matches just weeks prior to them taking place that these fixture dates are, of course, subject to change.

I'm not entirely sure why I look forward to the announcement of the fixtures so much. They are, after all, just a list of matches to be played throughout the season. All teams have to play the rest, twice, at some point from August to May, what difference does it really make when they actually play?

-La Liga 2013-14 schedule overview
-Perez: Ronaldo will retire at Madrid
-Perez: No offers for Higuain

Probably very little, although the domestic fixture list does get interesting when the latter stages of the Champions League come around at the turn of the year -- something which Madrid will very much want to be a part of. Florentino Perez will demand it. Ancelotti will expect it.

It's interesting, therefore, to see El Clasico being played just days after the second leg of the first knock-out phase in Europe and shortly before the quarter-final stages. We saw a stack-up of these matches in 2011 when the old foes met in the semifinals and also went head-to-head in the league and Copa del Rey final. It was madness, and the league wanted to avoid such a recurrence.

Last season, too, a Clasico came between crucial matches for both sides in Europe, with Madrid taking on Manchester United and Barca facing Milan. It was very much a diluted Clasico, with players being rested for the Champions League (although that probably came down to Barca having all but claimed the title). Incidentally, both Madrid and Barca progressed and came from behind to do so.

There is little La Liga can do to satisfy both teams in this fixture, it's a bit of a no-win situation. Play them early and either team could be 'caught cold', and the fixture may not bring as much exposure as it would further along in the season. It would probably be a good idea in theory to do that, with both sides fresh right at the start of the campaign and having the ability to get the second, high-pressured, game out of the way just after Christmas and before the 'business end' of the season kicks in, but that would probably be bad business for the league.

As it is, Los Blancos will want to build up some momentum going into their first 2013-14 Clasico (at Camp Nou) and make a rapid start to the campaign after struggling out of the blocks last term. Madrid, and Ancelotti, open with a home clash against Real Betis. It's a game few Madridistas can grumble with -- a home match, against a team getting rid of plenty of players over the summer, and a chance to make an impressive start.

The following games don't look too daunting, on paper, either. Granada (away), Bilbao (home), newly-promoted Villarreal (a), Getafe (h) and newly-promoted Elche (a) before the first derby of the season. However, some of those games didn't look daunting on paper last season, either, and we all know what happened. Think Granada away last season, where Madrid slumped to a 1-0 defeat.

As always, Ancelotti will be keen to make an impression early in the season, but Madrid's players will be desperate to come flying out of the traps following a sluggish start a year ago that set the tone for the rest of the trophy-less season. An opening day draw against Valencia was not the end of the world, but defeat at Getafe that followed left Los Blancos playing catch-up for the rest of a long and hard campaign.

It may be just a list. And every team has to play the others twice throughout the season, but Madrid should be quietly confident of getting off to a good start with the hand they've been dealt. Something they'll be desperate to do after last year's problems.