Question marks over where gifted Isco slots in
Carlo Ancelotti didn't waste a lot of time after being presented as Real Madrid coach on Wednesday before he put his foot on the accelerator marked 'Isco'. It had long been an open secret that Florentino Perez fancied adding another Spanish signing to his roster as club president, and the current hottest property in Spanish soccer was the front-runner to kick-start the construction magnate's summer spending.

And what a signing Real has made. Isco starred for Spain Under-21s in its recent European Championship triumph and last season scooped both the continental Young Player of the Year award and its domestic equivalent, the Liga breakthrough player gong. Real paid 27 million euros for his signature, a remarkable investment on a player who was plying his trade in the third division with Valencia B until fairly recently, but equally good business when the inflated transfer market of the era is taken into account. Luckily for Real, Malaga is in dire straits, because Isco could have cost a lot more.

Manchester City was interested and the allure of Manuel Pellegrini, who handed Isco a role of responsibility at Malaga, almost turned the youngster's head toward the north of England. But Ancelotti's praise, the concerted efforts of Perez, Sergio Ramos, and Isco under-21 team-mates Dani Carvajal, Nacho and Alvaro Morata essentially pulled off the transfer coup of the summer, Gareth Bale or no Gareth Bale.

Several of Isco's former coaches concur that the kid is something special, even if his early physique did not bode well for life as an attacking midfielder: "He had fat legs, with no muscle, and was almost bow-legged," Valencia scout Jose Jimenez said in a recent interview with a Spanish newspaper. "We had our doubts but on the third ball he touched they vanished: he flicked the ball over his head and volleyed it into the net."

Isco only came to the Valencia academy through the recommendation of the father of another cadet whose son lived in the same village. It was quite a chance affair. Even after concerns about his shape and gait had been dispelled, Valencia still didn't rate Isco enough to refuse Malaga's offer of six million euros to release him in 2011 after a raft of games for Valencia B and just a handful for the first team. In retrospect, not a very good decision, especially considering the amount of time, effort and money the club put into his development. Valencia's loss was Malaga's gain and now it is up to Real to find a place in the side for Spain's brightest young talent.

But how exactly is Ancelotti going to do that? If there is one area of Real's squad that needs little reinforcement, it is the attacking midfield line. Happily for his new employers, Isco can play on either flank, which is equally bad news for Angel di Maria, who may be the man to make way for the Spain international having long been linked with a move to the Premier League.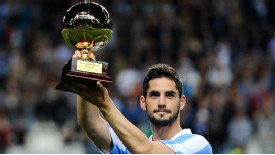 GettyImagesIsco landed the 2012 Golden Boy trophy
But Isco is most effective playing through the middle, behind the striker. That leaves him in direct competition with Mesut Ozil, Luka Modric and Kaka for a starting berth in his favored position. Of those three, Kaka is the obvious fall guy after a mostly uninspiring spell at the Bernabeu - but Ancelotti's relationship with the Brazilian at Milan should not be underestimated. There is no room in sport for sentiment yet Kaka will likely be afforded a few more chances under the Italian than the former regime to prove that he has another good season in his formerly golden boots.

Modric is a case in point for Isco to consider. Purchased last summer, the Croatian appeared to be a luxury that Real could easily afford, but didn't really need: a 30 million euro goodwill buy under the terms of Real's "special relationship" with Tottenham Hotspur. But during the course of last season the mercurial Modric won his place in the starting XI and ended his first term at Real as the in-form player in the advanced creative role.

All of which leaves Ozil's continuance at the Bernabeu open to question. There is little doubt that when he is on form the German playmaker is a joy to behold, but too often last season he put in an average shift, opening the door just wide enough for Modric to jam his foot in and step through. It's clear that four players in the same position are a little excessive, even at a club of Real's size and with the number of playing commitments it has. As Alvaro Arbeloa said this week: "Madrid must have options in each position so that absences do not affect the performance of the team," probably through gritted teeth as he has rarely faced any himself - although the Bundesliga right-back of the year Carvajal may fancy a start or two himself next season.

Although it would be quite a controversial move, Real cashing in on Ozil wouldn't be the worst piece of business. However, Ozil could equally switch to the right of midfield in place of Di Maria, who could be a useful bargaining chip toward some of Real's other items on their summer shopping list.

None of Real's attacking midfielders are one-dimensional but Isco is arguably the least predictable. Two-footed and with an ability to drift away from markers, Isco scored in the group stage, semifinals and final of Euro 2013, his goal against Norway reminiscent of Romario or Roberto Baggio.

"He has the same intelligence as Cesc or Andres Iniesta to find space where there isn't any and to do things that opposition defenders can't counter," said former national Under-21 coach Luis Milla.

There is little greater praise than that and Real has acquired the services of a player who could, and should, go on to be one of the greats. Ancelotti coached Kaka to the top of the game at Milan, and there is nothing to stop Isco from reaching the same heights at Real.