Madrid hoping Ancelotti can be their 'discreet winner'
Carlo Ancelotti, "a discreet winner". That was the welcome for the Italian by Spanish sports newspaper Marca after he was confirmed, at long last, as Real Madrid's new manager on Tuesday.

Discreet, for all Ancelotti's qualities, and they are numerous and world class, is a quality that will no doubt have been high up on president Florentino Perez's tick list when looking for Jose Mourinho's successor at the Santiago Bernabeu.

- Ancelotti confirmed as Real boss

Two Champions League triumphs, league titles and cups in Italy, England and France, and a Club World Cup, amongst plenty of other team and individual honours, would have caught the eye of Perez and Madrid when they first started to weigh up who would replace the 'Special One'. Of course they would. Ancelotti's track record puts him up alongside the best managers in world football -- and over a long period too -- giving him plenty of experience.

Unlike Mourinho, however, Ancelotti suits Madrid down to the ground. He's as close as they come to the perfect package for the manager's hot seat at the Bernabeu, if there is such a thing.

With the Portuguese you got arguably a more impressive trophy record, given the amount of time he accumulated his silverware collection, but with it came mind games in the media and an "us against the world mentality". Great if it works -- see Chelsea and Inter Milan -- but a failure when it doesn't -- see his final, trophy-less (with the exception of the low-key Spanish Super cup) season.

You got a manager who liked to do things his way. Perez and Madrid had to make sacrifices. Not just in staff, but with some of the club's reputation, too. The mud-slinging in the Clasico matches, which came from both sides, was unpleasant for those high up at Madrid (and indeed some not so high up), the bars toward match officials. These things did not sit comfortably with Perez, but he almost accepted them in search of success under Mourinho.

With all this added to the melting pot of Mourinho falling out with key, influential figures such as goalkeeper Iker Casillas and Sergio Ramos (heck, half of the Madrid team), it makes perfect sense for Madrid to opt for a manager who is seen as more diplomatic and less, shall we say, erratic.

Last season was one long nightmare for Madridistas. Given the success of the previous campaign, with Mourinho leading Los Blancos to reclaim La Liga from Barcelona in such scintillating fashion, the 2012-13 season could not have been more of a contrast. La Liga was over before Spring had even sprung, Madrid were outplayed by Borussia Dortmund in the last-four of the Champions League, and a Copa del Rey final defeat against neighbours Atletico, at the Bernabeu, rubbed plenty of salt into the wounds.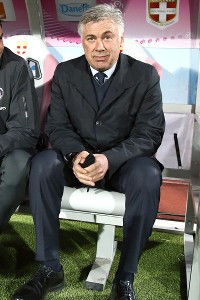 John Berry/Getty ImagesCarlo Ancelotti's experience across Europe should stand him in good stead for Madrid
Ancelotti's appointment represents a clean break from all that. Expect less, if any, of the barbs. Expect less excuses, fewer rifts within the squad, less eye poking, and a lot more calmness, relatively, around the Bernabeu next season.

That's just the tip of the Ancelotti iceberg, a tip that suits Madrid. Below that, he has a fantastic record around Europe, has twice won the Champions League -- a competition Madrid are desperate to taste success in again -- has the experience of managing, and winning titles in, three different countries.

The Italian has managed under difficult circumstances, too, and although his arrival in Madrid does represent a clean break, the capital club is still a club that is unique, and one that can swallow up even the biggest of managers -- just ask Jose. Ancelotti's success at Chelsea came under the stewardship of Roman Abramovich while his time at Milan came with Silvio Berlusconi pulling the strings. He should slip into the Madrid drama no problem, then.

He should also be arriving at the perfect age. At 54, Ancelotti has been around long enough to be known as one of the world's best and most experienced bosses, but is still young enough to be able to adapt to new systems and formations, despite regularly using his more preferred 4-3-2-1 approach. That's not to stay he won't stick with Madrid's recent 4-2-3-1 model, however.

The only thing not discreet about the whole story is Ancelotti's arrival. Madrid had been waiting almost a month to appoint Mourinho's successor and everyone, just about, knew it was going to be the Italian. Now, the official announcement could ensure some more official announcements on just who Ancelotti, and his staff, will be adding to the squad.

Welcome to the Bernabeu, Carlo.