Isco a talent that could fully bloom at Madrid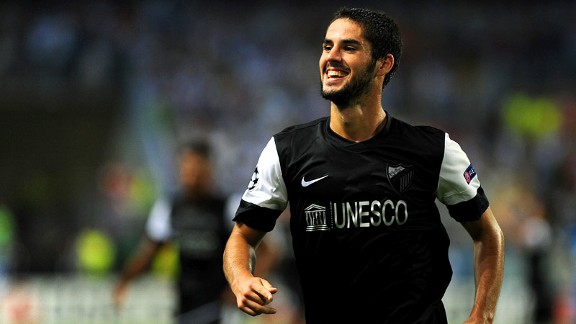 Jorge Guerrero/AFP/Getty ImagesIf reports out of the Spanish capital are correct, Malaga playmaker Isco will not follow Manuel Pellegrini to Man City and instead will sign with Real Madrid
According to fresh reports in the Spanish press, the 'Welcome to Madrid' signs could soon be out for Isco, despite the Malaga playmaker's previous comments about being "a bit antimadridista".

It seems Isco has now opted for the Spanish capital ahead of reuniting with former boss Manuel Pellegrini at Manchester City. Los Blancos president Florentino Perez and the player himself have hinted that both parties are keen on a deal being completed.

- Madrid: Isco wants to join us
- Ramos talks up Isco signing

The former Valencia man would be a superb addition to Madrid's squad and a real coup for Perez given the competition to sign one of the world's hottest young prospects.

Barcelona had been linked with the 21-year-old last season and Premier League club City were thought to be the front-runners for his signing this summer thanks to Pellegrini - the man who helped Isco become the player he is today - taking on the vacant manager's seat at the Etihad Stadium.

Madrid had already missed out on Neymar, however, and they are not prepared to miss out on another one of their top targets. Mission (almost) complete, according to Spanish sports papers Marca and AS, for a fee somewhere between €20 million and €30 million, depending on add-ons. The deal is expected to be announced in the coming days and the player to be unveiled early next month.

It might seem a big price to pay for a player aged 21 who has only had a couple of good years in La Liga. But it's a fee that should seem like peanuts in the coming years given the youngster's performances not only domestically, but also in the Champions League with Malaga last season and with the Spanish under-21 side in those two years.

The Malaga-born player actually came through the youth system at Valencia but never got the chance to shine in their first team. When Malaga met his release fee of just €6 million to take him home, it seemed a risky bit of business, despite the new-found wealth of his hometown club. How wrong those thoughts were, with Malaga now losing their star man, but making a huge and much-needed profit in the process.

His ties with Valencia make associating his game with that of David Silva's an easy one, but Isco has all the talents of the Manchester City man and maybe even more. Led by a superb reading of the game, Isco has great awareness and great composure when playing in an area of the pitch that can often get crowded - and that's a rare quality to possess. See Silva, see Lionel Messi, see Santi Cazorla.

It was Cazorla's departure from Malaga for Arsenal that really allowed Isco to shine with Malaga last season. Malaga fans might have seen losing Cazorla to Arsenal as a big blow, but it only acted to allow Isco to step up. A bit of pressure on his shoulders to plug the gap left by his team-mate, but he took that all on and he excelled.

With all that, he has a natural - and sometimes raw - talent at picking out a pass, carving out opportunities and popping up with the odd goal, too.

It will be interesting to see just where Isco plays in the all-white, then. Madrid already have a player in Mesut Ozil who likes to link the midfield to the attack and the German has made that position just behind the front man all of his own over the last couple of seasons. Luka Modric was brought in last season, albeit by Jose Mourinho, for a large sum of money and played pretty well, especially towards the latter stages of the season. Then there's Kaka, whose days at the Bernabeu must now finally be numbered, and Jose Callejon.

That's presuming Madrid will stick with the popular 4-2-3-1 formation under their new manager, however. Reports suggest Carlo Ancelotti's unveiling as new Blancos boss is a matter of days away, meaning the Italian must surely have had some kind of input, no matter how minor, into the recruitment of Isco; a change in approach and formation, perhaps next season, to fit Isco in alongside the already tried-and-tested Ozil.

At a relatively young age, the Spanish U21 star is still pretty versatile and has been played out wide as well as his preferred role in the middle. That usually leads to him cutting back inside where he feels more comfortable. While that might be a possibility, Ronaldo will be the first name down on the team sheet and Angel di Maria probably won't be far off should he remain at the club.

It is interesting that Madrid's first two big recruits of the summer, in the shape of former full-back Daniel Carvajal from Bayer Leverkusen and now, seemingly, Isco, are both Spanish and both young talents. Plenty of cash being spent, but plenty of years ahead for two players who will not need to adjust to the Spanish game and who should only improve from here on in.

It should be a wise direction to go in, looking at the success Sergio Ramos has had at the club, despite costing a big sum from Sevilla back in 2005. The defender already seems like a Madrid veteran and he's still only 27. Isco, and indeed Carvajal, could go down the same route, and that will only be a good thing for the club.