Ancelotti and Real: the start of a beautiful friendship?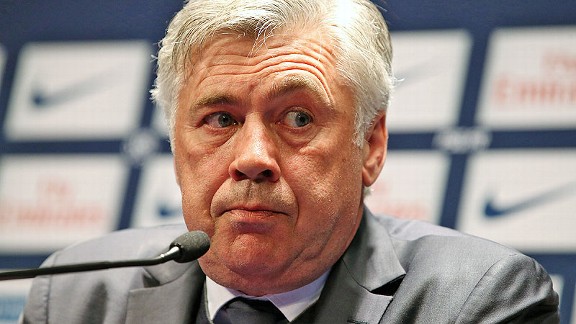 John Berry/Getty ImagesCarlo Ancelotti represents the best long-term prospect of a manager at Real Madrid since the days of Miguel Munoz.
After a month of seemingly fruitless public pronouncements, Carlo Ancelotti was finally announced as the new coach of Real Madrid on Tuesday. Paris Saint-Germain, with whom the Italian tactician had a year remaining on his contract, elected former France coach Laurent Blanc to succeed Ancelotti at the big-spending Ligue 1 champions, paving the way for Real to eventually get their man.

The minor stumbling block of compensation was overcome with Real reportedly offering PSG president Nasser Al-Khelaifi, who is one of the 100 richest people in the world, something in the region of €5million with which to light his expensive cigars.

- Real hire Ancelotti, Blanc joins PSG

So what are Madrid getting for their money and what will Ancelotti bring to the Bernabeu that hasn't already been tried under Perez's watch? It could be said that it is a full circle appointment; Vicente del Bosque was famously fired after delivering a league title at the end of a four-year run that made him Real's most successful, and longest-serving, coach of the modern era.

At around the same time Ancelotti was about to start the 2003-04 season with Milan, where he won the Scudetto. The year before, he had delivered the Coppa Italia and he then embellished that a tad with an Italian Supercup. If that sounds vaguely familiar in Real's recent context it should also be noted that Ancelotti didn't win anything else at Milan domestically, but he did have a fairly decent record in Europe, winning two Champions Leagues and only being denied the hat-trick by a remarkable Liverpool comeback in 2005, one of the great European finals. It is no secret that Perez would swap a hatful of domestic successes to get his presidential tin of Brasso to work on the European Cup again.

He also managed to stay at the helm of one of Europe's biggest clubs for almost eight years while managing some of the biggest stars in the world game. That is one of the similarities with Del Bosque, who is the antithesis of Mourinho and would probably apologize to a driver who had just run over his foot. The Galacticos project may have been in its infancy then, but the moustachioed Marquis managed to keep them on side.

Could Perez be looking long-term in this appointment? If Alan Pardew is worth an eight-year contract for taking Newcastle to fifth in the Premier League, what could Ancelotti, who is not afraid of using what he's got available, be expected to receive in backing? It was Ancelotti that converted Andrea Pirlo to his current role and that hasn't worked out too badly. He might even be able to reignite Kaka, which would certainly endear him to Perez.

Ancelotti has proved time and again, most recently at PSG, that he matches tactical astuteness with an ability to create a harmonious locker room, no mean feat when it contains "I am Zlatan" Ibrahimovic. Real has certainly lacked that during most of the time elapsed since Del Bosque was jettisoned. The Italian's previous working relationship with Zinedine Zidane at Juventus will also make the transition as smooth as the Real sporting director's playing style.

When Ancelotti eventually left Milan he delivered a league and cup double to Chelsea in his first season, but probably did his long-term prospects few favours when admitting halfway through the following season that the league was all but lost. A fair appraisal of Chelsea's situation at the time, but hardly the sort of aural balm designed to soothe Roman Abramovich.

For his part, Perez had perhaps learned from his Del Bosque blunder and a quick trigger-finger in dealing with Pellegrini and gave Mourinho a good deal of rope, with which the Portuguese eventually, inevitably, hung himself. But with some of the pouting players he had to deal with, it is not entirely surprising that he chose to do so. The Italian will command a great deal more respect than most, largely because he was a successful player at Milan and part of the last side to win back-to-back European Cups - something vice-captain Sergio Ramos archly noted Mourinho wasn't during a tactical dispute.

Ancelotti will certainly be given time, and whatever resources he needs, to lead Real to glory. He also fits Perez's vision of a "club senor" rather better than the previous incumbent, and at 54 he is nowhere near the twilight years of a managerial career.

Ancelotti is famed for steering his managerial ships through considerably calmer waters than Mourinho, and if and when he is appointed, it will be for at least the current duration of Perez's four-year term. In the likely event that the construction magnate runs in 2017 - and the probability that nobody will be able to challenge him yet again - this could be the beginning of beautiful partnership.

The Bernabeu has been without a coach now for 27 days, its longest rudderless period in history. Ancelotti's appointment could well prove to be the longest Real Madrid has witnessed since Miguel Munoz's sprawling 14-year reign from 1960 to 1974.