Casillas enjoys record-breaking return in goal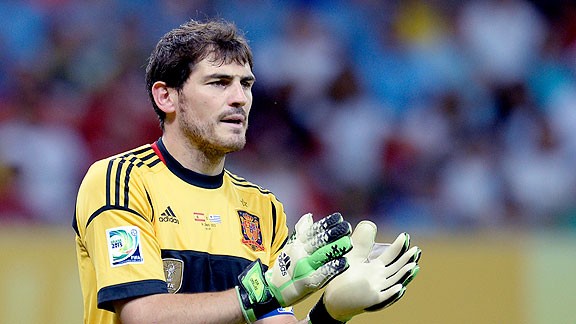 Lluis Gene/AFP/Getty ImagesIker Casillas appeared in his 800th career match in Spain's 2-1 win over Uruguay.
The domestic season is over and Jose Mourinho has left Real Madrid for pastures new, but the furore, now somewhat diluted, over Iker Casillas' demotion to Bernabeu benchwarmer continues to rumble on.

With Mourinho leaving for the Premier League and Chelsea, most expect "Saint Iker" to return as Madrid's No. 1 next season, regardless of who is named as Mou's successor. Jose had his reasons for dropping Casillas in the latter half of last season, but plenty of things pointed to a personal falling-out as the main one. With Mourinho gone, expect it to be "business as usual" for Casillas in the Blancos' goal next season.

- Zidane 'not ready for top job'

The Confederations Cup in Brazil has provided a platform for some of the aftermath of the whole affair to continue, however, with Casillas returning in goal for Spain to feature in his first competitive match since Jan. 23, when he fell well and truly out of favour with Mourinho, never to return again in goal while the Portuguese was in charge.

Despite his differences with Mourinho, Casillas continued to have the full trust and backing of his national coach, Vicente Del Bosque, who was also his manager when he was at Madrid. The Madridista got the nod to feature for Spain in their opening match of the tournament, which they comfortably won against Uruguay, despite his rivals Victor Valdes and Pepe Reina being first choice for their clubs, Barcelona and Liverpool respectively, while Casillas sat watching from the sidelines.

The 32-year-old Mostoles-born shot stopper has behaved, as far as we know, impeccably during the whole process. For such a symbol of Madridismo thanks to his racking up of games and trophies at the Bernabeu, it could have been easy for Casillas, much like some his teammates, to hit out at his manager using the press, who were already on Casillas' side. He could have made Mourinho's life even more unenjoyable in his final few months in the Spanish capital, but he didn't.

The Spanish press jumped on his comments after his appearance for Spain, however -- his 800th career appearance. It's difficult to take them for anything other than what they are -- seemingly honest words that, for a player who had not missed a chunk of action for a decade, it was like starting all over again when he ended a six-month game draught to pull on the Spanish shirt against Uruguay.

"It was a surprise. Five months without playing any official games, and it felt like I was making my debut, which in fact happened 13 years ago," he said. "I am grateful for the confidence Del Bosque has placed in me, and for my teammates, with whom I've spent so many years bringing joy to the nation -- that's the nicest thing." Some, in the press, have taken them as a sly dig at Mourinho, both in the time he left him on the bench and also in the lack of confidence he had in him as a goalkeeper.

The Confederations Cup may not have come at such a good time for some -- those in need of a rest over the summer -- but it's probably come at just the right time for Casillas. A good tournament, both on a personal and team level, would set him up nicely for what many expect, and hope, to be a return to first-team affairs next season.

Sergio Ramos and Alvaro Arbeloa also featured for Spain in their 2-1 victory over Uruguay, while Marcelo played in Brazil's opening victory over Japan, and two of those three in Arbeloa and Marcelo could well be playing for their futures in the Madrid starting lineup next season. Their form in this competition will not go unnoticed.

That's true of Arbeloa especially, with the right back being one of Madrid's weak links last season, and with Daniel Carvajal returning to the club from Bayer Leverkusen to offer some stern competition at right back. Carvajal featured for Spain's U21s as they retained their European Uunder-21 Championship crown, beating Italy 4-2 in the final. The Madrid youth product will certainly arrive back at the Bernabeu in confident mood.

Nacho and Alvaro Morata were also included in the Spain squad but Morata, who impressed in the Madrid first team in his few appearances last season, was the only Blanco to start in the final, which the Spanish dominated. Morata, too, gave plenty of food for thought to the incoming manager by finishing top scorer in the whole competition with four goals.