Parents turning Cavani's Napoli departure into a joke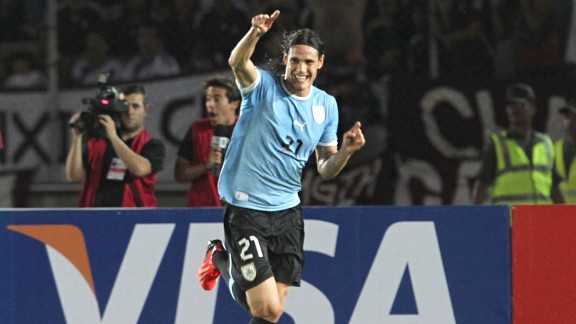 Carlos Marcos Colina/Getty ImagesUruguayan Edinson Cavani is on his way out of Napoli, but his parents have differing ideas of a final destination.
Parents, huh?

They're a vital part of anyone's life. They raise you, look after you, play a part in shaping your life and eventually let you free into the big wide world to lead a life of your own.

They're still a big part of your life thereafter -- of course they are. Sometimes, however, you just want them to take a back a seat, to not get involved and let you sort things out for yourself. Just ask Edinson Cavani, whose parents have become almost the centrepiece of his transfer away from Italian club Napoli over the last few days.

The Uruguayan forward is all set for a move away from Naples this summer with a host of clubs chasing his signature. Cavani has a release clause of £53 million and, thanks to Cavani's mother, Berta Gomez, we know that Real Madrid and Manchester City are leading the chase for his signature. Chelsea and Paris St Germain have also been linked with the 26-year-old, but it's now seemingly a two-horse race.

- Ronaldo doubt as Monaco, United circle

"Edi is in talks with Manchester City and Real Madrid," Gomez told a Montevideo radio station. "Napoli's president Aurelio De Laurentiis has spoken about the possibility of discussions with Chelsea but there is nothing definite with them at the moment. We will know more in 15 to 20 days. There are so many voices, and when something happens I will be the first to know."

Fair enough, you might think. A mother is usually the first to know her son's business, and it's not the first time a parent has become involved in transfer activity. She could keep her knowledge and thoughts to herself perhaps -- it's almost as if she's doing the job of an agent -- but you only have to look back to the transfer rumours surrounding Neymar before his move to Barcelona to see plenty of quotes from his father over the Brazilian's possible future.

But this is where it gets interesting. A two-horse race, according to good old Berta. Not so, according to Cavani's father, Luis, who has come out in public to say his son only has desires to move to the Santiago Bernabeu, putting Manchester City seemingly out of the equation if the final decision is up to the player.

It's turned Cavani's move into a bit of a joke. Not only has the player's father almost contradicted his mother, but he's shot himself in the foot by releasing private information, apparently, from his son that could annoy his current Serie A club.

"Cavani's intention is to play for Madrid," Luis Cavani told Futboleros. "He is excited about it and is very willing to see it through. He has told the family in private that he wants to join Real Madrid but if he declares it publicly it will annoy Napoli."

Nice one, dad.

Luis Cavani also went on to say that the only potential stumbling block stopping his son moving to the Spanish capital would be the transfer fee. Napoli are not going to accept a penny less than the player's release clause and, according to Luis, the fee could see Manchester City as the favourites for the Uruguay international's signature.

So if Cavani doesn't get his dream move to Madrid, he'll be heading to the English Premier League with Manchester City -- his second choice club. I'm sure that will go down very nicely with City and their supporters on his arrival. Nice one, again, dad.

There could be two more weeks of this yet. Interestingly, Berta has come out and said her son's move will be complete within the next 15 to 20 days. Whether Luis comes out and says something to the contrary is as yet unknown, but it wouldn't be surprising.

The whole affair is spinning out of control. It's not want the player wants, it's not want any of the clubs tracking his signature want, and it's not want Napoli want. Berta Gomez and Luis Cavani will get their 15 minutes of fame but, although clearly caring for their son and his future, their talks to the media are not helping one bit.

Cavani has been on Madrid's radar for some time and, after missing out on Brazilian star Neymar to Barcelona, Los Blancos should have some cash available for Florentino Perez to purchase at least one Galactico this summer. Gareth Bale, of course, is the other one, but current reports suggest he could remain at Tottenham Hotspur, at least for one more year. That could change, however, if Spurs boss Andre Villas-Boas leaves for pastures new before the start of the new season.

The Uruguay has been the focal point of Napoli's attacks in recent seasons and his goals to games ratio has been superb. He's 26 and about to enter the best years of his career, and he's a Uruguay international with 50 caps, and with Champions League experience thrown in there, too.

Whether his father's words will help engineer a move to the Bernabeu are as yet unknown. Luis has made it perfectly clear where his son wants to be playing his football next season -- advantage Madrid. He's also made public Madrid's possible struggles in meeting the release clause, and thus possibly failing to match City on the financial side of things. Advantage City?

Wherever Cavani ends up next season, expect to see his parents, perhaps annoyingly, weighing with some, erm, words of wisdom in the media.